Bitcoin has endured a turbulent month of price action, with a high of $46,000 and a low of $34,000 within a couple of weeks.
eToro market analyst Simon Peters has attributed the volatility to Bitcoin's positive correlation with stock market indicies in the United States.
As the global geo-political landscape becomes more strained as the days go on, it's difficult to predict exactly how Bitcoin and cryptocurrencies will proceed alongside a weakening stock market.
The recent volatility has "continued the recent trend of cryptoassets behaving like 'risk-on assets'," Peters said. "BTC in particular has been mirroring US stocks to an unprecedented degree, meaning the downward trajectory on prices seen over the past few weeks is to be expected, based on the performance of the S&P 500.
"In the current climate, it's not surprising that many investors are looking to de-risk and valuations have been reflecting this. If the current tensions calm quickly, then we may see the appetite for risk return.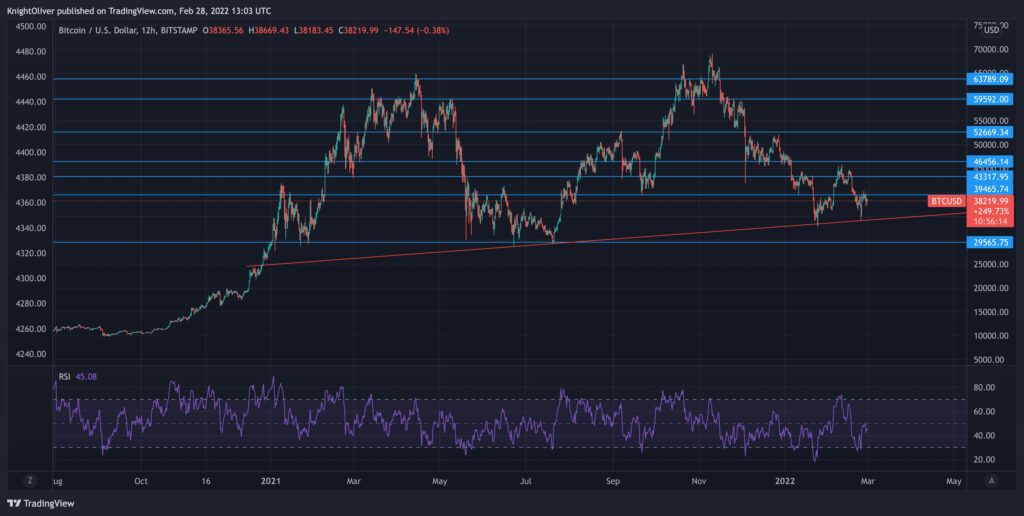 "However, we still have high inflation, interest rate hikes and quantitative tightening talk ongoing, meaning that the market may need more clarity before prices really start moving to the upside again."
Peters added that cryptocurrencies may play a major role as digital money transactions get clamped down upon in Ukraine.
"Following the Ukrainian government's crackdown on digital money transfers, people are seemingly turning to cryptoassets. According to local data, domestic buyers were turning to Tether's USDT stablecoin, pegged to the U.S. dollar. Tether, the most popular stablecoin, has remained relatively stable over recent weeks, unlike more high-profile cryptoassets such as bitcoin or ethereum.
"Ukraine has been a supporter of digital assets, and in 2021 Ukrainian President Volodymyr Zelenskyy signed a law that paved the way for the country's central bank to issue its own digital currency. In fact, the country was reportedly modernising its payments market so that its national bank would be able to issue digital currencies."
For more news, guides and cryptocurrency analysis, click here.
Disclaimer: The views and opinions expressed by the author should not be considered as financial advice. We do not give advice on financial products.