INDX – a London-based crypto passive income fund – has released a new report comparing traditional assets with their cryptocurrency counterparts.
The report reveals that masternodes offer a potential passive income yield of more than 40% compared to roughly 3% offered by government bonds and stocks.
INDX has expanded the scope of its native token – which currently pays a quarterly dividend – by adding two additional revenue generating asset classes: Delegated Proof-of-Stake (DPoS) and staking. Both of these asset classes generate high yields for crypto investments.
In a press release shared exclusively with Coin Rivet, INDX CEO Jonathan DeCarteret said: "Facebook's Libra coin will most likely be reflected upon as the killer app that brought cryptocurrency to mass adoption. It will most probably reshape the payment industry and quite possibly lead to de-dollarisation of the world economy.
"INDX welcomes the endorsement of a global titan into the Proof-of-Stake space, where for the last two years, INDX has been developing a platform that offers frictionless access to this rapidly expanding superclass of digital assets, all facilitated by the INDX token. INDX token holders receive a regular passive income and the token can be easily traded on exchanges with zero exit fees."
The report
At the beginning of the report is an introduction by DeCarteret, who notes: "With time as our most precious commodity and global interest rates at their lowest levels for 150 years, it's not surprising that more of us are turning to passive income to make our money work harder."
Passive income is defined as "financial gains derived from an investment that requires minimal to no activity from the investor".
One such method of acquiring passive income is 'staking', where investors stake an amount of funds and will receive 'interest' on the funds in their network wallet.
Staking requires investors to store cryptocurrency in a digital wallet that is always connected to the network – since the wallet serves as a node, it provides security for the network. The person staking the crypto will receive a financial reward based on the value and duration of the staked funds.
"Traditional staples such as equities, bonds, and funds are now being challenged by an emerging superclass of digital assets," he adds.
The report aims to shine light on the crypto economy and its ability to generate passive income. Leading this brave new world is Proof-of-Stake (PoS) – "the next generation of mining" – which is unburdened by high electricity costs.
INDX enables investors to gain exposure to these high yielding assets by owning its token. Underpinning the INDX token is a diversified portfolio of the best performing masternodes selected by its algorithm and hosted by a tech platform that collects the rewards and distributes a quarterly dividend.
INDX is currently forecasting a 44% yield from its $15 million fund, which will close soon. As the ecosystem for digital assets matures, INDX will add new yielding assets to the portfolio.
The findings
The findings in the report conclude that cryptocurrencies are still a highly volatile asset class often traded in illiquid markets, but "the rewards can justify the risk in spectacular fashion".
The INDX summary table ranks masternodes as number one in terms of generating passive income – giving it a score of 65.48 out of 100 – though it has technical barriers to entry despite the "exceptional returns".
Second is staking in a Proof-of-Stake system, which has a score of 39.81 out of 100. And while it ranks lower than masternodes, its barrier to entry is low with moderate returns.
To put this into perspective, INDX ranks dividend stocks as 8.09 out of 100 and bonds as 8.86 out of 100, showcasing how masternodes and PoS systems yield far higher passive income returns.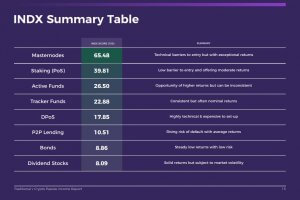 The entry barrier to cryptocurrency still remains problematic, with the report surmising that the barrier for crypto investment is not financial, but rather that it requires a degree of technical knowledge. It alludes to how even though staking represents a great investment opportunity, it still requires basic technical know-how to employ.
"The cryptocurrency market has thrown up some novel assets for early adopters, producing asymmetrical returns far outpacing those in traditional markets," the report continues.
"Prime among these are masternodes, offering reliable passive income with low maintenance from a wide ranging market."
It proceeds to discuss how cryptocurrency has proven itself worthy of serious attention from institutions, particularly with Ethereum – the second-largest cryptocurrency in terms of market capitalisation – set to move to a staking mechanic in the near future.
"However, building a strong, diversified position is still difficult. As the market and financial products evolve to open up to the broader market, it will be the early money, armed with the right investment thesis, that stands to enjoy the greatest returns," the report concludes.
INDX launched its security token offering (STO) on June 1 2019 to institutional investors with the public sale due to commence on July 1. Initial dividends will be paid out to INDX token holders in Q3 2019 with a 44% yield forecast from the $15 million fund.
Interested in reading more about nodes in cryptocurrency? Discover more about how network nodes are used in the cryptocurrency space.