The Cardano Conference delivered a lot of insight into IOHK and Charles Hoskinson's plans for the future, but it also showcased that Cardano is a blockchain for social good with the launch of the #CardanoForest project.
Cardano Forest is the blockchain's first global impact challenge – and it asks the  community to commit to driving forward a generational change in ecological conservation efforts.
The project will see the world's first ITO (initial tree offering) with ADA holders invited to exchange coins for freshly planted trees at a rate of 1 ADA = 1 tree.
Are you up for the challenge? Join the fun, heal the planet! 🌱🌲✌️

DONATE 👊 SHARE 🙏 NOMINATE 🤝 "I contributed to the @Cardano #GlobalImpactChallenge to plant #1MillionTrees and make the first ever #CardanoForest. I nominate …"

DONATE HERE 👇https://t.co/sGjhVH47qF pic.twitter.com/MUg0vhEX0L

— Cardano Community (@Cardano) September 25, 2021
In an exclusive conversation with Coin Rivet, Frederik Gregaard – CEO of the Cardano Foundation, explained the effort behind delivering a carbon neutral Cardano blockchain.
"Data collection and network surveys from the Climate Neutral Cardano Group suggest that if we achieve our goal of planting one million trees we will help reduce our carbon  footprint by an estimate of over four times," he said.
"The initial planting sites may consist of mangrove trees in Madagascar and, depending on donation volume, extra restoration efforts could be made in Kenya and south-east Asia. We are wholly committed to supporting a carbon neutral Cardano as network activity scales." 
The tree planting will be handled by new partner – VeriTree – a reforestation ledger launching in conjunction with #CardanoForest on the Cardano blockchain.
Derrick Emsley, the CEO of VeriTree, also took the time time to speak with Coin Rivet and walked us through the aims of the partnership.
"Restoration has an important role to play in our fight against climate changes. As a whole, nature-based solutions are expected to contribute up to one third of the emissions reduction needed by 2030 as part of the net zero transition," he explained.
"We believe in the power of technology to drive greater transparency and enhance credibility of restoration projects to attract the level of investment required for the net zero transition.
"At the time of writing this, we've already achieved over 20% of our challenge goal – evidence of the excitement for verifiable restoration projects.
"With a goal to plant over 1 billion trees by 2030, we are incredibly excited to partner with Cardano to make this happen."
Cardano – the socially responsible blockchain?
Charles Hoskinson, the team at Input Output, and the Cardano community have made it extremely clear that social responsibility is at the heart of the blockchain's underlying philosophy.
Indeed, ADA is already being utilised extensively as the new immutable backbone of the Ethiopian educational system, with plans for these benefits to be extended to national database and ID infrastructures.
And for the CEO of the Cardano Foundation – Frederik Gregaard – these philanthropic initiatives are not just a bit of corporate charity, they're also about demonstrating real positive and progressive use cases for humanity to benefit from.
"Now more than ever, there is a growing importance for organisations to ramp up their focus on social responsibility and do their part to make the world a better place for all," said the CEO.
"The days of pursuing shareholder and company value at all costs are gone and our strategy of being a blockchain for good is a response to this."
This factors in a lot with ADA's overarching strategy. Cardano is a blockchain built to do things, not built to be the first. Gregaard doesn't see ADA in a race against anything other than humanity.
"At Cardano we prioritise direction over speed," he quips.
"I firmly believe the chances of longevity for a community-centric project with strong foundations is much higher than a first to market approach."
There is something to be said for a results-oriented approach.
The #GlobalImpactChallenge with @veritree_ isn't just carbon offsetting.

👍🏼 – Reforestation
👍🏼 – Climate Change Prevention
👍🏼 – Biodiversity
👍🏼 – Local Community Support

Learn/donate: https://t.co/wpm5WwgFJG#Cardano #CardanoCommunity #Blockchain #Crypto @unsdgs2030

— DT (@I_Am_DTaylor) October 2, 2021
Undeniably, the #CardanoForest initiative will make sure any donations Veritree receives – including those from the Cardano community – will be directly traceable to the specific plot of restored land that their donations helped finance. This is a clear use case and shows both the adaptability and practicality of the Cardano blockchain for non-profit work, development agencies, and ecological conservation.
For the team at VeriTree the commitment from Input Output to blockchain for good and direction over speed has been a critical factor in the decision to partner with the Cardano Foundation.
"Cardano is incredibly aligned with what we are working to develop both from a values perspective and a technological standpoint," explained Emsley.
"Cardano is a blockchain platform that is designed for changemakers, innovators, and visionaries, to create the possibility to bring about positive global change.
"Their mission is to make the world work better for all and, through that, provide the foundation for much of the financial infrastructure the developing world needs.
"Both Cardano and Veritree believe blockchain is a critical piece of the puzzle when working to create the positive change needed for the world to transition to net zero by 2050".
Father and Son turn Cardano green
The philanthropic 'blockchain for good' philosophy is something shared by the entire Cardano community, and the #CardanoForest project is a shining example of what can happen when a decentralised community with a common vision come together and push from the grassroots.
Remarkably, at the heart of it all is Stefan Rehfus and his 18-year-old son Elias.
Working at the German university city of Göttingen, the father-son duo have set themselves a seemingly impossible task that is rapidly materialising into reality – turning the Cardano blockchain carbon neutral.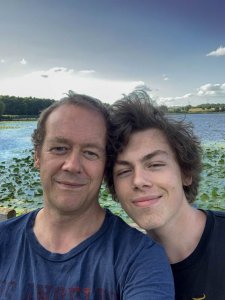 Stefan's concern for climate change preceded that of most people. As an environmental engineer, he'd been concerned about the onset of climate change since the 1990s, albeit theoretically.
However, it took the arrival of his son for these concerns to galvanise into a sense of social responsibility for really fighting the climate crisis.
"At my technical university in Berlin, we were already discussing topics like climate change more than 25 years ago," he says.
"It seemed quite theoretical to us at the time, although we had already seen a measurable increase in carbon dioxide concentrations which was related to industrialisation since the 19th century.
"But now, in the 2020s, we can all see very clearly and drastically what this means: long-lasting wildfires in California, Brazil or Australia, long periods of drought in Central Europe, or locally, for example, extreme weather events with storms and heavy rain that can devastate entire towns.
"Weather extremes are increasing, and the balance in the system of global wind and ocean currents is threatening to tip.
"We all have a responsibility to stop this as soon as possible, for ourselves, for the younger generation and for future generations."
Elias – now an 18-year-old climate activist connected with Greta Thunberg's Fridays for Future movement – has played a key role in helping to inspire and grow the idea of the carbon neutral Cardano staking pool.
The duo's project began in 2020 at the onset of the Shelley mainnet and arrival of staking, with the focus on creating a carbon neutral pool that is able to offset the energy consumed through reforestation.
This led to the creation of the innovative Co2 Pool which is one of the first carbon neutral ADA staking pools, utilising renewable energy sources and donating 50% of pool margin to climate protection projects.
It drove forward the planting of the first and original Cardano grove in Scotland.
Let's start a #Cardanoforest challenge:

There are at least 500 pools getting SPO rewards regularly.

If every pool donates the fixed fee (340 $Ada) of only 1 epoch, we could plant more than 170,000 additional trees. https://t.co/JURuZotkF4

🌲 Retweet
🌲 Act!#Cardano

— CO2Pool 気候保護 (@Co2Pool) October 2, 2021
But this wasn't enough of an impact. There are more than 2,800 ADA staking pools, and they have set a goal on igniting a much bigger cultural shift in the Cardano staking community.
"I have conducted surveys among pool operators on the total amount and type of energy consumption and calculated how much CO2 is emitted from the operation of Cardano stake pools," explained Stefan.
"On this basis, it was determined that we would need around 200,000 trees to offset the climate-neutral operation of the 2,800 Cardano stake pools.
"To achieve the goal of a climate neutral blockchain, we have founded the Climate Neutral Blockchain Group and have entered into partnerships with other pools and organisations.
"We know for sure – together and with the support of our delegators – we will achieve the goal of a completely climate-neutral or even climate-positive Cardano Blockchain."
A new era for transparency
According to Cardano Foundation CEO Frederik Gregaard the Rehfus family were crucial in challenging the Cardano community to step up to its social responsibilities regarding climate change.
"Our community is our greatest asset," said Gregaard.
"In fact, Climate Neutral Cardano, a Cardano community of stake pools committed to 100% renewable energy for the operation of their stake pool servers, was instrumental in shaping this engagement and setting the stage for our work with Veritree.
"Our community are a committed and active community who will no doubt help us meet our goal of one million trees planted to create the #CardanoForest."
It would be easy to consign this project in your head to simply 1 ADA = 1 tree. But, the truth is, the actual delivery of the #CardanoForest community challenge is much more sophisticated and elaborate than it first appears.
Emsley explained what's next for the project.
"The Initial Tree Offering is only the beginning. Together with Cardano, we are ushering in a new era of transparency within global restoration projects," he said.
"Once the 'Tree Offering' has closed, the work begins to get the trees in the ground. We will be collecting ground-level data in real-time through the proprietary 'Veritree Collect' application and turn that data directly into Digital Planting Certificates or 'NFTrees'.
"These certificates will include all of the relevant data on the trees that have been planted and, depending on the size of the donation, unique digital artwork will also be distributed."
Looking to the future, the VeriTree CEO suggested the initiative had much further to go.
"There is more news to come on the Cardano-Veritree partnership in the months to come," he predicted.
"Including community engagement, stake pool partnerships, integration with the Veritree Impact Wallet – a one-of-a-kind digital experience where customers can see their trees – a marketplace to support brands and consumers in supporting verified projects, and third party wallet support."
Needless to say on the backbone of an incredible community and quality products based on premium partnerships,  Cardano is going green.
Disclaimer: The views and opinions expressed by the author should not be considered as financial advice. We do not give advice on financial products.