With the uncertainty surrounding the launch date of Facebook's highly anticipated Libra project, scammers have now taken to Twitter to flog a fake Libra Initial Coin Offering (ICO).
The fake Twitter account, called 'CoinLibraToken', promises insanely wild returns for nominal values of Ethereum despite the fact Facebook's cryptocurrency will be a stablecoin with a pegged value.
The fraudsters are claiming a stake of 0.1 ETH will return 300 million 'LIBT' tokens while 1 ETH will entitle the sender to 30 billion tokens.
It has already garnered 12,000 followers, though many of them look like they could be bots to trick unsuspecting people into thinking it's legitimate.
While the account was made active in March 2018, the earliest tweet still available for viewing is from January 25 2020.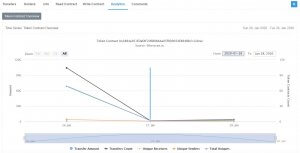 A search for the LIBT ERC-20 token on Etherscan shows the token was only created on January 26 2020 – one day after the earliest tweet available on the scam account.
The first tweet reads: "Relaunch of Facebook Libra token."
🚀Relaunch of Facebook Libra Token

📛Libra is a simple global ERC20 token (Ethereum Based)
Name : Libra
Symbol : LIBT
Total Supply : 500,000,000,00
Type : ERC20

Giveaways soon
🔃Retweet
👍Like
👍Follow
🎁Comment Wallet Address#ICO #Airdrops #etherum https://t.co/vN62YWQegG

— Libra (@CoinLibraToken) January 25, 2020
An immediate red flag is the poor grammar in the tweets – mistakes which the real Libra account is unlikely to make, much less keep there unedited for multiple days.
The account claims the wallet address being used for the fake ICO has so far raised a total of 3 ETH from the sale, but its balance is still at 2 ETH on Etherscan.
The transaction history also looks suspicious, with many of the incoming transactions containing no ETH.
Luckily, it doesn't seem as though many people have been duped by it yet.
This scam is one of many trying to pry crypto away from unsuspecting victims and should serve to highlight the importance of doing research before investing in a project.
Interested in reading more Libra-related stories? Discover more about a former PBoC governor urging China to rethink its response to Libra.
Disclaimer: The views and opinions expressed by the author should not be considered as financial advice. We do not give advice on financial products.