A report commissioned by the Financial Conduct Authority (FCA) finds that consumers buying crypto assets are often looking for ways to get rich quick.
Many of those interviewed by researched for the Revealing Reality study perceived it as a "short cut to easy money and wealth. They often cited influence from others, including social media, as motivation for investing."
It found many consumers overestimated their knowledge of cryptoassets. Several of those interviewed talked of wanting to buy a 'whole' coin, not realising that they could buy just part of one.
Tangible
Many consumers seemed to have a sense that they were investing in tangible assets, due to the language and imagery associated with crypto assets, such as 'mining' and 'coin'.
The FCA says only a small minority of UK consumers have bought crypto assets and many do not understand what they are. It estimates that only 3% of those surveyed had ever bought crypto assets, and 73% of UK consumers don't know what a 'cryptocurrency' is or are unable to define it.
The survey indicated that, amongst a small sub-sample, around half of those who buy crypto assets spend less than £200. Most use their own disposable income – none of those surveyed within the sub-sample, said that they borrowed money.
One in 100
Most consumers who haven't bought crypto assets to-date aren't likely to do so. Of those who had never bought crypto assets, only one in 100 people said they would definitely buy in the future.
Gavin Brown (pictured, below), a senior lecturer at Manchester Metropolitan University, says regulation of crypto assets is "complex and evolving."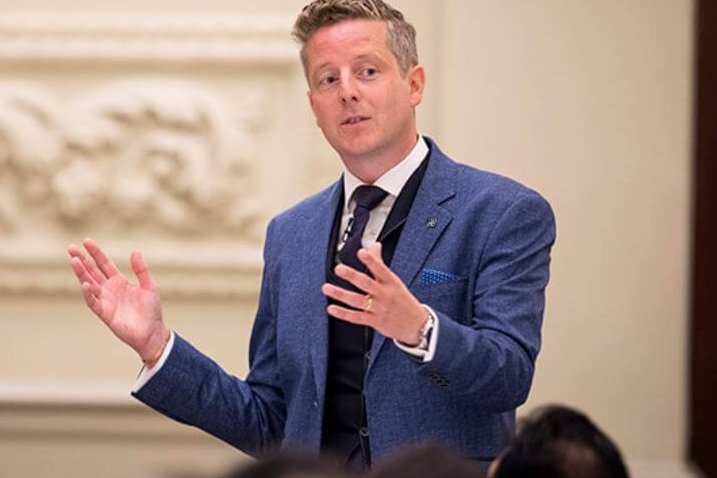 In March 2017, as part of its wider fin tech strategy, the government announced the establishment of an FCA, HM Treasury and Bank of England taskforce on crypto assets and distributed ledger technology.
"The report, which was based on the experiences of 33 consumers, found while there has been a great deal of research and debate devoted to the potential uses of crypto assets, blockchain and the underlying distributed ledger technology, there is a noticeable gap in research that aims to understand the experience of purchasing crypto assets from a consumer perspective.
Meaningful investigation
"The survey is based upon 2,132 face-to-face interviews in December 2018 which although not fully representative is still a meaningful investigation that is worthy of our attention and consideration," he says.
"Only 3% of the above sample had ever previously purchased cryptocurrencies. That equates to just 64 people. The FCA suggest that prior purchase research from these individuals was often insufficient but was at least financed by their own funds rather than borrowings in all cases.
"The key outcome is that, 'over 70% of those surveyed haven't heard of cryptocurrencies or didn't know how to define one.' A reassertion that despite the asset class marking 10 years since Satoshi's paper in late 2008 and the Bitcoin genesis block being mined on 3rd Jan 2009, for the majority of the public such crypto oassets are still outside of the national psyche and certainly the understanding of the vast majority."
No regrets
"With 67% of respondents 'not regretting' their original investment during a bear market the research mirrors the HODL position of many who see this as a medium to long-term investment which perhaps goes some way to explaining the reduced liquidity and relative lack of price volatility in the markets of late," he adds.
It will be interesting to see if the early adopters gain from their risk-taking behaviour. Historically, there are many who correctly predicted the post dotcom crash growth of new tech and platforming businesses, but who chose now defunct businesses "such as boo.com and Webvan rather than one of the FAANGs [Facebook, Amazon, Apple, Netflix and Google.]"
"Such disproportionate gains for the prudent, or lucky, investor will continue to attract gamblers who are effectively noise traders to cryptoa ssets. With over two thousand coins presently listed on coinmarketcap.com for better or worse we can only confirm the adage of caveat emptor – buyer beware."
Not easy
The authors noted that recruiting respondents for the research was "not easy." Those purchasing crypto assets, or those interested in doing so, were often "not easily identifiable." In part, this was because it is largely a private activity, taking place behind closed doors. And some people were "not comfortable" disclosing details about their financial situation, particularly when they had made losses.
They spoke to Kyle, 22, from Manchester, who first dealt with crypto assets when he was 16 to buy illegal drugs only. He told researchers: "It was only when I was 20 or 21 when I saw it is an investment."
He bought £1,000 of Bitcoin, Ripple, Tron, Excelen, Appcoin and Elastos with a student loan in January 2018. He concedes the purchase was made "at the worst possible time" as the value of Bitcoin plummeted just a few weeks' later.
Litecoins
Angela, 26, who works in HR in luxury fashion in London purchased two Litecoins at £650, deciding not to consult her boyfriend or peers who knew more about the market.
She told researchers: "I wanted to feel like I did it on my own." She felt that Bitcoin was a "safer investment" but couldn't afford to buy a "whole one", so instead preferred to buy two whole Litecoins.
Her purchase fell quickly, and at the time of the interview was worth £86 in total. Angela regrets her decision to buy crypto assets: "I only did my research after I had already bought them," she added.
Elena, 34, is a former marketing director for an ICO in Bulgaria, who lives in London. She is "comfortable financially" from her previous work in marketing and she works part-time in admin.
External influences
Having previously worked as a marketing director for one of her friend's ICOs, she knows how external influences can drive market movements, therefore affecting value. Recently she bought Polkadot with €60,000, reporting a profit of €40,000.
She values uer holdings at €200,000 at the time of the interview. Her main influence is a friend whom she describes as a 'genius', and whom she believes is well connected to an 'inner ring' of influencers – such as founders of ICOs.
Researchers found most respondents expressed a desire to make significant amounts of money in their lives, and while some were looking for ways to supplement their income, others had explored a variety of ways to try to 'get rich quick' without having to work.
Fomo
Most cited FOMO (the Fear of Missing Out) for their reasons to buy cryptocurrencies. One took advice from a taxi driver who said he'd put himself through college with the money he'd made money by investing.
Social media platforms were the most common source of news and information on cryptocurrencies across the sample.
However, a large proportion of the respondents did not trust mainstream media and sources of information. Some respondents were suspicious of the mainstream media's 'agenda' and were concerned by 'fake news', and some didn't have much trust in 'establishment' institutions in general.
Despite their losses, most of the respondents decided to hold on to their assets believing they would go up in value again.
Disclaimer: The views and opinions expressed by the author should not be considered as financial advice. We do not give advice on financial products.