Ravencoin is rapidly approaching its first ever mining rewards halving event – set for 14:48 UTC on January 11.
Ravencoin (RVN) is an impressive community-led project that forked off Bitcoin (BTC) in 2018 with the rare promise of a fully-fair launch that included no presale or ICO.
Originally receiving backing from Medici ventures, the community launched the Ravencoin Foundation to guide the projects future from within the community in 2020.
Driven by network native RVN token, the open source proof-of-work project operates similarly to Ethereum and ERC-20 through the use case of token issuance, however, it remains true to highly decentralised ideals boasting an ASIC-resistant hashrate (X16R) that protects everyday GPU-miners.
Speaking to Coin Rivet, Tron Black – Ravencoin's lead developer and a co-founder, outlined the reasons for the halving.
"The first Ravencoin halving is when the software begins making RVN more rare by reducing supply," he explained.
"The halving is the opposite of money printing induced inflation, this is the first and largest RVN supply cut in Ravencoin's history."
The second Ravencoin halving event will be in 2026.
Markets tentatively excited ahead of RVN halving
Markets have seen tentative price action in response, with anticipation and excitement about the event driving a 13% rally on January 3.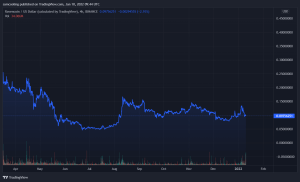 Typically halving events can drive substantial rallies. Indeed, the Bitcoin (BTC) bull run in 2021 is credited to a halving event – and similarly a Vertcoin (VTC) halving event last year posted a 30% pump.
The 2nd Bitcoin halving occurred on July 9, 2016. The price at that halving was $647 and on Dec. 15, 2017, bitcoin's price had soared to $19,345 (29.899x). RVN's second halving will occur around Jan. 12th 2026. Even if Raven performed 1/2 as good, it would hit $8.15 by then. 3/6

— Bitsbetrippin (@BitsBeTrippin) January 10, 2022
What does the halving event mean for Ravencoin (RVN)?
In an effort to find out what Ravencoin's halving event could mean for the project, Coin Rivet spoke to leading community influencer Leon Ravencoin about his expectations for the event.
"I couldn't be more happy for the upcoming Ravencoin halving, the global Ravencoin ecosystem is rapidly expanding and the Ravencoin community pipeline is full of projects for 2022," he explained.
"It's a perfect time for Ravencoin code to tighten the mining rewards – half of all Ravencoin ever to be created are now in circulation.
"The halving reduces new Ravencoin by 3.6 million per day or about 1.3 billion a year – a huge reduction in new Ravencoin which should over time increase the price of Ravencoin."
The timing of the halving is significant, and comes amid a critical moment for proof of work technology that could see miners flock to Ravencoin.
"In June, Ethereum plans to transition from proof of work to proof of stake which will end mining on Ethereum – a higher Ravencoin price will help entice many of these thousands of Ethereum miners to transition to Ravencoin further expanding the Ravencoin ecosystem," added Leon.
Disclaimer: The views and opinions expressed by the author should not be considered as financial advice. We do not give advice on financial products.