With Christmas just around the corner, it can be an expensive time of year. If you need cash and don't want to sell your crypto, you could take out a crypto loan using your digital assets as collateral.
Taking out a crypto loan
How does it work? Depending on the platform you choose, when you take out a crypto loan, you temporarily transfer ownership of your BTC, ETH, or another crypto asset in return for cash. On some platforms, you can even get a loan in BTC, but that obviously depends on your needs.
Once you repay the loan with interest (much lower than a bank), your crypto is returned to you. Keep in mind that there are a few risks that some users may not feel comfortable with. For one, you'll no longer have control of your private keys, which means you need to trust the platform will keep your assets safe.
There's also the possibility that you cannot repay the loan, in which case you'll lose part or all of the collateral that you put down. Also, keep in mind external factors such as a trigger event. This occurs if your crypto asset loses a significant amount of its value against your fiat loan. In this case, you may be forced to put down additional coins.
Each crypto lending platform has different custodians, insurance policies, and terms and conditions. So if you think a crypto loan is a good idea for your needs this festive season, be sure to do your own research and choose the site you feel most comfortable with. Here are five crypto lending sites to get you started.
1) BlockFi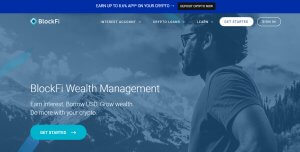 BlockFi is perhaps one of the most well-known lending companies in the cryptocurrency space and one of the first to come to market. The platform ensures that, in the event of a hack or unforeseen circumstances, "BlockFi would take a loss before any client would".
Crypto assets are also stored with Gemini, one of the most reputable custodians in the industry. BlockFi provides loans large enough to purchase real estate and states on its homepage, "At BlockFi, every client is treated like a whale".
With a minimum loan amount of $2,000 and currently just three crypto-assets supported – BTC, ETH, and LTC – BlockFi may not be everyone's cup of tea. Especially if you just want a little extra cash for Christmas.
2) Celsius Network

Celsius Network has been gaining a lot of traction lately. In fact, in 2019 alone, the company has issued over $4bn in crypto loans. With more options for collateral assets available than BlockFi (12), Celsius widens the net to more holders looking for a crypto loan. It also offers some of the lowest interest rates on the market.
So who holds your crypto when you take a crypto loan with Celsius? BitGo is its custodian. When it comes to crypto custodians, you don't get much bigger than these guys. Not only does BitGo account for some 20% of all Bitcoin transactions, but the firm's wallets are also insured for $100m by Lloyd's Insurance.
Once again though, the minimum loan amount is quite high at $3,000. So, this may be more for hodlers looking to buy high-ticket items (or just big spenders) this Christmas.
3) SALT

Established in 2016, SALT Lending has made a name for itself in this space. However, while this platform does cater to individuals, its main focus in on business loans. Rather than putting down a few ETH or BNB, the minimum loan amount is $5,000.
SALT does offer a higher loan to value percentage than BlockFi or Celsius though (70% compared to 50%), which means you can access more cash, but your repayment will be higher.
When it comes to the safety of your assets, SALT has built its own technology and uses a multi-sig process to ensure that no single party can move your funds.
4) YouHodler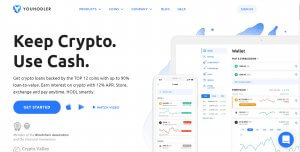 Not as well known as some of the bigger players, this European-based company has some interesting features. It supports more than 12 different crypto-assets for loans and has the highest loan to value percentage at 90%.
YouHodler also allows you to take out very small amounts starting at $100, which makes it a good choice if you just want to buy some extra gifts. There are also additional ways to squeeze the most out of your crypto assets, such as "turbocharging" your loan.
This process is currently only available on YouHodler and automatically takes funds from one loan to buy more collateral for a second loan, igniting a "chain of loans" that can be repeated up to 10 times, multiplying your crypto in the process.
This platform certainly seems to cater to smaller hodlers rather than whales and enables them to stretch their assets further. The company claims that all assets are 100% secure and that it follows all "industry best practices".
A member of both the Blockchain Association and the Financial Commission and with over 10,000 customers worldwide, YouHodler appears to provide security. Be sure to conduct your own research and ask all the questions you want using the website's pop-up chat.
5) NEXO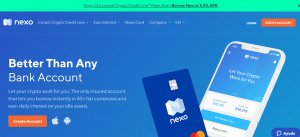 NEXO is another key player in the crypto loan space and offers the most collateral options, including TRON, BNB, ADA, NEO, and many more beyond your standard BTC and ETH.
The minimum loan amount is fairly low at $500, and the interest rate is among the lowest at 5.9%. NEXO is a regulated financial institution and is strictly supervised by multiple European banking and financial services regulators.
It also has a 5-star rating on Trustpilot and, like Celsius, uses BitGo as its custodian. Its loan to value percentage is only 50% though, so consider your own particular needs.
Wrapping it up
The cryptocurrency industry is growing up. There are now plenty of financial solutions that allow you to make your digital assets work for you in the same way as you would your fiat.
Taking out a crypto loan does not come without its trade-offs. However, with far lower barriers to access than a traditional bank and more solid solutions and offers appearing all the time, it could certainly be worth considering.
Disclaimer: The views and opinions expressed by the author should not be considered as financial advice. We do not give advice on financial products.