Last week, Coin Rivet attended the London Blockchain Week conference to learn more about the latest developments in blockchain.
From the state of ICO markets and blockchain regulation through to new token concepts, the event was rife with enlightening thoughts and comments.
Here are our five biggest takeaways from the event.
Regulation is not about the technology
One of the highlights from the event was the Global Regulation Update panel. The panellists included Eric Van der Kleij, Peter Smith, and Johnny Fry.
Eric Van der Kleij is the CEO of C4DR, Peter Smith is an independent industry consultant for FinTechReguLab, and Johnny Fry is the CEO of TeamBlockchain.
The panel provided some fascinating insights into current blockchain regulation. One of the points discussed was how the Financial Conduct Authority (FCA) is a lot more forgiving than other foreign regulators.
This is mainly due to the FCA preferring to work alongside businesses rather than against them. The FCA seems to be all for innovation and does not want to halt it.
Coin Rivet spoke with Peter Smith after the panel.
He informed us that regulators are not looking to regulate the technology, but rather the outcome. He also noted how they are looking to bring educational awareness to the public to stop them falling prey to crypto scams.
Token tickets
Another interesting point for discussion came from David Siegel's talk on token design and economics.
In his talk, Siegel noted how he thinks the next token trend will be "ticket tokens."
He noted how every day people use tickets, for example bus tickets, and these tickets have an unlimited supply but cost a fixed rate.
Whereas cryptocurrencies like Bitcoin have a large supply but they are not capped at a fixed rate. Because of this large supply and unstable rates, volatility is destined to transpire.
As a result of this, Siegel believes that ticket tokens – tokens with an unlimited supply and a fixed rate – could enter the markets and perform really well.
He also talked about how Bitcoin could one day become a type of stablecoin, providing it is used to fund day-to-day activities.
This would make Bitcoin functionally no different to the pound or dollar. Even though fiat currency can fluctuate, we still use it to purchase everyday essentials, which makes it 'stable.'
However, it isn't likely that Bitcoin will be utilised in this way for some time yet.
If you're interested in hearing more from David Siegel, check out Coin Rivet's interview with the Pillar Project CEO here.
The state of the Initial Coin Offering (ICO) market
Another highlight from London Blockchain Week was Annemarie Tierney's keynote talk titled, "Navigating the ever-changing landscape of digital securities."
Tierney is the head of strategy and general counsel for Templum, a leading platform for Tokenised Asset Offerings (TAOs).
During her talk, Tierney dissected the state of the ICO market between 2017 and 2018.
ICOs became a hugely popular method for raising funds for upcoming crypto projects in 2017 through to early 2018.
However, they have gathered a lot of bad publicity over time.
.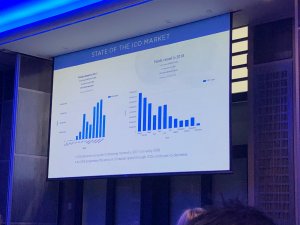 As you can see from the presentation provided by Tierney, the amount of capital raised from ICOs has drastically declined.
This is largely due the Securities and Exchanges Commission (SEC) clamping down on ICOs.
Back in November 2018, Airfox and Paragon, who each managed to raise over $10 million in their respective ICOs, were ordered to pay a fine of $350,000 and ordered to return the raised capital to their investors.
Companies are still building
In spite of the persistent bear market, companies in the crypto and blockchain space are still building.
We have recently reported on Steemit laying off 70% of their team and Ethereum's ConsenSys scrapping 13% of their staff as a result of the tough conditions brought about by the bear market.
However, from conversing with many businesses, investors, and speakers, companies seem to be expanding regardless of the bear market.
This is positive news for the crypto space, as it demonstrates longevity in spite of the downturn in the markets over the last year or so.
Is the conference hype dying down?
Back in October 2018, Coin Rivet attended the Malta Blockchain Summit with roughly 8,000 people in attendance.
While the Malta event was hugely packed, the London Blockchain Week conference was notably quiet.
Despite there being a lot of fascinating discussion, it did feel scarce at times. Is this indicative that the blockchain conference hype is beginning to fade? Are people who are not invested in the space being driven away by the bear market?
It is hard to say, but as long as businesses and projects continue to expand, the space won't by dying out anytime soon.
Check out our news stories and guides to learn more about the crypto and blockchain space.