Cryptocurrency wallets are designed to hold digital assets securely. They work by adding security to ensure cryptocurrencies are safe and kept away from the prying eyes of potential hackers.
There are a plethora of cryptocurrency wallets available in the space, and each type has different uses and benefits, ranging from printed-out paper wallets to online and even hardware wallets.
Sticking to the main wallet providers is the safest option as they have the best protection against hackers. However, you still have to be incredibly careful and safe with your private keys or the wallet's added security is pointless. Here, we will discuss the best cryptocurrency wallets available today.
Trezor
Trezor is a leading hardware wallet that allows its users to store cryptocurrency holdings securely. It currently supports over 500 different crypto coins. This wallet is considered to be one of the most secure wallets available.
The Trezor hardware wallet allows users to receive funds and transfer cryptocurrency to and from the wallet. It operates as a cold storage device, meaning it is always offline and out of the reach of hackers.
In terms of connectivity, Trezor recommends you download and install the Trezor Bridge software, which will allow you to optimise your user experience. However, as long as you're using Chrome, you can connect directly via WebUSB.
Read more about the Trezor wallet here:
Ledger
Ledger is another cryptocurrency hardware wallet that comes in the form of a USB drive. It is compatible with any modern computer and is designed with powerful safety features. Ledger is known for its excellent storage and safe ways to accomplish digital payments.
The Ledger Nano S wallet scores top marks for security with two-factor authentication, a secure PIN code, and recovery seed accessibility. It supports a wide range of cryptocurrencies and includes companion apps and a built-in touchscreen, which makes it very user friendly.
The Ledger Nano supports over 40 cryptocurrencies, including Bitcoin, XRP, and Ethereum. The Ledger Live companion app enables you to easily manage your crypto transactions, including simple, step-by-step processes designed to help you interact with your device easily and securely.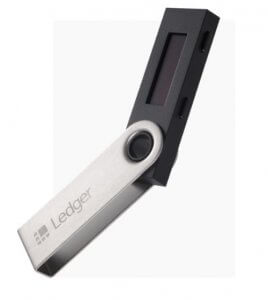 Jaxx
Jaxx is a multi-chain wallet that offers support for a number of different cryptocurrencies. A good choice for iOS and Android users, Jaxx is available as a desktop app, Android and iPhone apps, and as a Chrome extension. Private keys never leave the device, and features like seed keys enable you to restore your funds whenever you need to.
The wallet was created in 2014 by Ethereum co-founder Anthony Di Iorio. It supports many cryptocurrencies including Bitcoin, Ethereum, Litecoin, Dash, Zcash, Augur, Salt, Civic, Qtum, Blockchain Capital, and Bancor. The wallet can be accessed via desktop and mobile devices which can be paired, so transactions are up to date the next time a user switches between devices.
MyEtherWallet
To give you a higher level of security, MyEtherWallet lets you store your private key on your computer rather than on third-party servers. The trade-off is that you have to back up your wallet regularly. It also has a built-in ETH to BTC swap facility, and it can be integrated with hardware wallets like Trezor and the Ledger Nano S.
MyEtherWallet is "paper-based", so even though the wallet is created using the web, all of your information and currency are stored on your computer and not on the wallet's servers. It is a free, open-source hot wallet which allows users to interact with the Ethereum blockchain. Another beneficial factor of the wallet is that it allows you to access different Ethereum wallets – for example, Trezor or Ledger.
Exodus
If you're new to trading, Exodus has a simple user interface with well-designed features, such as ShapeShift integration for quick currency exchanges. Transactions over a crypto network can be made directly through the Exodus wallet, with transaction fees paid to the network, not Exodus.
Exodus is a great solution for users who want an easy-to-use desktop wallet. It provides access to an extensive array of digital currencies. If you want an easy user interface wallet with access to a large list of digital assets, this is the wallet for you.
For more comprehensive guides on cryptocurrency, blockchain technology, and wallets, click here.
Disclaimer: The views and opinions expressed by the author should not be considered as financial advice. We do not give advice on financial products.