What is a CEX public chain?
A CEX public chain is a public blockchain that is developed by a centralised exchange platform. 
It differs from other public chains as it is born with a solid foundation of users and project resources from the exchange platform. 
Public chains enable different projects, tokens, and features – account management, mining, and cross-chain bridges, for example – to exist on one ecosystem, which tends to make them more competitive than other public chains. 
Some CEX's public chains even support DEXs that rival the original exchange itself. For example, Binance's chain, Binance Smart Chain, supports PancakeSwap. 
This article compares the top six CEX public chains to explain what they offer to developers, investors, and blockchain enthusiasts. 

The main exchanges—Binance, Heco, and OKEx—all began developing public chains in 2018. Interestingly, these CEX public chains have evolved from being purely centralized exchanges, where users trade tokens, to becoming full public chains that support dApps and projects. Finally, several are now iterating further to become decentralised.
The top 3 TVL business types of exchanges are DEXs, yield farming, and lending.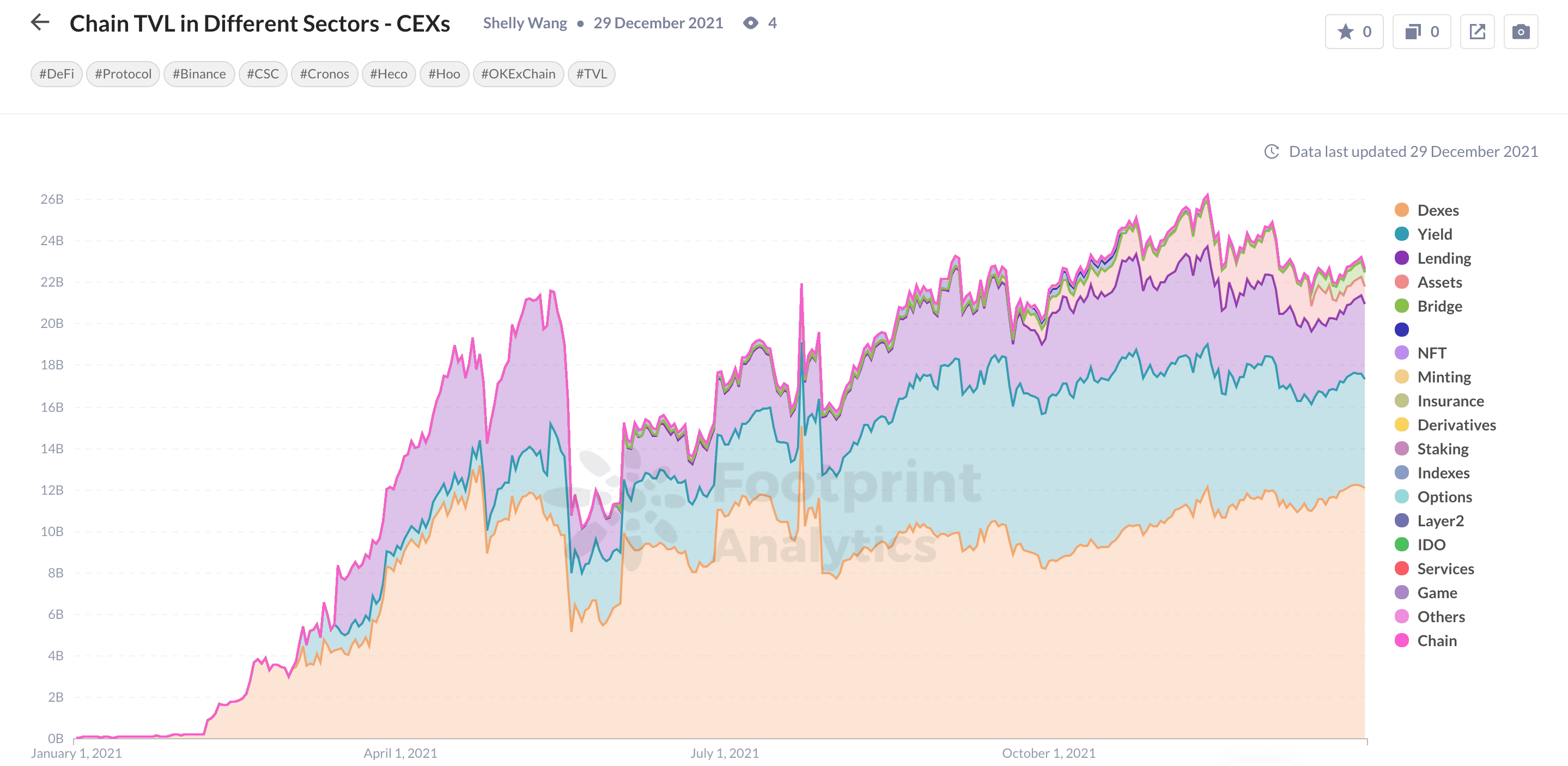 Footprint Analytics – Chain TVL Distribution – CEXs Overview
BSC is the largest CEX public chain, while Cronos, a late player, has seen its TVL grow by more than $1 billion in just one month. On the other hand, Heco has not seen significant growth in TVL in the last year.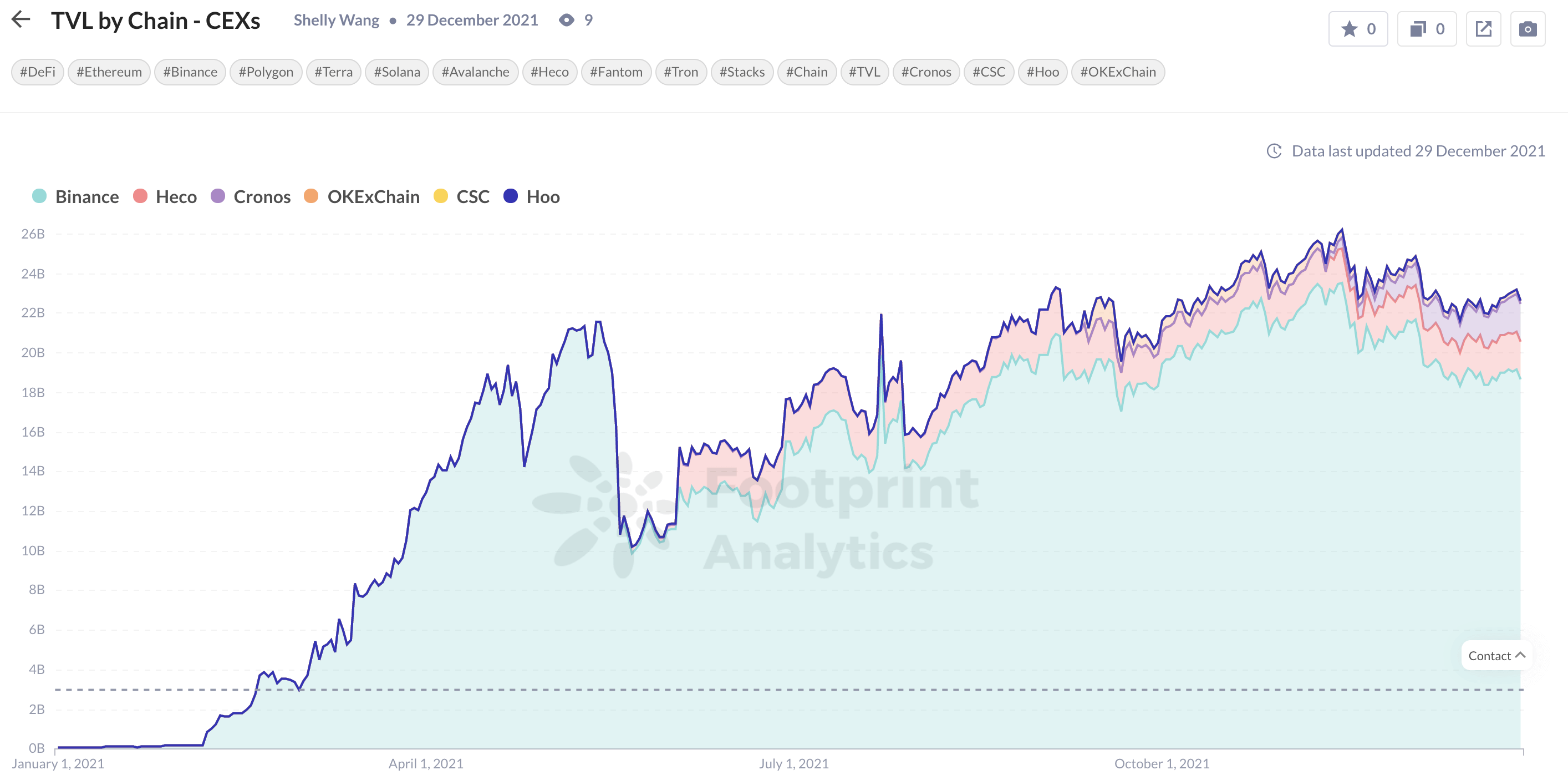 Footprint Analytics – TVL by Chain – CEXs
Overview of the CEX Public Chain Ecosystem
The Binance Smart Chain (BSC) has the most well-established ecosystem, with over 260 protocols. It is also the biggest trading public chain in the GameFi space.
The Heco chain has the second-highest number of protocols with 33 dApps. MDEX accounts for 53% of Heco's TVL, and the TVL of other projects is less than $100 million.
The Cronos chain, which Crypto.com releases to mainnet beta on November 8, has more than 20 protocols on board, mainly DEX and yield projects. The CRO EVM fund will provide at least 100 dApps on the Cronos chain with up to $1 million in development funding.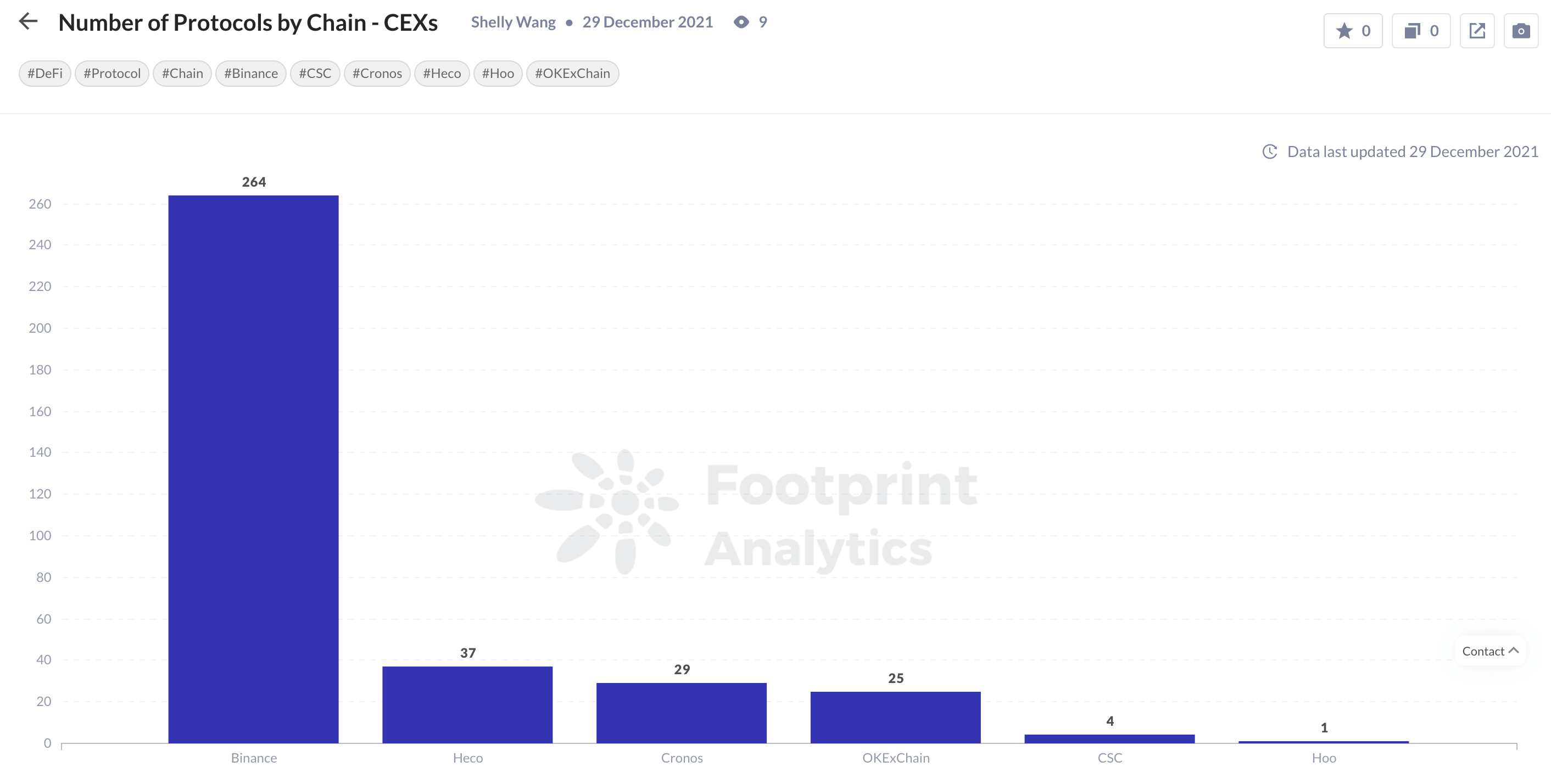 Footprint Analytics – Numbers of Protocols by Chain – CEXs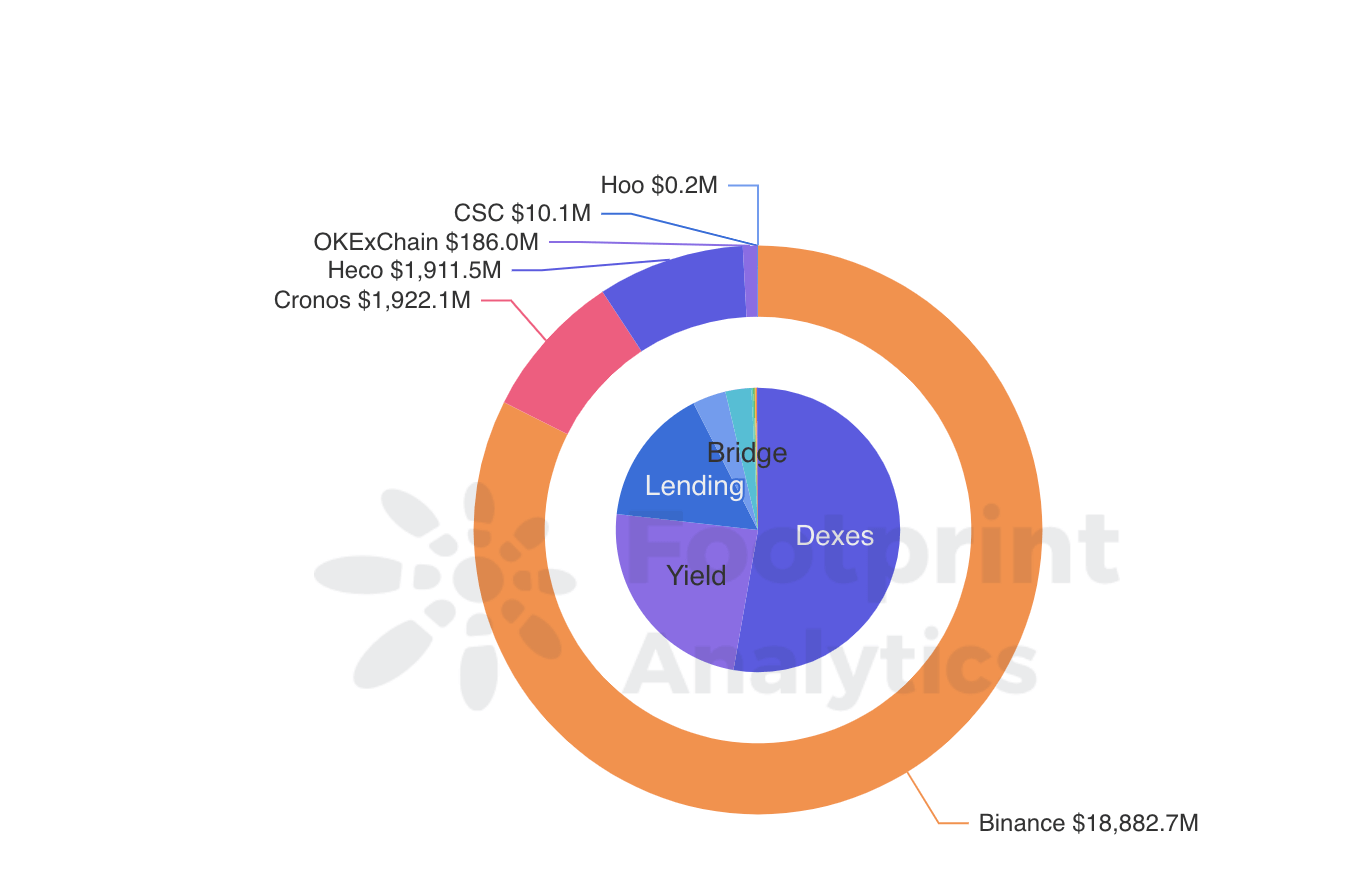 Footprint Analytics – Chain TVL Market Share – CEXs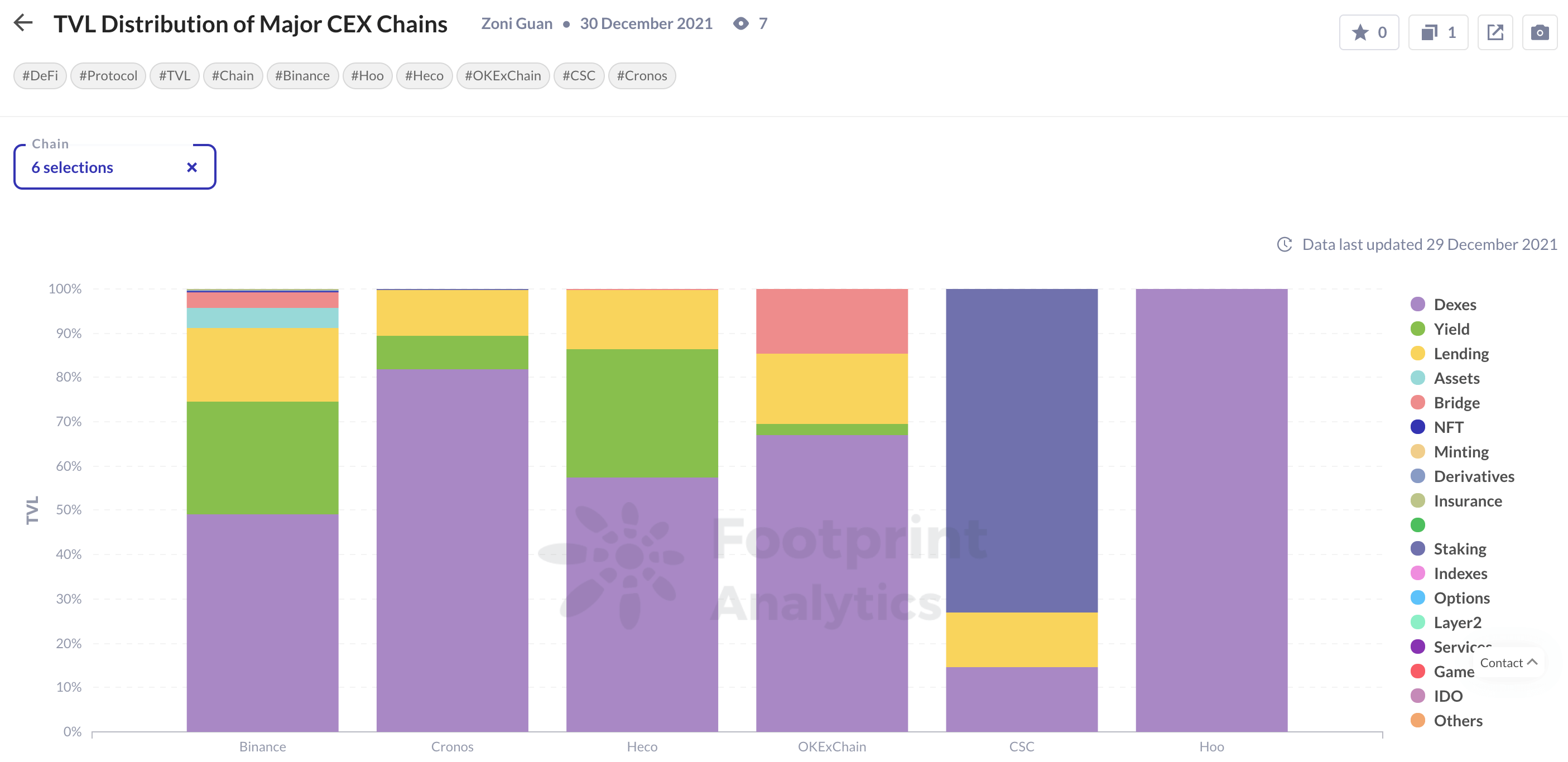 Footprint Analytics – Chain TVL Distribution – CEXs
In 5 Aspects to Evaluate a New Blockchain, Footprint Analytics explained how to assess public chains according to the metrics of performance, token price, on-chain ecosystem, and business categories.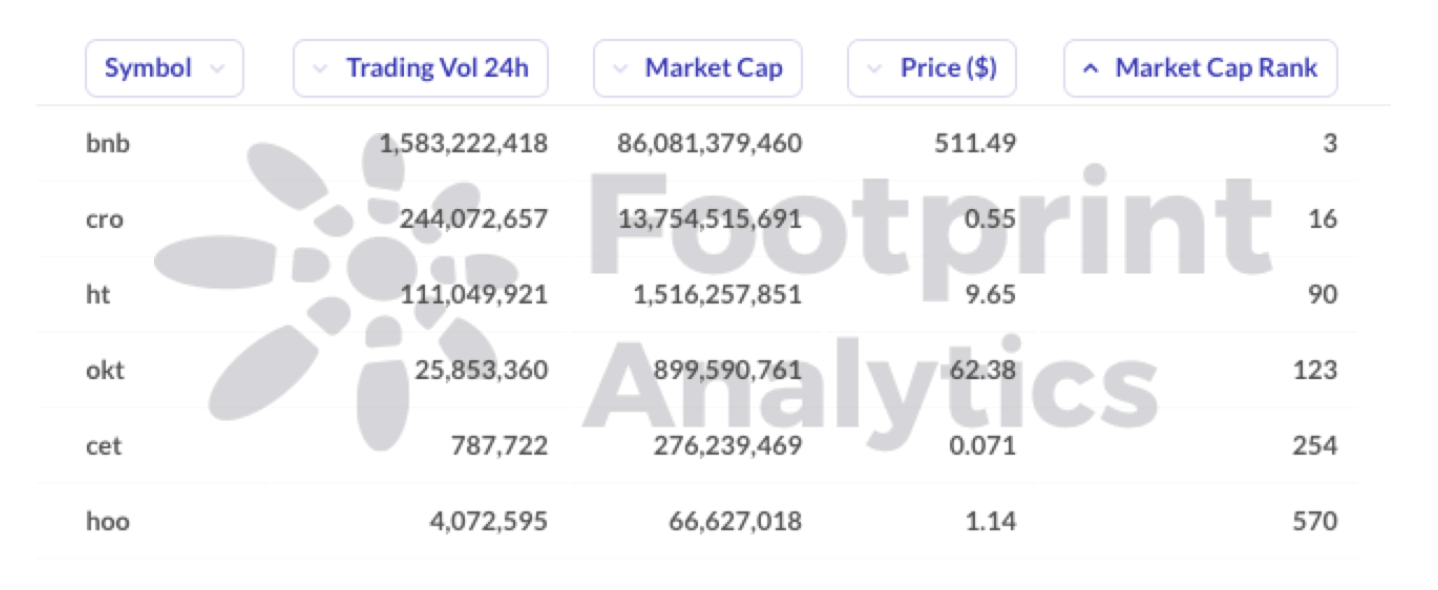 Footprint Analytics – Token Price & Market Cap – CEXs
The value of a chain's token is highly correlated to the exchange's value and ecosystem construction. Popularity, trading volume and high-quality infrastructure translate to a high token price. While it may seem simplistic, token prices are a decent proxy for a public chain's business performance.
Thanks to the richness of the exchange ecosystem, BSC's public chain token, BNB, currently holds the leading position in terms of trading volume, price, and market cap. CRO, the token of the emerging public chain Cronos, built by Crypto.com, has also leaped to the top of the market cap ranking, coming second after BSC. 
Ethereum has seen a vast increase in TVL from $20 billion in January 2021 to a peak value of over $180 billion. 
With the DeFi explosive development and growing user engagement, Ethereum is overwhelmed. The congestion of transactions, high fees, and other issues have forced Ethereum to consider expansion options.
Rome wasn't built in a day. While the blockchain still cannot be used by large-scale users because of the lack of infrastructure.
The trend of events brings forth the hero. 
In 2021, new public chains have mushroomed, and flourished protocols have contributed to a racket high of TVL.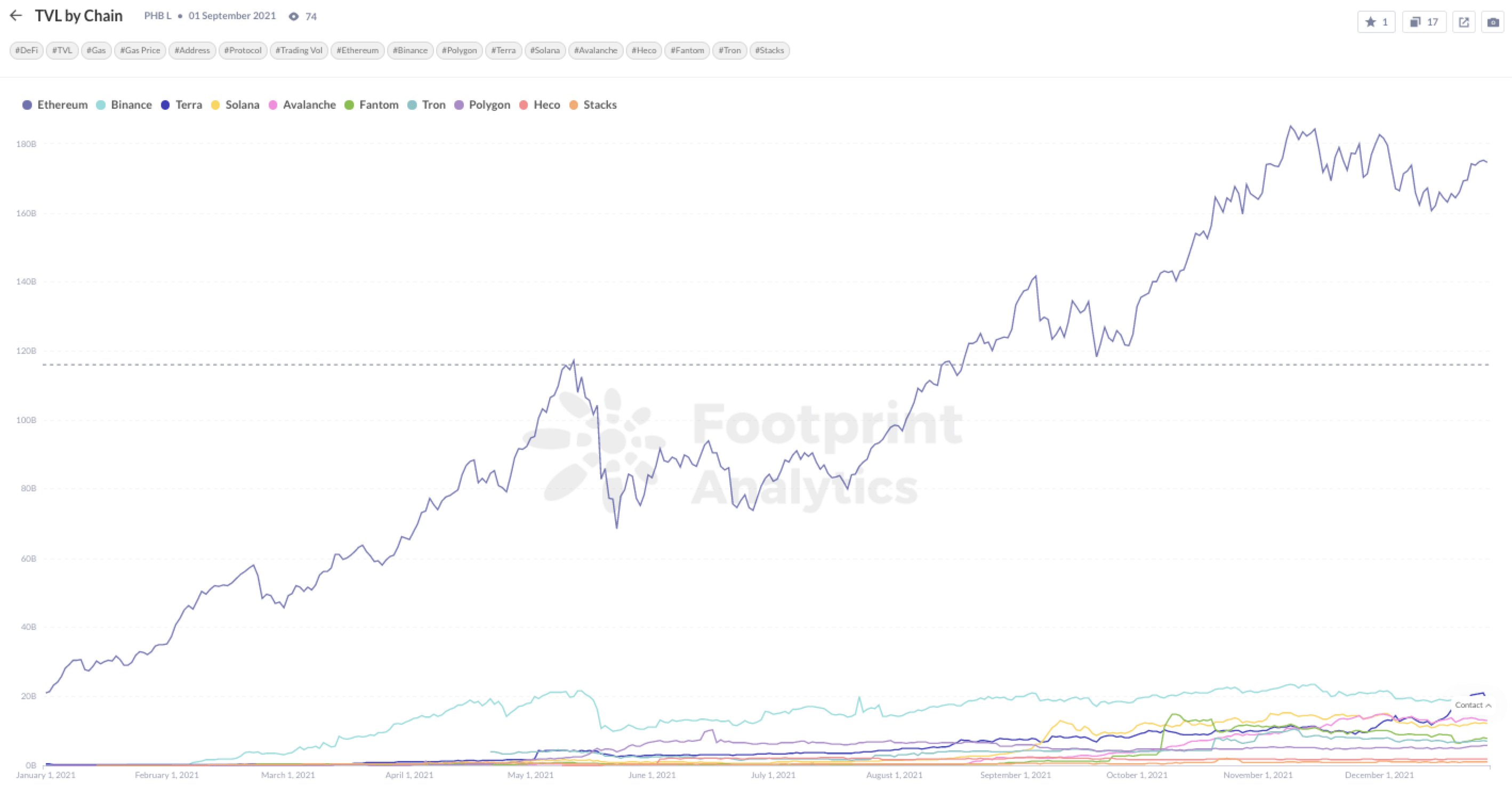 Footprint Analytics – TVL of Public Chain
A fierce competition is ongoing among various public chains.
Among them, exchanges with strong user and project resources in hand have quickly seized the opportunity to develop their public chains (CEX public chains) and  dApp ecosystems. 
Exchanges now extend their competition from crypto-assets trading, over bit products, IEO, to DeFi and even other dApp such as GameFi and NFT.
What is Footprint Analytics?
Footprint Analytics is an all-in-one analysis platform to visualize blockchain data and discover insights. It cleans and integrates on-chain data so users of any experience level can quickly start researching tokens, projects and protocols. With over a thousand dashboard templates plus a drag-and-drop interface, anyone can build their own customized charts in minutes. Uncover blockchain data and invest smarter with Footprint.  
Footprint Website:  https://www.footprint.network
Discord: https://discord.gg/3HYaR6USM7
Twitter: https://twitter.com/Footprint_DeFi
Telegram: https://t.me/joinchat/4-ocuURAr2thODFh
Disclaimer: The views and opinions expressed by the author should not be considered as financial advice. We do not give advice on financial products.