Andreessen Horowitz (known as a16z) is a legendary venture capital firm in Silicon Valley, founded in 2009, that has invested in internet giants such as Facebook and Twitter.
A16z stands out among many old-school venture capitals for its resolute investments, and it is now betting big on crypto.  
What kinds of crypto projects does a16z like? 
A16z invested in Coinbase – now the largest CEX platform in the US – at an early stage and received a return of over $7 billion. 
The firm has also invested in several blockchain areas, including public chains, DeFi, NFT, etc, via its crypto fund. 
In 2021, Gamefi exploded, and Web 3.0 also garnered attention. a16z kept up with the trends and adjusted its portfolio, investing in play-to-earn Yield Guild Games, Web 3.0 social tool Mem Protocol and other projects.
Footprint Analytics: Monthly Investment by Category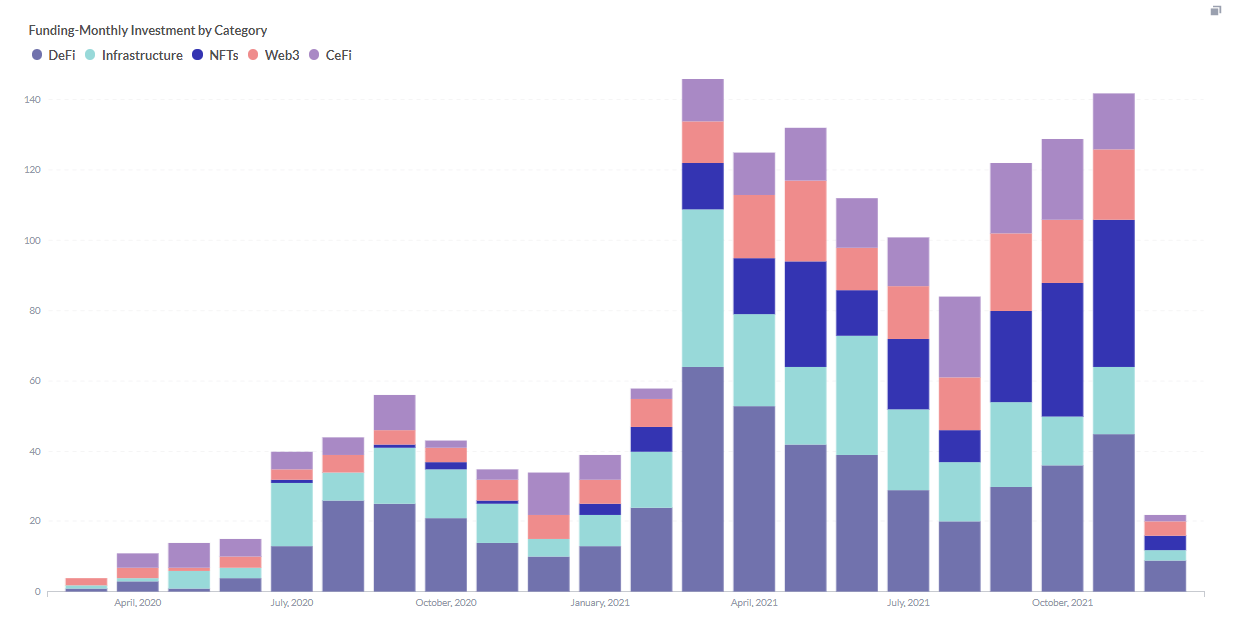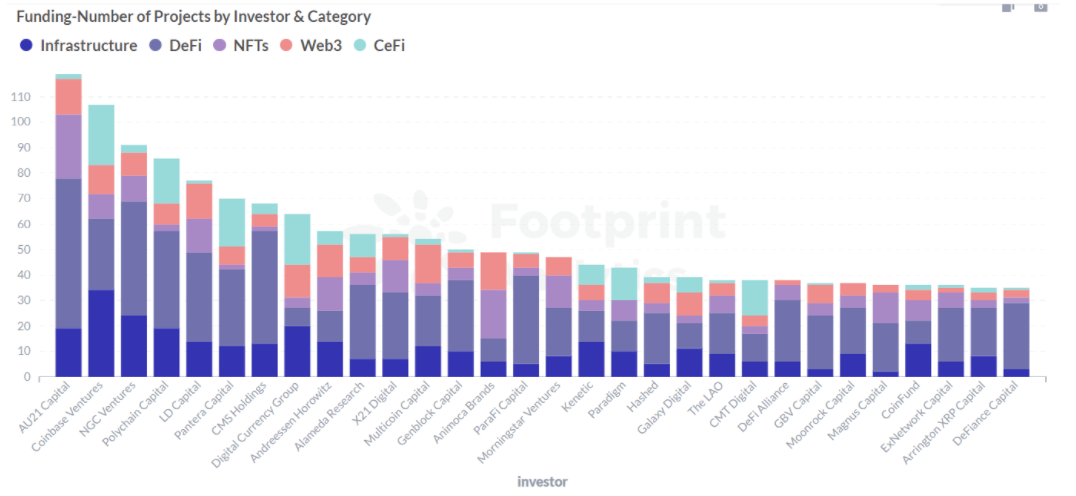 Footprint Analytics: Number of Funded Projects
Why is a16z a leader in the industry?
Three things set a16z apart from other firms. 
A long-term crypto investor with strong capabilities
"Software is eating the world," wrote Marc Andreessen, co-founder of a16z.
With many years of experience in the internet, new technology has always been an area of interest for a16z. Therefore, when blockchain technology started gaining traction, a16z became a committed early investor. a16z firmly believes that blockchain is the innovator and promoter driving the next wave of digital transformation.
Crypto has gone through multiple waves in several years, and every new wave brings more innovative businesses to the market. a16z wrote clearly on its website: "We are long-term, patient investors and have a committed capital base and expect to hold investments for 10+ years."
A technology evangelist with full service
Both founders of a16z have experienced a lot in the business world. They are very focused on providing added value to start-ups. This includes mentoring and developing great CEOs, paying close attention to the business plans of their portfolios, including technical details, and even marketing and recruiting.
Ben Milne, the founder of Dwolla, a financial services start-up Andreessen funded, said that a16z almost became employees of the people they invest in.
A key opinion leader 
Before a16z, most VC focused on business and did not often appear publicly. But a16z has a distinctly different style, focusing on communication with the world.
As can be seen from a16z's official website, they have a whopping 109 members on their operations team, and they have built a complete series of articles, videos, podcasts, and newsletters.
At the same time, Andreessen and other core members of the company also frequently appear in the major media, tweeting sharp views and announcing their capabilities.
Which crypto projects does a16z prefer?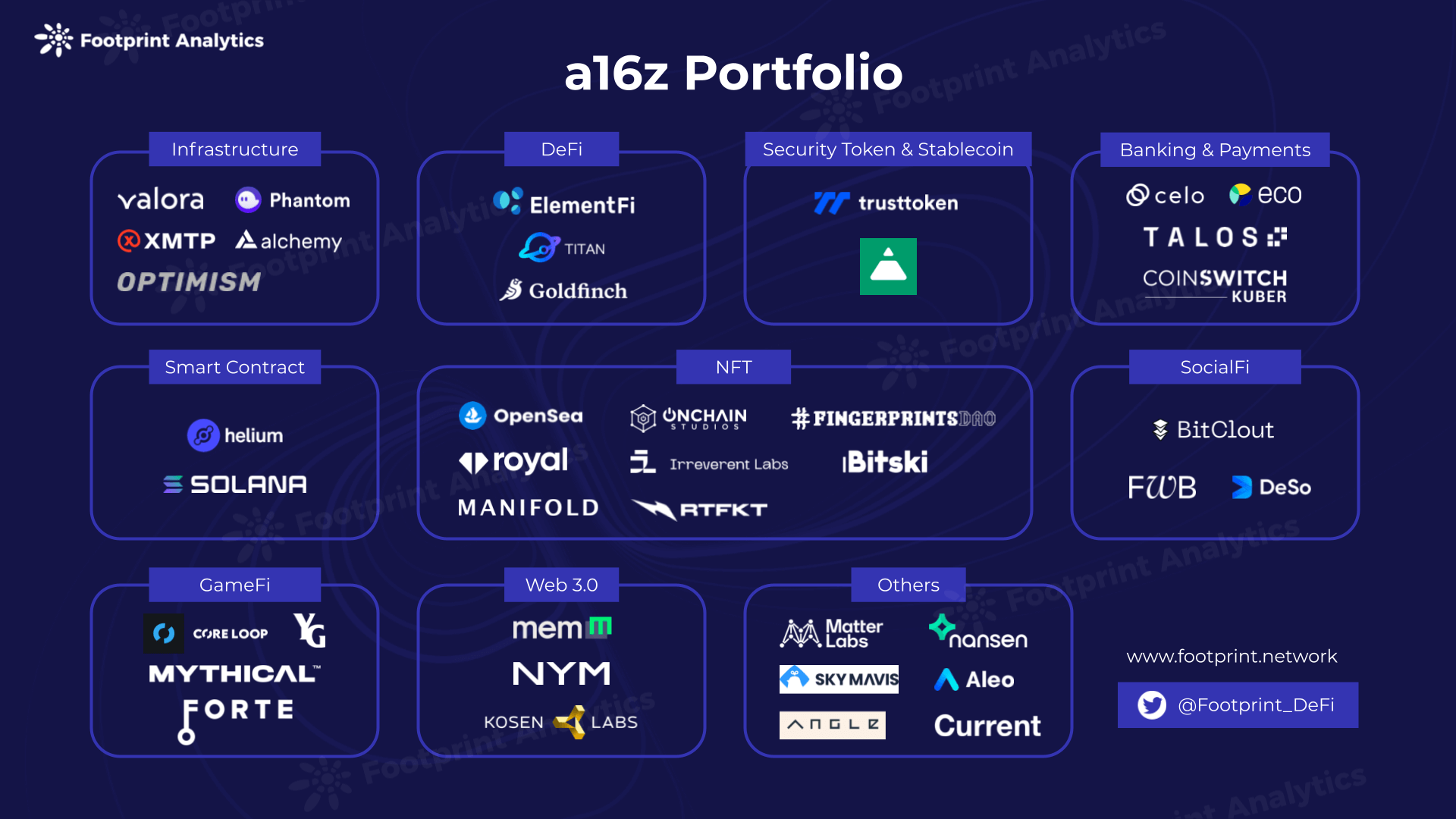 Footprint Analytics: a16z Portfolio, 2021
Innovative ideas and technologies
The most distinctive feature of a16z's investment projects is they like innovative ideas and technologies.
Investments include DFINITY, which claims to be the third great innovation after Bitcoin and Ethereum, Oasis labs, which is committed to building a blockchain-based cloud computing platform and claims to surpass Ethereum, and Ripple. 
Recently, the metaverse concept has swept the world, and various DAO governance organizations have emerged. a16z has also invested in social DAO project Friends With Benefits, digital toy company OnChain Studios, and other pioneers of innovative concepts. 
An efficient and stable market requires a mature and robust infrastructure.
In the crypto world, a16z understands it deeply. The firm invests mainly in infrastructure and smart contract platforms. AVA Labs, a decentralized service platform, TradeBlock, a blockchain messaging platform, and Arweave, a decentralised storage protocol, are key projects.
A16z focuses on long-term investments and is happy to double in on previous bets. Footprint Analytics shows that most of the current investments are focused on seed rounds, but more than half of a16z's investments have been follow-on investments in 2021.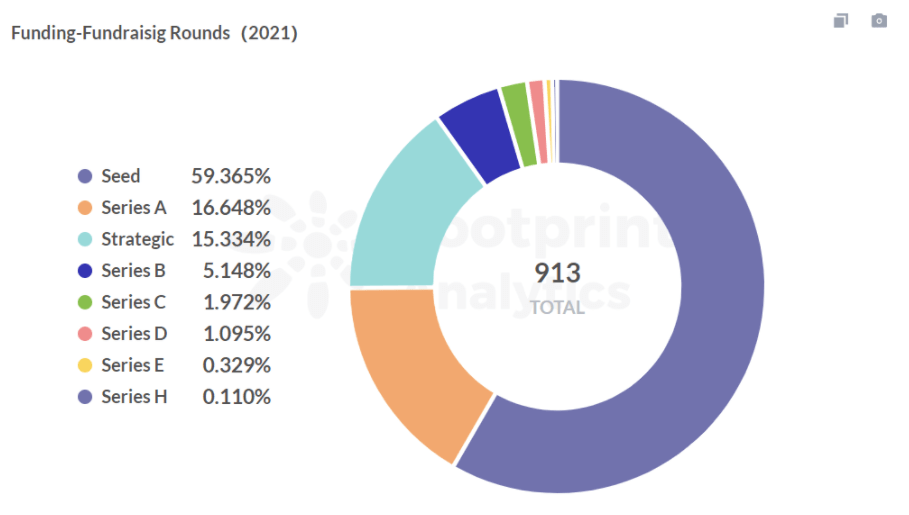 Footprint Analytics: Funding-Fundraisig Rounds(2021)
A16z invested $25 million into Coinbase in Series B in 2013 and added another $25 million in 2014.
Strong teams and rapid iteration
The core members of a16z have shown that only entrepreneurs who are good enough can stay ahead of market trends, and only a team that iterates quickly can cope with the fickle blockchain market. So they firmly believe that investing in a project is equal to investing in a team.
In addition, a16z also provides comprehensive post-investment support, from the recruitment of product and technical staff to marketing and communications.
Summary
A16z has become a leader in investing in the world of blockchain and crypto through its long-term vision, focus on communication and support to companies it funds, and its investment philosophy of focusing on technology and fundamentals. 
What is Footprint?
Footprint Analytics is an all-in-one analysis platform to visualize blockchain data and discover insights. It cleans and integrates on-chain data so users of any experience level can quickly start researching tokens, projects and protocols. With over a thousand dashboard templates plus a drag-and-drop interface, anyone can build their own customized charts in minutes. Uncover blockchain data and invest smarter with Footprint.
Footprint Website:https://www.footprint.network/
Discord:https://discord.gg/3HYaR6USM7
Twitter: https://twitter.com/Footprint_DeFi
Disclaimer: The views and opinions expressed by the author should not be considered as financial advice. We do not give advice on financial products.