Despite being around since late 2018, Uniswap has catapulted itself into the mainstream in 2020 amidst the rise in popularity surrounding decentralised finance (DeFi).
Uniswap is an Ethereum-based decentralised protocol that allows users to trade and provide liquidity for erc-20 tokens.
Currently, Uniswap has $2.33 billion locked up in liquidity with 24-hour trade volume surpassing $250 million.
Before Uniswap, there was EtherDelta
Those who were around during the 2017 bull market will have fond memories of EtherDelta, the self-proclaimed decentralised exchange with a user interface that teleported users back to the late 90's.
EtherDelta was founded by Zachary Coburn, who eventually faced a charge from the SEC for "operating an unregistered exchange" in 2018.
EtherDelta more than served its purpose at the time, allowing users to type in an Ethereum contract address and trade tokens with anyone who was willing to be on the other side.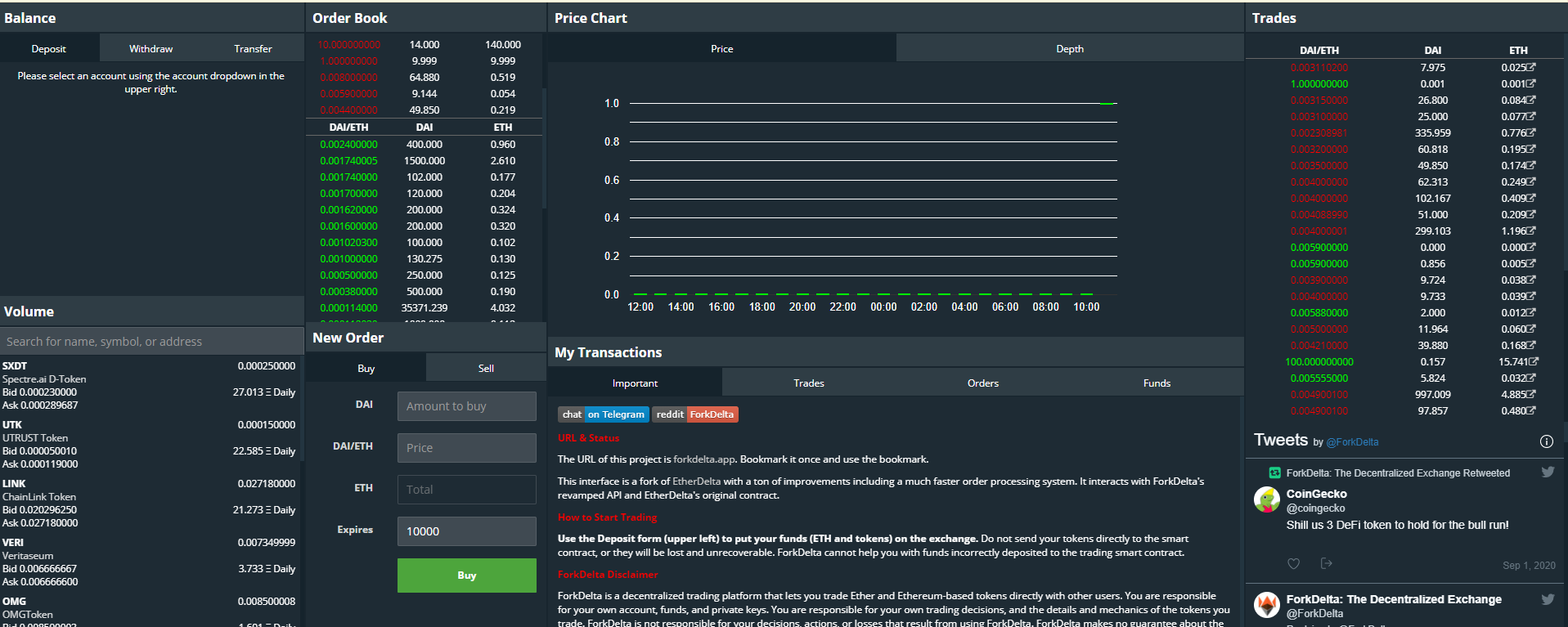 What EtherDelta did well was allowing its users to set specific bids and asks on the order book. This removed front-running bots that cause large amount of slippage on Uniswap.
It also allowed more sophisticated trading strategies based off order book data, although this did cause an issue with order spoofing and wash trading.
EtherDelta eventually met its demise in 2018 after Coburn reportedly sold it to another party for an undisclosed fee.
Uniswap's issues
Trading on Uniswap can be a stressful experience. Front-running liquidity bots cause a frustrating amount of slippage and failed orders, this also contributes to mounting Ethereum gas fees.
Ethereum aficionados will be hoping that this year's 2.0 upgrade will improve scalability and expensive transactions, but as plans continue to be shelved it's unclear when the upgrade will take place.
Currently, Uniswap is fairly inaccessible to those retail investors who are trying to build up a relatively small portfolio of under $5,000.
Average Ethereum Gas Price is all-time high

More stats 👇

cc @DeFi_Dad https://t.co/ix6fwqQK9F pic.twitter.com/GbzEqLtiqN

— Bitquery.io ( Bloxy ) (@Bitquery_io) September 22, 2020
With gas fees ranging between $5 and $25 per transaction, margins from high frequency trading rapidly diminish, leaving investors to adopting the 'hodl' approach, which is without doubt one of the worst trading strategies to utilise in terms of long term profitability.
The distinct lack of a visible orderbook makes entering and exiting trades much harder, it also removes an element of control from a user experience standpoint.
Uniswap V3
The developers behind Uniswap are well aware of its current issues. Uniswap inventor Hayden Adams revealed on Twitter than plans for Uniswap V3 have "been in the pipeline for a while" and that "there are plans to tackle slippage, and improve capital efficiency".
Adams went on to state that slippage will be the where most of the focus will be, while also discussing the potential of layer 2 implementation.
Yeah. In low volatility, ideal fee is smaller.

Ideal fee is just based on the (price) volatility over time, not how quickly a single trade moves the price (liquidity)

This is Uniswap V3 stuff, I don't wanna spoil too much 😏

— Hayden Adams 🦄 (@haydenzadams) December 3, 2019
While there certainly is positive developments coming out of the Uniswap camp this year, traders will have to wait until at least 2021 before getting their hands on the highly-anticipated platform.
Adams stated that he wants to build a V3 that is "100x better" than V2, although so far there has been no mention of whether integrated order books will be included in the upgrade, unfortunately.
For more news, guides and cryptocurrency analysis, click here.
Disclaimer: The views and opinions expressed by the author should not be considered as financial advice. We do not give advice on financial products.