We usually can't determine the right or wrong crypto purchase until we have them in our portfolio and monitor their performance for an extended period. However, certain indicators give strong hints on what to expect from a particular crypto asset. Expert analysts consider these indicators when giving predictions and analysis.
Analysts' predictions and analyses are not usually entirely trustworthy, but they could be helpful guides when researching personally. According to some of the latest predictions, Klaytn (KLAY) and ThorChain (RUNE)  are promising altcoins. You can spend more time analyzing, while Dogetti (DETI) could be the next big thing soon. We review these altcoins below.
ThorChain (RUNE): Pushing The DeFi Agenda
ThorChain is a growing decentralized finance (DeFi) network where users can exchange digital assets (cryptocurrency) easily across different channels. The liquidity protocol is one of the few that has successfully mitigated impermanent loss when providing liquidity for the platform's pool. ThorChain acts as an automated market maker (AMM) while allowing permissionless asset transfer and liquidity provision.
ThorChain's utility token, RUNE, backs every transaction on the platform. The DeFi token is also a good crypto asset that could make a big difference in investors' portfolios. Its market history has shown that it has a high possibility of rallying upward when the market conditions are favorable. With the market on an impressive recovery run, the ThorChain token (RUNE) could equally rise in value.
It has a peak price of $21.26 and could rally towards that price point again after a disappointing run during the last bear rally. RUNE is in a position for a profitable run, and closely monitoring its progress can help you determine the best entry time.
Klaytn (KLAY): Pairing Blockchain Technology And Metaverse
Klaytn is one of the best blockchains for metaverse developers and creators to build virtual infrastructures and applications. It is highly functional and supports different services, including integration of stablecoins and NFT marketplace development. The platform boasts some important tools metaverse developers may need to build highly functional applications.
Some of the packages include IPFS solutions, Chain explorers, smart contract libraries, among others.
Klaytn is among the few blockchain networks that boast near-instant finality. Unlike others, it leverages a unique upgraded version of Istanbul BFT technology to achieve this. The platform utility token KLAY helps maintain its security integrity while performing other utility functions effectively. It's a good crypto asset with an impressive bull run history, and the coming months could come good for the token holders.
Dogetti (DETI): Passively Earn Whilst Owning DETI Tokens!
Dogetti (DETI) is a crypto asset for long-term investors looking to take advantage of early entry. The new meme coin is highly likely to follow the trend of past successful ones by having a great presale and experiencing an unprecedented increase in a few years. Dogetti (DOGE) is another dog-themed meme token, and it will feature vital utilities and strong community support to leverage.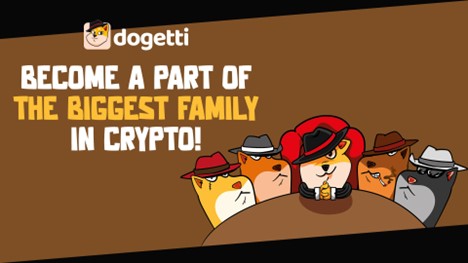 The new meme coin aims to create a community abundance in wealth and not lacking in support. The developers will spur participation in community activities and strengthen the community bond using different approaches. This may include giving incentives, privileges and assigning roles. Dogetti token (DETI) holders will be able to make the most of the ecosystem. Their token holdings will give them the right to decision-making and equally make them eligible for the platform's reflection protocol reward, which is 2% of every transaction tax fee.
The Dogetti ecosystem will feature the DogettiSwap, NFTs, and the DAO. The native token, DETI, will facilitate the functionality of each entity. It will serve as a payment medium for transactions in the Swap. It will also back minting or trading of NFTs, while users will need to hold an amount of it to have governance rights on the platform.
Dogetti (DETI) is on course to go on presale soon, and the token's future looks bright.
Use promo code WISEGUY25 for 25% extra on every DETI purchases!

For All Things Dogetti (DETI)
Presale: https://dogetti.io/how-to-buy
Website: https://dogetti.io/
Telegram: https://t.me/Dogetti
Twitter: https://twitter.com/_Dogetti_
Disclaimer: The views and opinions expressed by the author should not be considered as financial advice. We do not give advice on financial products.