The Grayscale Bitcoin Investment Trust (GBTC) currently has over $800 million worth of assets under management.
According to an update published on December 4th, 2018, the total Bitcoin holdings for Grayscale was over 200,000 Bitcoins. When compared to the 17.4 million BTC in circulation, this means Greyscale controls over 1% of the total Bitcoins on the market.
Grayscale's total holdings in Bitcoins alone are worth in excess of $790 million.
12/4/18 UPDATE: Holdings per share and net assets under management for our investment products

Total AUM: $0.8 billion$BTC $BCH $ETH $ETC $LTC $XRP $ZEC $ZEN pic.twitter.com/fpIzLrGeEM

— Grayscale (@GrayscaleInvest) December 4, 2018
The Trust was initially created in 2013 for investors looking for Bitcoin exposure. The Trust's shares are among the first securities solely invested in, and deriving value from, Bitcoin.
New research from Diar pointed out that "Grayscale's other cryptocurrency products have yet to find solid interest. The current assets under management for all eight products sits at a tiny 56.4 million, a notch over 6% of the sponsor's total."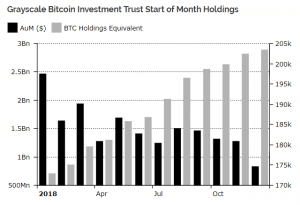 "This has in fact now decreased from 8% when Grayscale launched its Zen Fund."
Since the start of 2018, the Barry Silbert-owned Grayscale has seen its Bitcoin stack swell by more than 30,000 BTC.
Continued institutional interest
Institutional interest in cryptocurrencies is still present despite recent price falls. A number of institutions are establishing Bitcoin products, services, and platforms aimed at high net-worth individuals and Wall Street.
Just this week, Coin Rivet covered the exclusive from the Daily Express that NASDAQ will be listing Bitcoin Futures from next year.