Today is the 5th anniversary of the release of Dogecoin, one of the most famous altcoins in history. Created by Jackson Palmer, the coin was never supposed to be taken too seriously. Sometimes derided as an example of the immature nature of crypto, the coin has however shown remarkable longevity.
The reason for this is the vibrant and active community. Dogecoin is a dream for memes. Because no one ever took the coin too seriously, a huge amount of fun has been had with the coin. One of the greatest successes was having Dogecoin sponsor a NASCAR race car in 2014. The community came together to raise $55,000 for the sponsorship.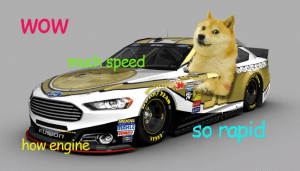 Unlike a lot of Reddit communities, r/dogecoin never takes itself too seriously. The community is very generous with giveaways and charity fundraising. Another interesting aspect of Dogecoin is that it was the entry point for many of the "OG" crypto traders you see on various social media platforms. In the early days, we witnessed extreme pumps and dumps, making Dogecoin an altcoin trader's dream.
Perhaps surprisingly, Dogecoin continues to survive to this day. In January, it even managed to top a $1 billion market cap. Currently, it sits above $200 million. This is mightily impressive for the community. By still not taking itself too seriously, instead of being a detriment, the coin has made this its strength. Rather than a community worrying about price movements or having major disagreements, everything runs relatively smoothly.
I, for one, hope Dogecoin continues to stick around for many years to come. Whilst we currently see a lot of arguing, conspiracy theories, and general unpleasantness in the whole crypto space, Dogecoin remains a shining light in dark times. Indeed, if we can take some of Dogecoin's key values on community and friendliness on board, the whole space might look a bit brighter.
Disclaimer: The views and opinions expressed by the author should not be considered as financial advice. We do not give advice on financial products.