After Bitcoin closed yesterday with its fifth daily green candle in a row, price broke out to trade above $4,000 across most major exchanges.
During the move up, we have seen over $200 million worth of shorts liquidated on Bitmex.
Yesterday, we called out the possibility of more bull flag formations, reminiscent of the crypto bull run of late 2017. It's looking likely that we will close today with another green candle if the price can continue to trade above $3,800.
The start of a new bullish channel?

Since Bitcoin broke out of its falling wedge, it has started to ascend up a new bullish channel. The next key resistance level to overcome will be around the $4,400 level on Bitfinex. Just a few weeks ago, we saw price rejected at a high of $4,488.
If we can smash through this level (with an increased volume of course), then the momentum will truly be with the bulls. The next major psychological level above this will then be around the $5,000 mark.
A look at long/short ratios
In the last few days, we have seen the long-short ratio on Bitfinex margin shorts move from 52%:48% all the way to a local high of 60% shorts. With open interest currently over 38,000 BTC, we have nearly doubled the open margin interest over the last 30 days.
The open short interest is still slightly below the recent peak of 40,000 BTC, but if the short interest continues to increase at a faster rate than longs are opening, then we may potentially be in for another short squeeze to liquidate more leveraged traders.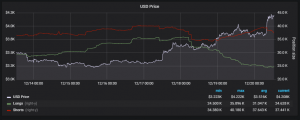 The conclusion to take from this morning's move up is that the majority of buys were without leverage, with over 4,500 Bitcoin traded in a one-hour period this morning as price moved up nearly 8%.
At the time of writing, we still have close to 2,000 BTC worth of bids protecting the $4,000 support on Bitfinex.
If price can close above $4,000 today and we can make it six green days in a row, then we may be in for a green Christmas weekend after all.
Disclaimer: The views and opinions expressed by the author should not be considered as financial advice. We do not give advice on financial products.