Alien Worlds launched in August 2020, and the number of active users soared to 350,000 in April 2021. Currently, it maintains an average daily user number of about 200,000, the 2nd-highest in the GameFi industry.
In this article, we'll compare Alien Worlds to Splinterlands, the two most popular blockchain games, and explore how Alien Worlds rose to a close second. 
What Are Alien Worlds?
Alien Worlds is a leader in the entire WAX ecosystem and was the first to introduce liquidity mining to NFT games, allowing users to earn TLM tokens through NFT mining and pledging. According to Footprint Analytics, as of April 20, the number of active users is the 2nd highest in GameFi.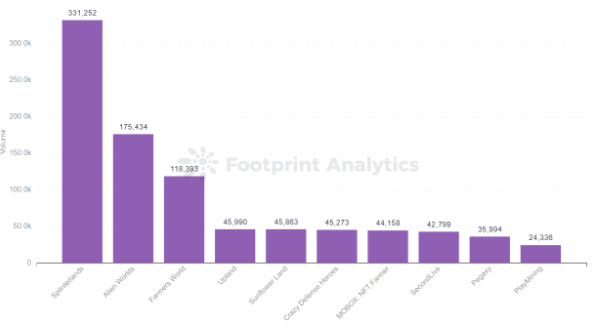 Footprint Analytics – Top 10 Games Ranking by Users
Alien Worlds Game Features
There are 6 planets in the game, and each planet is a DAO organization. Its biggest feature is that the governance between planets does not interfere with each other, and the types of landforms are not the same. Players can find suitable planets to mine and participate in governance, with the following P2E features: 
Each player who enters the game gets a free shovel, but the ability to mine is low. If you are lucky, you can also dig NFT cards during the mining process. The mined cards can be exchanged for tokens or fiat currency in the NFT market.
Players can participate in mining in the planet world, and win in-game battles to earn TLM and NFTs.

Buy and own land on the planet, which you can rent.

Players can stake TLM and increase the rewards of the planet they are in.
Alien Worlds of Tokenomics
There are 2 types of tokens in the Alien Worlds ecosystem, one of which is the NFT token (in-game props in the form of NFTs) representing in-game items. The other is Alien Worlds' native token, TLM, which has the following key statistics as of April 20.
Supply of TLM: 10 billion

Circulation rate: 9.14%

Price of TLM: $0.1

All-Time Low: $0.07

All-Time High: $6.93

Market Cap: $126 million
TLM's current price of $0.09 doesn't look very attractive. Since the amount of TLM that can be mined will gradually increase, it is unlikely that the token price will rise significantly.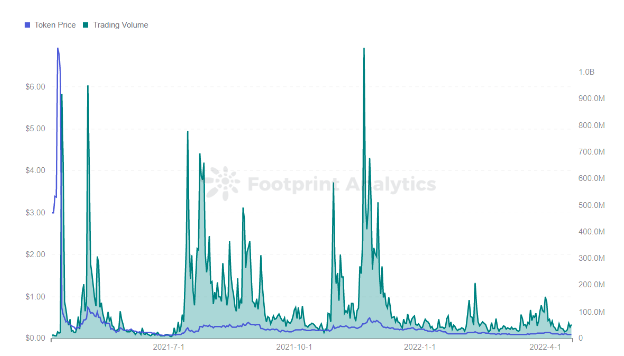 Footprint Analytics – TLM Token Price & Trading Volume
TLM main applications.
Planet Governance: TLM holders can participate in DAO voting, and the higher the number, the greater the voting power. 
Staking: Players can stake TLM on a chosen planet to receive rewards and increase the reward pool for that planet.
Mining: Users can choose NFTs to mine TLM on planets.

In-game rewards: Active users may receive TLM as a participation reward to develop in-game ecology and activities.
TLM has many uses and increases in value with Alien Worlds'. 
Alien Worlds vs. Splinterlands
Comparison of total number of users
According to Footprint Analytics, Splinterlands surpassed Alien Worlds in terms of users after September 2021. 
Since January, the user gap between Alien Worlds and Splinterlands has gradually widened, and Splinterlands has twice as many users as Alien Worlds. The main reason is that Splinterlands' gameplay is simpler and more varied than Alien Worlds, and combat can be completed in 2 to 3 minutes.
However, judging from the user trend of both games, they still maintain relatively flat user numbers in their respective areas, Alien Worlds stable at 200,000 subscribers, Splinterlands stable at 300,000 subscribers.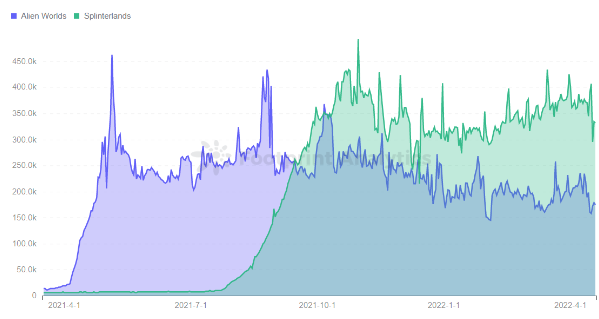 Footprint Analytics – User Comparison of Alien Worlds and Splinterlands
Transaction count
In terms of transaction count, Alien Worlds has consistently outperformed Splinterlands. This is because the game released by Alien Worlds on the WAX chain, the underlying architecture of the WAX chain is sufficient to meet the needs of game development for stability, and can process more than 8,000 transactions per second, which is better than the Hive chain, while Splinterlands is Publish on Hive.
It is worth noting that the trend in the number of transactions in Splinterlands is relatively stable. Alien Worlds is affected by the price of TLM, and its transaction count has dropped significantly in the past 4 months.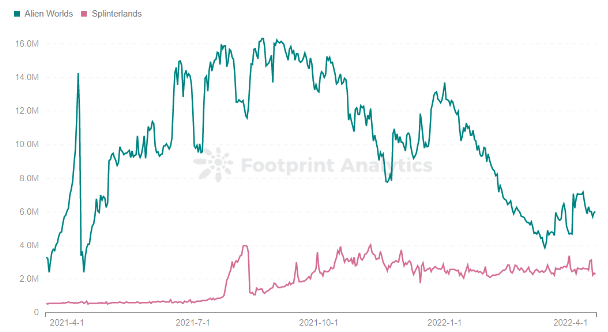 Footprint Analytics – Transactions Comparison of Alien Worlds and Splinterlands
Alien Worlds and Splinterlands are the most popular games in GameFi games, but are very different in terms of gameplay. At the same time, these two games have promoted both of their ecosystems, which are WAX and Hive. 
This piece is contributed by Footprint Analytics community.
The Footprint Community is a place where data and crypto enthusiasts worldwide help each other understand and gain insights about Web3, the metaverse, DeFi, GameFi, or any other area of the fledgling world of blockchain. Here you'll find active, diverse voices supporting each other and driving the community forward.
Data Source: Footprint Analytics – Alien Worlds Dashboard
Disclaimer: The views and opinions expressed by the author should not be considered as financial advice. We do not give advice on financial products.