As the crypto market continues to evolve, projects come and go. Whilst in a bull market new projects appear all the time, bear markets are not so kind. A quick glance at the history of CoinMarketCap shows how many projects have long since died while just a few remain near the top.
The answer to the question of which projects will survive will vary depending on who you ask. Bitcoin remains king, never losing its number one spot. However, the #XRParmy, Ethereum fans, and many other fans of different coins have long since claimed to be the Bitcoin killer.
2014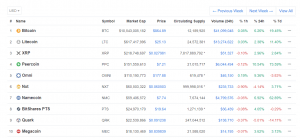 If we take a look at 2014, there are a few on this list that are now past the point of no return. Quark has slipped to the lower rungs, with the most recent total 24hr volume being a whopping $17. This Bitcoin killer, killed itself.
2015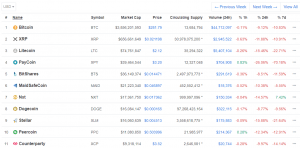 PayCoin was a new entry in the 2015 market. This didn't last too long, though. At $3.20 in 2015, Paycoin once had an ATH of over $8 in 2014. Since then, the coin has suffered greatly. Currently trading at $0.008, the 24-hour volume is a mere $8. Another casualty of the crypto markets.
2016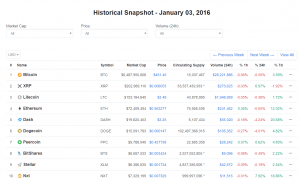 By 2016, we begin to see many coins and projects that are still in or close to the top 10 today. Bitcoin, XRP, Ethereum, and Dash have all still maintained a large market share. NXT, however, hasn't performed so well when we compare 2016 to today. Whilst still performing OK price wise, they have slipped outside of the top 100 market cap coins, which suggests either it has become extremely underrated or was too overrated to begin with.
Since the bull run of 2017, we are still yet to see the true purge of poorly managed and executed altcoins. For the majority, history shows us that being in the top 10 doesn't mean you are guaranteed success. Whilst a few coins have survived to this day, many more have failed. For those people who speak of Bitcoin killers, so far, they have all been proven wrong. Bitcoin has never lost its top spot. This doesn't necessarily mean it's impossible for it to lose the top spot in the future, but history has shown that we should be sceptical of those who push such a narrative.
How many projects are going to truly suffer in the current top 100? My guess would be way more than you would like. The process, however, is healthy for the space. As more and more poor altcoins die, the cream will hopefully rise to the top.
Disclaimer: The views and opinions expressed by the author should not be considered as financial advice. We do not give advice on financial products.