Traditionally, market capitalisation (or market cap, as it mostly known in the trading and investing sphere), refers to the total dollar market value of a company's outstanding shares. It is calculated by multiplying a company's outstanding shares by the current market price of one share. The investment community uses this figure to determine a company's size, as opposed to using sales or total asset figures.
Using market capitalisation to show the size of a company is important because company size is a basic determinant of various characteristics in which investors are interested, including risk. It is also easy to calculate. A company with 20 million shares selling at $100 a share would have a market cap of $2 billion.
Cryptocurrencies Market Cap
In the case of cryptocurrencies, market cap shows the market value of a crypto, by multiplying the value of each coin for the available supply.
It's important to note that many cryptocurrencies may have coins that are unavailable due to not being minted yet, as happens with Bitcoin and Ethereum, or because new coins can be minted and added to the supply, as happens with Ripple or Tether.
Although it is often used to describe a company, market cap does not measure the equity value of a company. Only a thorough analysis of a company's fundamentals can do that. It is inadequate to value a company because the market price on which it is based does not necessarily reflect how much a piece of the business is worth. Coins are often over- or undervalued by the market, meaning the market price determines only how much the market is willing to pay for its coins.
As described above, two main factors can alter a company's market cap:
Significant changes in the price of a coin due to an event.
When a company issues or repurchases coins. This can change the amount of coin on the market and negatively affect coin hodlers in a process known as dilution.
How to find crypto market capitalisations
There are many websites with great functionality so that you can check and compare coins by price and market cap, both in USD and BTC. I will focus on the three I consider to be the most relevant due to their unique features.
CoinMarketCap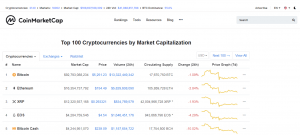 CoinMarketCap, usually regarded as the go-to website to check cryptocurrencies market cap, was the very first widely adopted site for price and market cap information.
The website has historical snapshots, currency converter calculators, a crypto glossary, API services, an events calendar, and it offers a watchlist for users to personalise. The platform also has a special cryptocurrency price ticker widget for other sites. The website is aggregating prices of cryptocurrencies and calculating price averages that are displayed to users.
Coin360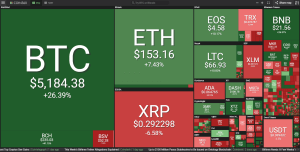 Coin360 allows the user to visualise information with the help of the brick diagram or tree-like map. Such visualisation allows users to see the total capitalisation as well as separate market shares occupied by various cryptocurrencies. The change of the cryptocurrency rate is shown with colour markers: the growing rates are marked with green and the falling ones with red.
The user has the possibility to set up the chart by selecting only coins or tokens. Users can also switch between the trading volumes and market capitalisation and see the results of the trades of the last hour, 24 hours or seven days. Among the cryptocurrency parameters in the rating there are:
The price in dollars and Bitcoin
The rate change and the trading volume for a certain period of time
The total capitalisation and protocol on which the cryptocurrency is working
Coincodex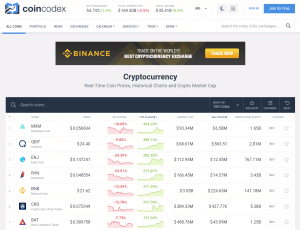 Coincodex is a recently developed coinmarketcap website. You can add your favourite cryptocurrencies to a handy watchlist, making it easy to follow the coins that are most relevant to you. If you want to track the performance of your coins more closely, you can add them to the intuitive portfolio feature.
Staying informed about upcoming tokens is easy with the ICO calendar, which features information on a wide selection of upcoming and completed token sales. CoinCodex isn't just designed for use with a personal computer, but is also optimised for mobile devices, so you can check out what's going on with the cryptocurrency market anywhere, anytime.
The real cool thing, as you can see from the image above, is that you can easily compare historical returns (on a hourly, daily, monthly or anual basis). Pretty sweet to quickly check which of your investments are currently worth keeping/selling.
To find out more about what's going on in the cryptocurrency industry, be sure to read our crypto analysis section.