The Spanish national cybersecurity institute INCIBE has claimed that Bitcoin is a safer payment method than credit cards, debit cards, and even bank transfers.
Unlike paying with bank transfers or credit and debit cards where users expose their data, the decentralisation that Bitcoin offers has huge implications on the security of payments, according to INCIBE.
INCIBE places Bitcoin among the safest payment methods
The infographic below, created by INCIBE, highlights the safety benefits of paying with Bitcoin.
The data is based on Bitcoin's decentralisation, which allows users to keep control of and take responsibility for their private keys without the intervention of third parties.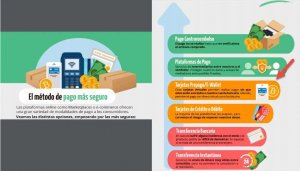 The infographic published on the INCIBE website shows which payment systems it considers most secure. These include cash on delivery and the use of payment platforms.
Cash on delivery offers the greatest guarantee of security as it allows consumers to receive and verify the items purchased before processing the payment.
Payment platforms come in second place as they are a reliable service of intermediaries that protect user data – and can intervene in the case of irregularities or fraud.
Using prepaid cards or electronic wallets are the third most secure payment method, along with Bitcoin. This is because they allow for transactions that are not associated with the user's bank account and don't expose their data. They also accept payments with Bitcoin.
Bank transfers are among the least secure
The INCIBE graphic shows that debit cards, credit cards, and bank transfers are less secure than transactions with Bitcoin. This is because users expose their data when transacting with cards.
In a traditional payment network, the payment is open because it contains the user's private identifier (the credit card number). After the initial charge, any individual with access to identification can "withdraw" funds and charge the owner over and over again.
A centralised model, such as a traditional bank or a payment network, does not have a strong mechanism to keep bad actors out who seek to take advantage through fraudulent actions.
In comparison, a decentralised system such as Bitcoin gives responsibility and control of the data and keys used to those involved in the transaction, while the credit card is operated centrally.
Bank transfers, particularly instant transfers (better known in Spain through the service offered by Bizum), come in last place, according to the institute. They reduce security as they do not allow for cancellation or refunds once processed.
Disclaimer: The views and opinions expressed by the author should not be considered as financial advice. We do not give advice on financial products.