Cryptocurrencies are emerging as a sensational craze in Nigeria.
Last month, the national cryptocurrency transaction volume hit a staggering $44.4m. It was a record for the huge West African nation.
But what ignited Nigeria's fascination with crypto?
The digital economy has a strong hold in Nigeria, with the nation well-known for its strong role in e-commerce, the online gig economy, and nefarious princely scammers.
Online Ponzi schemes became big business in Lagos over the past two decades, with pyramid schemes targeting everyday Nigerians successfully scamming more than $700m during the past five years.
The flashy draw of these scams is clear as day – easy money with a solid return on investment.
And this is the primary motivation of those drawn into the shady Nigerian cybercrime world.
In the story of Bitcoin (BTC) and cryptocurrencies in Nigeria this is really the entry point.
The origins: Scammers
Something well-known, but poorly reported, is that the very first major wave of cryptocurrency adoption in Nigeria was brought on by gift card scammers.
An unfortunate but not uncommon reality. After all, piracy has existed for as long as the seas have been plied for commerce.
Gift card scams function by tricking a victim into purchasing and sending gift card codes for highly-desired products like iTunes, these are then swapped for cryptocurrencies, which are later exchanged for fiat currency.
And with the gift card industry in Nigeria expected to be worth $2.1B by 2024, things show no signs of slowing down with scammers racing to set-up shop and capture their slice of the pie.
A major contributor to this is unique to local Nigerian cryptocurrency exchanges such as Patricia, which allows cryptocurrencies to be bought and sold in exchange for gift card payments.
Serious investors in Nigeria complain this feature only panders to scammers, and is the most patronising component of indigenous exchanges.
The Adoption: Remittances
But, as time has ticked away, and awareness of cryptocurrencies globally has grown, a new wave of adoption has hit the Gulf of Guinea in the form of remittances.
Remittances are non-commercial transfers of money, frequently between migrant workers and their families back home.
Traditionally, this has been confined to centralised international payment services such as Western Union, but these services are plagued by high fees and delays.
Cryptocurrencies have afforded the 15 million Nigerians across the global diaspora an instantaneous and reliable 24/7 means for conducting these remittances – with significantly lower fees.
This comes amid a continental shift towards cryptocurrency adoption with analysis revealing the African cryptocurrency market grew 1,200% in 2021.
Again, this has largely been driven by a surge in P2P remittance transactions.
But Nigeria still has no meaningful crypto mining operations, and the level of merchant level adoption is significantly lower than in Latin America.
So cryptocurrency adoption in Nigeria can be understood as extremely grassroot, largely carried on the backs of retail customers. Something which makes August's $44.4m in cryptocurrency transaction volume all the more impressive.
The Future: Rebellion
Other forces are coming into play as unregulated cryptocurrency amplifies its voice in Nigeria, especially as concerns mount about potential currency troubles in the aftermath of Covid-19.
The Nigerian Naira (NGN) has been in free fall against the USD for the past few years.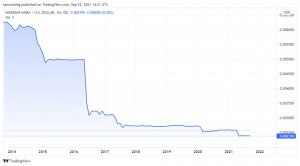 This is compounded by the informal nature of foreign exchange for everyday people.
While the currency officially trades at $411 NGN per $1 USD, on the black markets of Lagos the prices are much closer to $570 NGN per dollar.
This is reflective of the hedge on uncontrolled inflation in the Naira afforded by the USD. But, in recent years, cryptocurrencies and stablecoins are increasingly being perceived as a superior and more accessible store of value as a digital gold.
In a country where only 37% of the population have bank accounts, and 84% have mobile phones, the appeal of crypto is obvious.
It is clear that cryptocurrencies are empowering Nigerians.
For some in Lagos, cryptocurrencies have become much more fundamental than that – allowing them to protect their financial assets while engaging in political activism and opposition to the government.
Operating through the Apex Monetary Authority and Central Bank of Nigeria, the government has proven to be ruthless in deploying financial instruments against perceived opponents.
This usually takes the form of freezing the accounts of activists, which has driven many to turn to cryptocurrency in an attempt to take control and protect their money.
Before Christmas, tensions ran extremely high with the emergence of the #endSARS protest movement which aimed to disband a controversial police unit on allegations of extensive abuse and brutality.
Following the protests, the Apex authority moved to ban so-called 'mobile money' services which were deployed by the diaspora to support protestors with funding.
This has led cryptocurrency to become an option of last-resort for many.
More crypto news and information
If you want to find out more information about Bitcoin or cryptocurrencies in general, then use the search box at the top of this page. Here's an article to get you started.
As with any investment, it pays to do some homework before you part with your money. The prices of cryptocurrencies are volatile and go up and down quickly. This page is not recommending a particular currency or whether you should invest or not.
Disclaimer: The views and opinions expressed by the author should not be considered as financial advice. We do not give advice on financial products.