Ever since the bear market reversal at the start of 2019, cryptocurrency speculators have been calling for a long-awaited 'alt-season'.
An alt-season is when altcoins rally in the market while Bitcoin moves sideways or to the downside.
Altcoins have suffered during Bitcoin's surge from $3,150 to above $10,000 this year, with several of the top coins including Litecoin, XRP, EOS, and Bitcoin Cash all falling heavily against Bitcoin.
However, fresh off the back of another 6% drop in the value of Bitcoin, altcoins have bounced off monthly lows.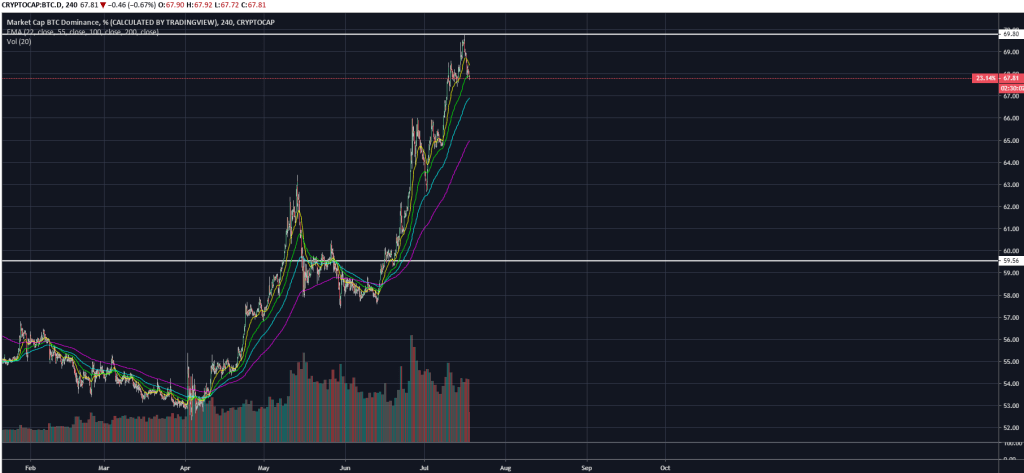 Litecoin led the charge with a 23% bounce off $76 before finding support at around $90. The robust ChainLink token also performed well, rising more than 15% in USD and 27% against Bitcoin.
Three days ago, Bitcoin dominance tapped 70% before falling back to 67%. This indicates that a further surge in altcoins could be on the cards.
The ideal scenario for those begging for an alt-season would be if Bitcoin finds support and consolidates in the current $9,200 to $9,600 range.
If Bitcoin breaks support at $9,200 and moves into the mid-$8,000 range, altcoins could again suffer as fear would re-enter the market.
While most altcoins have been rallying, Bitfinex's LEO token has taken a further tumble to the downside with a drop to as low as $1.27 – a far cry from its price just three weeks ago when it touched $1.99.
For more news, guides, and cryptocurrency analysis, click here.
Disclaimer: The views and opinions expressed by the author should not be considered as financial advice. We do not give advice on financial products.