Promising to be the blockchain event of 2020, the inaugural iteration of Istanbul Blockchain Week (April 6-10 2020) looks set to draw a large crowd.
Crypto adoption in Turkey is the highest in the world
With some 20% of its young, tech-savvy population owning or using cryptocurrencies, Turkey boasts the world's largest adoption rate.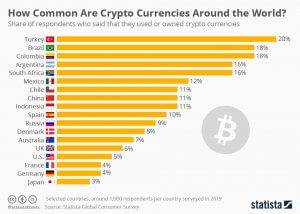 Moreover, according to a report by ING, in the index of positive attitudes towards cryptocurrencies, Turkey wins by a country mile. A total of 62% of Turks are positive about the future of cryptocurrencies.
However, the market here remains largely untapped. According to Erhan Korhaliller, CEO and founder of blockchain PR agency EAK Digital and the organiser of Istanbul Blockchain Week, it's time the rest of the world began to take Turkey seriously.
Half-Turkish himself, Korhaliller is personally invested in seeing the Turkish ecosystem grow and thrive.
"I'm really passionate about giving something back to my other half. I feel like I can help push the Turkish ecosystem forward by bringing the international crypto scene to Istanbul, which is really ripe for adoption," he told Coin Rivet.
"I've been working in this space for a number of years now," he continued. "I'm seeing the Turkish ecosystem from a distance developing, developing, and developing."
Beyond a thriving local exchange scene in Turkey, the largest of which is called BtcTurk, Korhaliller explains that there are currently more than 50 local blockchain projects ranging from payment services to telecommunication.
There are also several international projects beginning to take an interest in the country. Electroneum, for example, allows people to top up their mobiles with cryptocurrency.
Millions of people in Turkey can now top up with Turkcell, Turkey Telekom, and Vodafone. These three Turkish mobile network operators provide services to 100% of the population.
Despite all this, however, Korhaliller acknowledges that "the ecosystem still needs more support and investment".
The Turkish economy has gone downhill over recent years
The Turkish economy is still not in good shape. After a 2018 economic crisis and a near 50% collapse in the lira's exchange rate, the country is still struggling to recover.
Stand-offs between Turkey and the United States have seen its national currency plummet to new lows.
Through Istanbul Blockchain Week, Korhaliller believes that he can help, at least in some way, the local economy to recover.
"If we can make Istanbul the new blockchain hub as the statistics are already saying it is, that could be a real boost to the local economy. It could help the young people get into an industry that's about to take off."
Indeed, faced with sharp drops in the value of the national currency, many Turks became aware of cryptocurrencies for the first time last year.
"When the lira collapsed," Korhaliller confirms, "people bought Bitcoin. When you walk through the streets in Istanbul, you now see exchanges. Instead of pounds, dollars, and euros, it's now NEO, Ripple, and BNB, and people are buying and selling in there."
There are also currently 10 Bitcoin ATMs in Turkey, all of which are located in Istanbul.
Turkey still has 25 million people unbanked
Despite being a developing country, Turkey still has some 25 million people unbanked. More than 10 million people are living below the poverty line, with almost 16 million unemployed.
Koraliller says, "25 million people in Turkey are unbanked. People don't realise that. I didn't realise that. It's a huge amount. Turkey is so big, you think of Istanbul, you think of Ankara, you don't think of all the rural towns out there.
"Turkey has a huge need for blockchain and cryptocurrency, and also an engaged audience that is already interacting with it."
Under such circumstances, the climate in Turkey is ripe for blockchain innovation. Istanbul Blockchain Week strives to attract internationally leading projects and connect them with the companies that are starting up in the Turkish cryptocurrency scene.
"Not enough has been done to bring the international media to really shine a light on local activity in the space," Korhaliller says.
"The goal for me is to help the current projects that are working from Turkey, to get some international exposure and create partnerships with names that we are all aware of, to really put them on the map and put Istanbul on the map as a blockchain hub.
"It's an open game, these people are ready, they want to be sold to."
The Turkish government is investing in blockchain technology
The Turkish government is also investing in blockchain technology. Its 11th Development Plan outlines policies to improve the country's economy through 2023. There are also clear plans to develop and implement a central bank digital currency based on blockchain technology.
Korhaliller enthuses, "We're also seeing the Turkish government moving forward with a digital currency called Turkcoin as of next year, and we've seen Turkey announce plans to establish a national blockchain infrastructure to utilise distributed ledger technology (DLT) in public administration."
The goal of Istanbul Blockchain Week
The goal of Istanbul Blockchain Week is to bring in key players, legitimate investors, and thought leaders in the blockchain space. There will be some 20+ events throughout the week, such as hackathons and meetups.
However, the flagship event will be the IstanBlock 2020 conference taking place on April 9-10 at the prestigious Hilton Istanbul Bomonti Hotel.
Event organisers expect to attract some 2,000+ attendees as well as 100+ reputable speakers. Large Turkish companies have also pledged involvement, and Korhaliller is also expecting the participation of key government members.
"There's loads of enthusiasm and excitement," he says, "especially from young people in the space. The seeds are there, it's up to the international crypto community to come and take action."
If you want to find out more about Istanbul Blockchain Week, visit the conference website here. You can also join the event's Telegram group and look out for updates by following its official Twitter account.
Disclaimer: The views and opinions expressed by the author should not be considered as financial advice. We do not give advice on financial products.