Cardano has long been touted as an 'Ethereum killer' blockchain, thanks to the allure of higher scalability, lower transaction fees and a mathematical approach towards cryptocurrencies.
This has since led to developers moving over to Cardano and building smart contracts on its 'Plutus' development platform, leaving many asking the question – can Cardano compete with Ethereum?
Coin Rivet looks into whether Cardano smart contracts – which are still in their relative infancy – can ever compete with the established dominance of Ethereum.
Smart contract deployment
The first metric to consider is the number of smart contracts being deployed and built by development teams on each blockchain.
Development on the Cardano network has seen significant growth since September and is showing signs that it is gaining in popularity amongst developers.
As of December 19, there are currently 929 smart contracts live on Cardano's mainnet, which are mainly focused on DeFi, following September's Alonzo upgrade.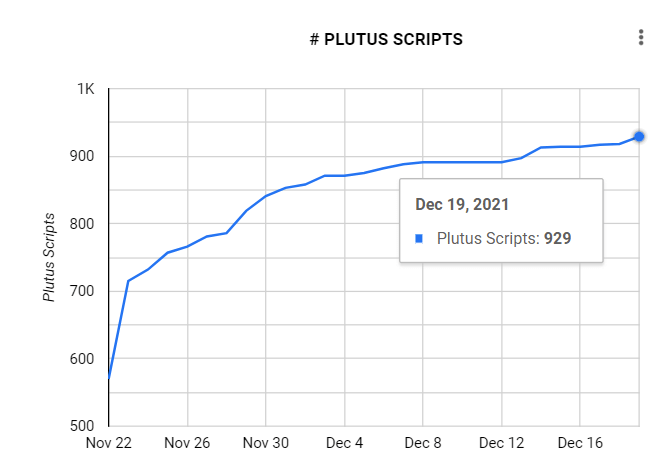 Thanks to Alonzo, developers can now create DeFi protocols such as DEXes and lend/borrow platforms on the Cardano blockchain.
However, despite increased development on Plutus and further interest in the Cardano ecosystem, Ethereum continues to reign supreme in smart contract deployment.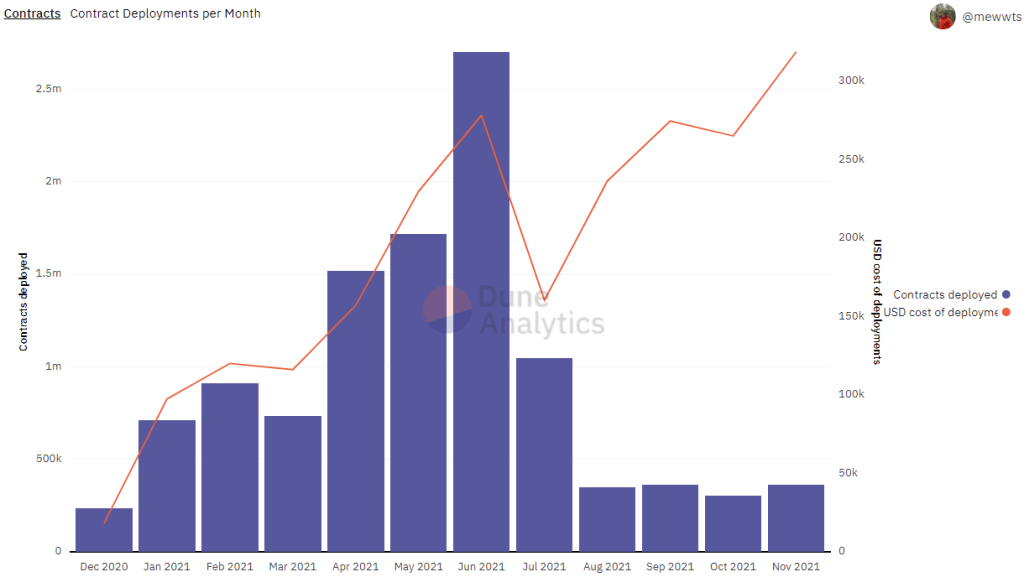 Ethereum has maintained incredible deployment metrics throughout the year thanks to its established infrastructure and market-leading appeal to developers.
Having peaked at 2.5 million contracts deployed in June, Ethereum has seen more than 900k contracts deployed from September, which is when Cardano smart contracts were first introduced.
This equates to an almost 1,000 times increase in the number of smart contracts being deployed on Ethereum.
Total value locked
The second metric to consider is the total value locked (TVL) of both blockchains.
TVL can be used as a measure of how much smart contracts are being used and how many assets are being locked into DeFi platforms via a contract.
As it stands, Cardano smart contracts only have an estimated $25m in locked assets according to data from the Cardano foundation.
On the other hand, due to its longevity in the space and widely-utilised DeFi and NFT spaces, Ethereum has more than $148bn locked in smart contracts across its ecosystem.
This again equates to an exorbitant difference between the two blockchains in value and reinforces Ethereum's current dominance over Cardano.
Conclusion
While Cardano remains a promising project, Ethereum's long-established infrastructure and mainstream adoption in the form of NFTs and on-chain development continues to ensure it reigns supreme.
Ethereum also has further upcoming catalysts, including the increased development of Ethereum layer-2 scaling solutions, its transition to a proof-of-stake blockchain and future adoption within enterprise blockchain projects.
Cardano does however hold plenty of promise, offering a highly-scalable blockchain that already has existing partnerships and a dedicated team behind it working to bring blockchain into the future.
Cardano also has one of the strongest communities in the industry, with many believing that the blockchain and enigmatic CEO Charles Hoskinson – a co-founder of Ethereum – will eventually overshadow its 'big brother'.
Disclaimer: The views and opinions expressed by the author should not be considered as financial advice. We do not give advice on financial products.