Bitcoin Cash (BCH) is delicately poised above the $288 level of support having rallied 12% since the start of the month.
At the time of writing, BCH is trading at around $296 after recovering from the drop down to $270 towards the end of August.
The 200 EMA on the four-hour chart is currently at $309. This will likely act as a point of resistance over the coming days, but it all depends on whether Bitcoin can surge above $11,000.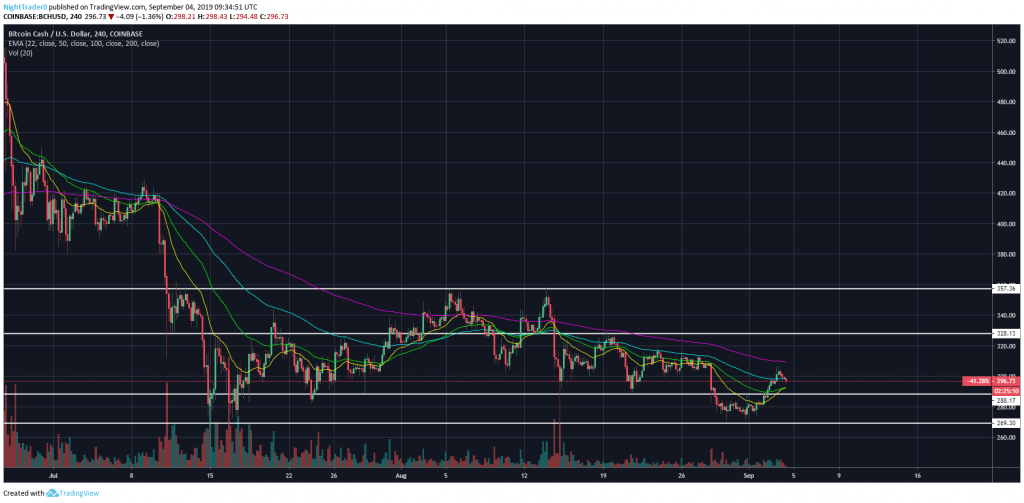 Another level of resistance comes in confluence with the 22 EMA on the daily chart, which has been on a negative slope since August 13.
The recent rise in price coincides with the release of a native Bitcoin Cash exchange on Bitcoin.com, which is owned and operated by Roger Ver.
Current live BCH pricing information and interactive charts are available on our site 24 hours a day. The ticker bar at the bottom of every page on our site has the latest BCH price. Pricing is also available in a range of different currency equivalents:
US Dollar – BCHtoUSD
British Pound Sterling – BCHtoGBP
Japanese Yen – BCHtoJPY
Euro – BCHtoEUR
Australian Dollar – BCHtoAUD
Russian Rouble – BCHtoRUB
Bitcoin – BCHtoBTC
About Bitcoin Cash
Bitcoin Cash was born out of the idea of making Bitcoin more practical for small, day-to-day payments. In May 2017, Bitcoin payments took about four days unless a fee was paid, which was proportionately too large for small transactions. A change to the code was implemented and Bitcoin Cash was born on 1st August 2017.
More Bitcoin Cash news and information
If you want to find out more information about Bitcoin Cash or cryptocurrencies in general, then use the search box at the top of this page. Here's an article to get you started:
As with any investment, it pays to do some homework before you part with your money. The prices of cryptocurrencies are volatile and go up and down quickly. This page is not recommending a particular currency or whether you should invest or not.