Cardano is currently trading at $1.095 as it seemingly edges closer to continuing its higher time-frame downtrend.
The seventh-largest cryptocurrency by market cap has endured a volatile year of price action, with it surging to an impressive high of $3.091 in September before losing more than 70% of its value in just four months.
At the time of writing, the psychological level of support at $1.00 remains key, a daily close beneath this level would signal continuation to the downside with targets emerging as low as $0.91 and $0.82.
However, if it can buck the trend by breaking above the $1.25 level of resistance, it is expected to continue its rally up to at least $1.45 before being met with optimistic short interest.
Cardano (ADA) has proved itself as one of the most polarising cryptocurrencies in the industry. It has an army of resilient supporters that strongly believe it can break the $10 mark over the coming years, but it also has a wealth of naysayers that remain sceptical of the platform's smart contract functionality.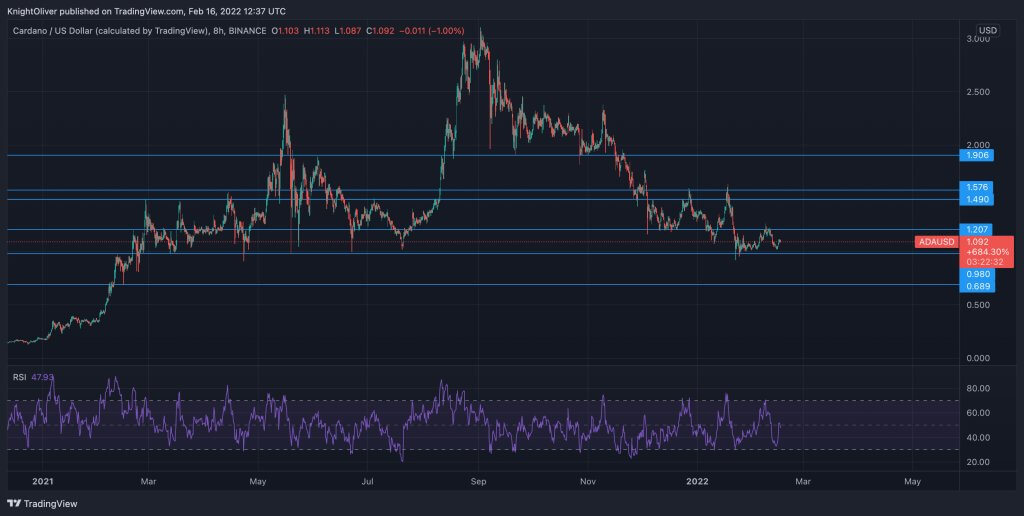 Much of the upcoming price action will depend on the cryptocurrency market as a whole, if Bitcoin can break $46,000 and begin to mount an ascent to the upside, the altcoin market will likely be given a much-needed boost.
If Bitcoin faces another rejection from this region to confirm a bull trap, the entire altcoin market will be decimated due to lack of liquidity, interest and trade volume across all exchanges.
Cardano has traded a total of $1.17 billion over the past 24 hours – a 14.23% drop on yesterday's figure.
To purchase cryptocurrencies using Coin Rivet's safe and secure broker, click here.
Cardano pricing
Current live ADA pricing information and interactive charts are available on our site 24 hours a day. The ticker bar at the bottom of every page on our site has the latest Cardano price. Pricing is also available in a range of different currency equivalents:
US Dollar – ADAtoUSD
British Pound Sterling – ADAtoGBP
Japanese Yen – ADAtoJPY
Euro – ADAtoEUR
Australian Dollar – ADAtoAUD
Russian Rouble – ADAtoRUB
Bitcoin – ADAtoBTC
About Cardano
Cardano claims to have tried to change the way cryptocurrencies are designed and developed, balancing the best of the functionality of several cryptocurrencies into one coin. The project began in 2015, the work of a global team of scientists and academics. ADA was released in September 2017.
Cardano is one of the largest cryptocurrencies and is one of The Top 10 Cryptocurrencies by market capitalisation.
More Cardano news & information
If you want to find out more information about Cardano or cryptocurrencies in general, then use the search box at the top of this page. Here's the latest Cardano article to get you started:
Disclaimer: The views and opinions expressed by the author should not be considered as financial advice. We do not give advice on financial products.