Ethereum surged above the $3,000 level of resistance over the weekend as it looks to complete a full recovery from January's plunge to $2,160.
Despite the recent rally, the world's second largest cryptocurrency remains in a downtrend on all higher timeframes. This will only be confirmed as a reversal with a daily close above $3,400.
It is expected that Ethereum will come back down to test the broken $2,890 level of resistance as a new base of support, which would coincide with Bitcoin sliding back down to between $40,500 and $41,000.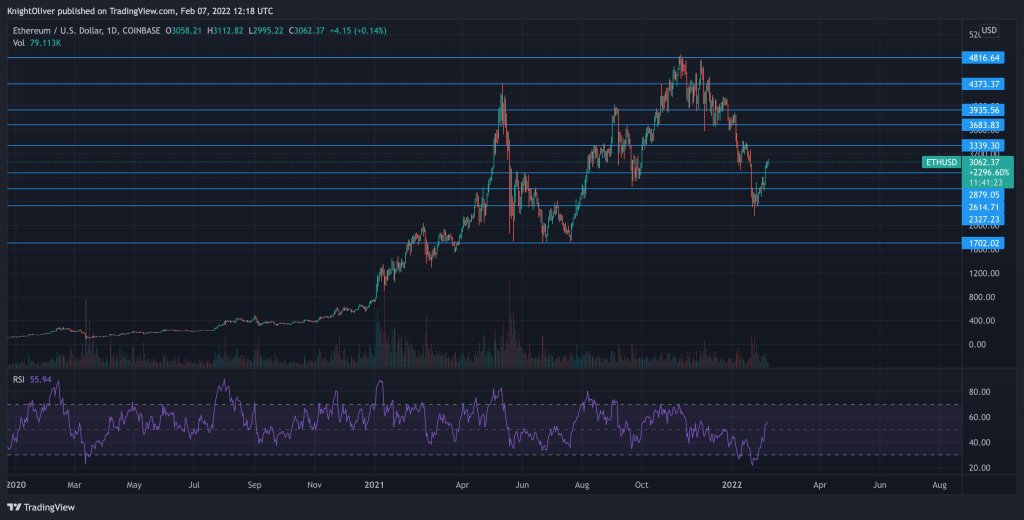 From a technical perspective, Ethereum's relative strength index (RSI) hit a low of 21.45 on January 25, indicating it was in a deeply oversold posture. The RSI hadn't been that low since the Covid-inspired crash of March 2020.
There is still a feeling of cautious sentiment surrounding this recent rally as there hasn't been a clear news catalyst to drive price action to the upside.
If Ethereum can break above $3,400 on convincing volume, it could well trigger a macro reversal and present opportunities for a new all-time high in the later stages of 2022.
However, traders will be on guard for a potential lower high, which would bring around eventual downside targets of $2,000 and $1,700.
For more news, guides and cryptocurrency analysis, click here.
About Ethereum
Ethereum was launched by Vitalik Buterin on July 30 2015. He was a researcher and programmer working on Bitcoin Magazine and he initially wrote a whitepaper in 2013 describing Ethereum.
Buterin had proposed that Bitcoin needed a scripting language. He decided to develop a new platform with a more general scripting language when he couldn't get buy-in to his proposal.
More Ethereum news and information
If you want to find out more information about Ethereum or cryptocurrencies in general, then use the search box at the top of this page. Please check the below article:
As with any investment, it pays to do some homework before you part with your money. The prices of cryptocurrencies are volatile and go up and down quickly. This page is not recommending a particular currency or whether you should invest or not.
You may be interested in our range of cryptocurrency guides along with the latest cryptocurrency news.
Disclaimer: The views and opinions expressed by the author should not be considered as financial advice. We do not give advice on financial products.