Ethereum has broken free of its shackles below $3,000 following a healthy move to the upside during the early hours of Tuesday.
All global markets were handed a major boost as Russia said it was beginning to withdraw some troops from the Ukranian border, quelling fears of an invasion.
The S&P500 futures are printing an increase of 2.11% but those are amateurish numbers in comparison to Ethereum, which is now 9.61% up from Monday's low of $2,832.
From a technical perspective, Ethereum remains in a downtrend on higher time frames with the next lower high coming anywhere between $3,650 and $4,000. In the short term, though, Ethereum is showing positive signs of upside momentum as it attempts to re-test the $3,300 level of resistance.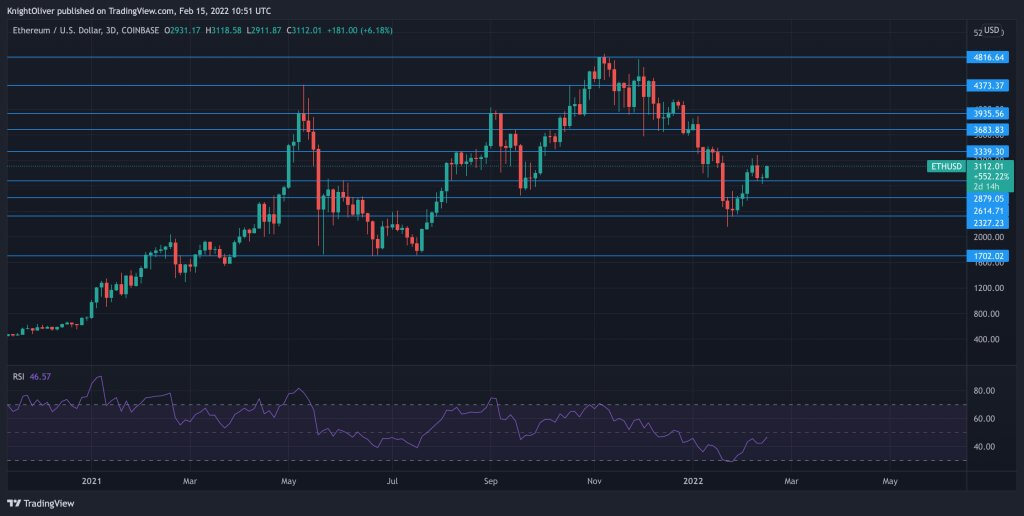 Breaking above $3,300 would trigger a cascade in short positions liquidations as well as flurry of breakout buyers. A convincing break on solid volume should see Ethereum rise to at least $3,650.
However, breaking $3,300 will not be an easy task. Last August it took four gruelling weeks before it eventually broke as traders attempted to capitalise on a seemingly never-ending short trade.
A rejection and subsequent sweep of the lows will likely see Ethereum break the $2,850 level of support before testing $2,600, at which point the entire altcoin market will be in a woeful state.
For more news, guides and cryptocurrency analysis, click here.
About Ethereum
Ethereum was launched by Vitalik Buterin on July 30 2015. He was a researcher and programmer working on Bitcoin Magazine and he initially wrote a whitepaper in 2013 describing Ethereum.
Buterin had proposed that Bitcoin needed a scripting language. He decided to develop a new platform with a more general scripting language when he couldn't get buy-in to his proposal.
More Ethereum news and information
If you want to find out more information about Ethereum or cryptocurrencies in general, then use the search box at the top of this page. Please check the below article:
As with any investment, it pays to do some homework before you part with your money. The prices of cryptocurrencies are volatile and go up and down quickly. This page is not recommending a particular currency or whether you should invest or not.
You may be interested in our range of cryptocurrency guides along with the latest cryptocurrency news.
Disclaimer: The views and opinions expressed by the author should not be considered as financial advice. We do not give advice on financial products.