Ethereum (ETH) was propped up by a 5% rally to the upside overnight and the positive momentum has continued throughout Tuesday, with price rising from $170 to the $182 level of resistance.
ETH remains in a more bullish posture than before the weekend, but it ideally needs to break above the 100 EMA on the four-hour chart – which is also residing at $182 – for price action to remain positive.
A bullish break above this level would signal a short-term reversal pattern, with upside targets coming in at $188 and $196.
The $196 level was used as support three times in July before finally breaking down in August. This suggests that it could be quite a stern price point to break over the coming weeks.
The four-hour RSI also hit 67 overnight – its highest point for a month – before falling back down to 63. This suggests that the upside move may need to take a break before attempting to push higher.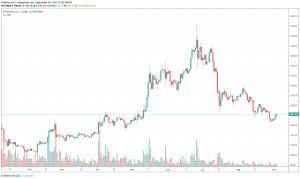 About Ethereum
Ethereum was launched by Vitalik Buterin on July 30 2015. He was a researcher and programmer working on Bitcoin Magazine and he initially wrote a whitepaper in 2013 describing Ethereum. Buterin had proposed that Bitcoin needed a scripting language. He decided to develop a new platform with a more general scripting language when he couldn't get buy in to his proposal.
More Ethereum news and information
If you want to find out more information about Ethereum or cryptocurrencies in general, then use the search box at the top of this page. Here's an article to get you started:
As with any investment, it pays to do some homework before you part with your money. The prices of cryptocurrencies are volatile and go up and down quickly. This page is not recommending a particular currency or whether you should invest or not.
You may be interested in our range of cryptocurrency guides along with the latest cryptocurrency news.
Disclaimer: The views and opinions expressed by the author should not be considered as financial advice. We do not give advice on financial products.