At the time of writing, Ethereum (ETH) is trading at around $174 following a 7% drop in price since last week.
The world's second-largest cryptocurrency by market cap has been consolidating to the downside over the past few days, as most altcoins have been doing lately.
As mentioned last week, Ethereum was in a clear consolidation downtrend towards the end of October after making a number of lower highs since mid-July when the coin suffered a massive drop.
Despite a sizeable pump towards the end of October following Bitcoin's 40% jump in the space of 24 hours, it would seem that the downtrend has now returned.
Will ETH recover? Or will it plunge back towards $160 and below?
Let's take a look at the chart for Ethereum.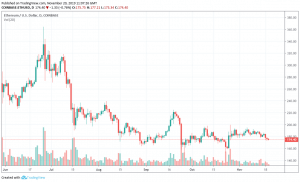 Over the course of October and November, ETH has been making a number of lower highs – not a great sign for the bulls.
During the second half of the year, ETH has been attempting to consolidate and recover following the huge market downturn in the summer.
Up until the end of October, it was struggling to hold on to any gains.
Then, out of nowhere, a pump pushed price towards the 50-day EMA, blasting through a big volume resistance wall near $170 just three weeks ago.
Price went from $160 to $190 in just a couple of days, representing an increase of over 18%.
However, the downtrend has returned and ETH is currently back below all its EMAs, and price is looking likely to fall further.
On a more positive note, earlier this month, during the major crypto conference Devcon 5, Ethereum co-founder Vitalik Buterin mentioned how most things are finalised in regards to ETH 2.0 and clients are talking to each other already. I therefore personally believe we can expect a testnet release of the new Casper PoS models by the first half of 2020 at the latest.
My analysis is that BTC is still in a bull market, and soon enough, the top altcoins will be as well.
For now, I would aim at making minor entries while the price is still below the 200-day EMA. Volume-wise, ETH is hovering close to $7.7 billion.
Safe trades!
About Ethereum
Ethereum was launched by Vitalik Buterin on July 30 2015. He was a researcher and programmer working on Bitcoin Magazine and he initially wrote a whitepaper in 2013 describing Ethereum. Buterin had proposed that Bitcoin needed a scripting language. He decided to develop a new platform with a more general scripting language when he couldn't get buy in to his proposal.
More Ethereum news and information
If you want to find out more information about Ethereum or cryptocurrencies in general, then use the search box at the top of this page. Here's an article to get you started:
As with any investment, it pays to do some homework before you part with your money. The prices of cryptocurrencies are volatile and go up and down quickly. This page is not recommending a particular currency or whether you should invest or not.
You may be interested in our range of cryptocurrency guides along with the latest cryptocurrency news.