Litecoin has broken out above the $247 level of resistance for the first time since May as bullish sentiment begins to sweep across all cryptocurrency markets.
Despite not having the market share it once had, Litecoin still boasts an impressive market cap of $17 billion, making it objectively larger than companies like Gamestop and CBOE Global Markets.
At the time of writing it was trading at $252 following a 28.87% move to the upside from this morning's daily close.
If it can close a daily candle above the $247 mark, continuation is expected with upside targets beginning to emerge at $286 and $334.
However, a close below this level could indicate a short-term pullback as traders aim to lock in profits from the recent move.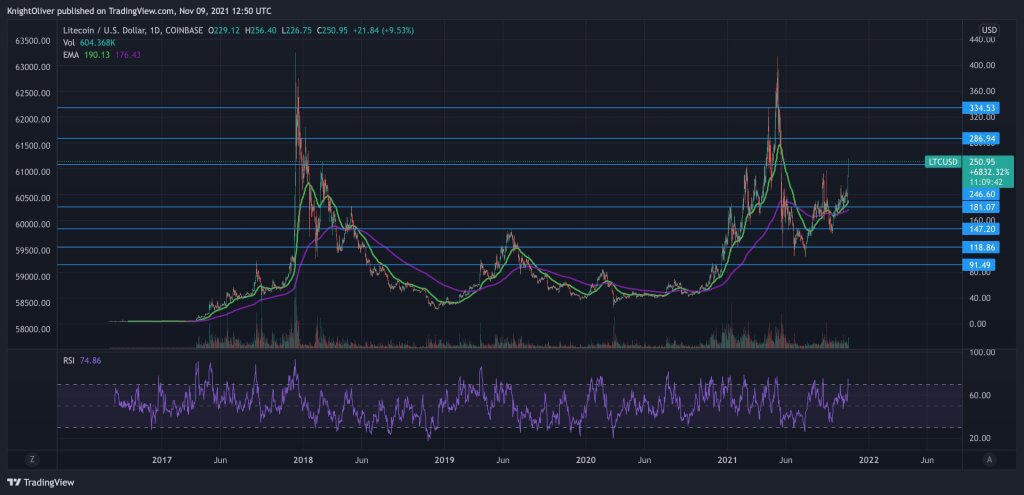 Litecoin's relative strength index (RSI) is at 88.52, which is the highest it has been in more than two years as volume has picked up alongside price action.
The recent surge in the price of Litecoin could be an indication of things to come in the wider altcoin market as people take profits on Bitcoin at $68,000 before diversifying profits into more speculative bets like altcoins.
In 2017, Litecoin rallied to a quite unbelievable all-time high of $420, falling just short this year as it topped out at $412 before sensationally slumping back down to the $105 level of support.
If it can break its all-time high before the end of the year, it's entirely possible that Litecoin will surpass and establish support above the $500 region in 2022.
For more news, guides and cryptocurrency analysis, click here.
About Litecoin
Litecoin was released in October 2011 by Charlie Lee, a former Google employee. It is a fork of Bitcoin, with the main difference being a smaller block generation time. The protocol also increased the maximum number of coins and implemented a different script-based algorithm.
Litecoin is one of the leading cryptocurrencies and is one of the top 10 cryptocurrencies by market capitalisation.
More LTC news and information
If you want to find out more information about LTC or cryptocurrencies in general, then use the search box at the top of this page. Here's an article to get you started:
As with any investment, it pays to do some homework before you part with your money. The prices of cryptocurrencies are volatile and go up and down quickly. This page is not recommending a particular currency or whether you should invest or not.
You may be interested in our range of cryptocurrency guides along with the latest cryptocurrency news.
Disclaimer: The views and opinions expressed by the author should not be considered as financial advice. We do not give advice on financial products.