Litecoin is currently trading at $133.70 as it seeks a bullish resolution from its ongoing period of consolidation.
The world's 20th-largest cryptocurrency by market cap has experienced a significant uptick in trade volume over the past 24-hours, with $1.4 billion being traded across all exchanges – a 46.62% increase on the previous 24-hour period.
This suggests that, despite a 26.62% move to the upside over the past week, interest in the asset remains high as investors look to take out the $144 level of resistance.
A swift move above $144 with a daily close would confirm a bullish breakout, with upside price targets beginning to emerge at $152, $166 and $181.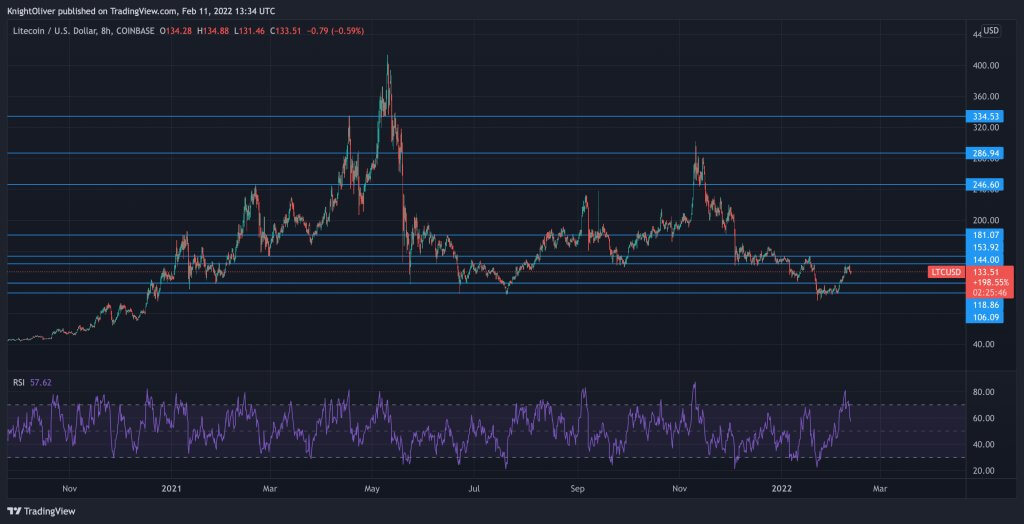 Much of it will also depend on the direction of the wider cryptocurrency market itself, with Bitcoin currently trading within a wide range between $43,000 and $45,800.
If Bitcoin breaks the $43,000 level and heads back to $41,500, Litecoin is expected to follow the trend with a slide back down to test the $119 level of support.
If the $119 level can be established as a crucial level of support, Litecoin will become bullish for the rest of February following a poor performance in December and January.
A breach of that level will mean this current move has been a rather gruesome bull trap, which would cause a resumption of the macro downtrend down to as low as $55.
For more news, guides and cryptocurrency analysis, click here.
About Litecoin
Litecoin was released in October 2011 by Charlie Lee, a former Google employee. It is a fork of Bitcoin, with the main difference being a smaller block generation time. The protocol also increased the maximum number of coins and implemented a different script-based algorithm.
Litecoin is one of the leading cryptocurrencies and is one of the top 10 cryptocurrencies by market capitalisation.
More LTC news and information
If you want to find out more information about LTC or cryptocurrencies in general, then use the search box at the top of this page. Here's an article to get you started:
As with any investment, it pays to do some homework before you part with your money. The prices of cryptocurrencies are volatile and go up and down quickly. This page is not recommending a particular currency or whether you should invest or not.
You may be interested in our range of cryptocurrency guides along with the latest cryptocurrency news.
Disclaimer: The views and opinions expressed by the author should not be considered as financial advice. We do not give advice on financial products.