The Lightning Network has now surpassed 700 Bitcoin (BTC) in network capacity. The new record capacity of over $2.5 million was reached after the network grew close to 30% in the last 30 days.
The number of open channels across the network also saw 30% gains over the same period. This has led to new all-time highs of 27,800 open channels and 6,300 total nodes for the micropayment network.
The node count should also be rising by one more soon, as Coin Rivet's own Lightning and Bitcoin node from Casa has now arrived and is ready to be installed into the office – so watch this space as we set up the new node and give details on how to connect a new channel with us!
Pizza anyone?
Nothing like ordering @dominos pizza via @ln_pizza! Quick payment using my @CasaHODL and 20 min later 2 hot pies arrived! #bitcoin #LightningNetwork pic.twitter.com/uKzOQovgce

— ☇BTC☇ (@Johnson19Justin) February 17, 2019
One of the fastest-growing Lightning channels over the last few weeks has been the ln.pizza node. According to data from 1ml.com, this node has seen its capacity increase by over 5,000% in just the last seven days. The popularity has been down to the newly launched services for customers to receive discounts when purchasing pizza for pick-up or delivery from any Domino's store located in the USA. 
On the Lightning Pizza website, customers can order Domino's pizza using the Lightning Network to receive a discount of 5% (with a >$0.01 transaction fee), instant settlements, and 30-minute delivery time. This represents the first nationwide retail service powered by Lightning payments and aims to spread awareness and adoption of the Layer 2 Bitcoin scaling solution.
Not the only BTC sidechain gaining traction
Another Bitcoin-based sidechain that has been gaining traction is Blockstream's Liquid product. Thanks to a new Liquid Sidechain Statistics website hosted at liquid.horse, we can see that this network has ramped up to over 50 BTC capacity locked into the 'Liquid Federation Wallet'. This sum represents close to $200,000 of value that is locked into the network, which has seen a significant increase in the number of transactions between the network's federation of participants.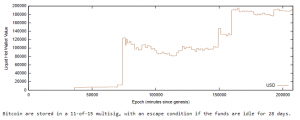 The federation that controls the funds is made up of not just Blockstream, but a collective of key exchanges and infrastructure providers throughout the crypto ecosystem including Bitfinex, Bitmex, and OKCoin.
Infrastructure upgrades
As well as the increase in capacity, we have seen a number of new Lightning wallets released or upgraded since the start of the year. One of these is the popular BlueWallet, who recently announced a way to make their iOS and Android Lightning wallet fully custodial. This feature can be activated by setting up an LNDhub that is linked to your own Lightning node to "create your own open source bank."
Another interesting new development is a hangman style game (but with a zombie and Lightning twist) that has been developed by Lightning developer DJ Booth and his 7-year-old son.
For the past few weekends, I've been helping my seven year old @evilblobmonster bring his ⚡️lightning powered game to life. It's like hangman with a bitcoin twist. And zombies. Has to have zombies. Play now on mainnet. https://t.co/m5AV67Orix pic.twitter.com/wcEGvTCQy2

— DJ Booth (@djbooth007) February 18, 2019
Whether it's the core network, the infrastructure around it, or even the high-profile participants across the world taking part in the LNTrust chain, it's now undoubtedly true that this instant settlement and micropayments network has arrived, and it looks like it's here to stay.
What looks most exciting about the Lightning Network movement is not just the core underlining open source technology, but the newfound community of advocates who are building and innovating day after day to bring the dream of a scalable and secure decentralised protocol (built on Bitcoin) to life.
Disclaimer: The views and opinions expressed by the author should not be considered as financial advice. We do not give advice on financial products.