The number of Google searches for Litecoin has this week hit a yearly high. Just under two months away from its next block reward halving, interest in the project looks set to break out following the asset's 340% price appreciation in 2019.
With Litecoin recently hitting a yearly high of $140 and becoming the fourth-largest cryptocurrency by market cap (now over $8.5 billion), the project is just 47 days away from a mining reward reduction – commonly referred to as a 'halvening' – which could be a catalyst for further price increases.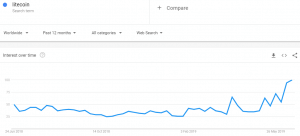 The search term "Litecoin halving" has also seen a +2,750% breakout on Google Trends to reach a new all-time high.
Privacy for 2019
Litecoin has said that it is focusing on privacy for 2019. Back in February, Charlie Lee outlined his intention to look into a range of privacy options, including Bulletproofs and Mimblewimble.
Founder Lee has said that any protocol upgrade can be carried out as a soft fork in very much the same way that another scaling and fungibility fix called extension blocks can be implemented on the network. The Litecoin developer has also said the team is exploring the possibility of "doing Bulletproof Mimblewimble w/ extension blks" all in one upgrade for the network by the end of the year.
The catalyst for the next alt season?
#Litecoin leads the way, what bear market?#LTC #Crypto pic.twitter.com/mBpJmOp0fb

— Nawaz Sulemanji (@coinrivetnawaz) June 19, 2019
Litecoin is up over 4% today, and given that the project has just broken out to hit a local high of 0.015 against the BTC pair, it's possible that the project could trade towards a one Bitcoin to 50 Litecoin exchange rate.
It has reached that kind of level before, but with the hash rate at an all-time high, just under seven weeks to go before the next halving, and Google search interest on the up, the project's fundamentals look strong enough to bring a bull market back to the decentralised digital asset economy this summer.
For more news, guides, and cryptocurrency analysis, click here.
Disclaimer: The views and opinions expressed by the author should not be considered as financial advice. We do not give advice on financial products.