Litecoin is currently trading above $70 after starting 2019 at a price of under $30. After spending eight consecutive months in the red, Litecoin has made a 100% start to 2019 with price appreciation in every single month this year.
Looking at the recent trading activity, it can be seen that a descending wedge/channel is forming for Litecoin. This channel had its lower bounds tested a few days ago, but so far it looks like the bullish dip buyers are still present after the short dump was fully retraced to minimise any trading action below a key level of support for the project.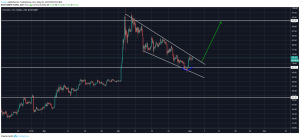 If crypto markets can break back into the green, we would expect LTC to rally to above $90, based on surrounding support and resistance levels. On the other hand, a drop down in price would plunge price through its last area of lift off at $60. Back in the assets April Fool's rally, the decentralised coin took a mini parabolic style move to approach that key three-figure valuation.
A surge in volume
It must also be noted that, after spending the first two months of the year with consistent daily traded volume under $500 million, we have now seen the open trading interest quadruple in average range. It is now being traded between $2-4 billion a day (or close to 50% of its total market cap every 24 hours).
Since Bitcoin's April Fool's rally, and that behemoth $500 million worth of liquidation at BitMEX,  it's possible to say that traders and hodlers alike have taken a newfound interest to dust of that hardware wallet and re-entered the high margin trading game as volatility came back with a bang into the crypto markets.
Is privacy spreading?
At this week's annual Facebook F8 conference, Mark Zuckerberg stated that "the future is private". The new vision was also echoed across all major updates to the key pieces of real estate that make up the biggest single platform, including WhatsApp and Instagram.
Like Facebook, Litecoin is also focusing on privacy for 2019. Back in February, Charlie Lee outlined his intention to look into a range of privacy options, including Bulletproofs and Mimblewimble. Quite how all these technologies fit together is yet to be seen, but one thing that looks certain is that the Litecoin developer team has a new found dedication to bringing privacy to the cryptocurrency in 2019.
$1000 target for Lee
Litecoin founder Lee revealed recently that he, "thought it was going to hit $1,000." Yet the bull run of 2017 points to a leader who was making a play to get rid of his 'stake' before he thought the token was about to moonshot into the mainstream stratosphere as an alternate and tokenised medium of exchange for the masses.
The silver to Bitcoin's gold has so far found an extra $2.5 billion in market cap since the start of 2019. If the crypto markets and Litecoin can break upwards from here to above that $100 valuation, then a simple 3x move to new ATH valuation may start to seem a little more realistic for an open blockchain that claims to have the most decentralised of any user base around.
Disclaimer: The views and opinions expressed by the author should not be considered as financial advice. We do not give advice on financial products.