In the wake of massive national fiat inflation, demand for Bitcoin has soared in Venezuela, with users paying over $700 more for BTC than its market price.
More and more Venezuelans are adopting cryptocurrency every day after facing one of the worst periods of hyperinflation in recent history.
The ongoing crisis, which began in 2016, has seen the price of the Venezuelan bolívar (VEF) dwindle, with the Central Bank of Venezuela estimating inflation rates of over 53.7 million percent between 2016 and 2019.
As its purchasing power declines and huge piles of cash are required for the most basic necessities, desperate Venezuelans have been turning to Bitcoin instead.
Volume on peer-to-peer exchange and Bitcoin marketplace LocalBitcoins has skyrocketed from just over 13 billion VEF this time last year to 360 billion VEF last week.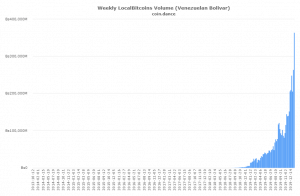 LocalBitcoins volume by week, VEF – source: CoinDance
Huge premiums in Venezuela
However, Venezuelans are so eager to use the decentralised currency that there is currently a $700 premium on the price of BTC in the South American nation.
This has declined slightly in the past day, but some media sources are reporting prices of over $1,500 higher than the current spot price.
In July 2019, Venezuela's controversial president Nicolas Maduro urged the Bank of Venezuela to adopt the nation's own cryptocurrency, the Petro.
The Petro, which is allegedly backed by oil, is Maduro's attempt to stabilise the beleaguered Venezuelan economy. However, many economists have criticised the scheme, calling it unsustainable.
Many have pointed out that the country's over-reliance on oil exports paired with declining global oil prices over the last few years were the original cause of Venezuela's hyperinflation – leaving little room for improvement through the Petro.
It now seems that rather than trust another government-backed currency, Venezuelans have opted to use a decentralised and trustless option instead.
Other Latin American nations, such as Argentina, have been quick to adopt cryptocurrencies as well.
A weak Argentine peso has forced many Argentinians to explore BTC payments, evidenced by an all-time high in Bitcoin trading leading up to Christmas in 2019.
You can read more on Venezuela's Bitcoin use here.
Disclaimer: The views and opinions expressed by the author should not be considered as financial advice. We do not give advice on financial products.