The Rotate bar in London's Shoreditch now accepts payments for food and beverages with instantaneous transactions over the Lightning Network.
The bar, which is currently an active hotspot for the crypto community in London, used its links to partner with lightningpay.co.uk, a payment provider which offers custodial and non-custodial solutions. The bar's owner, James Stell, said that "they helped us set up our payments solution and provide ongoing help when required".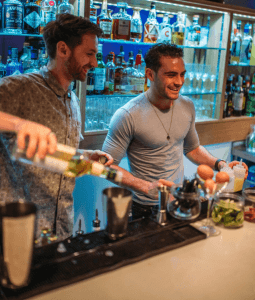 At the moment, Rotate is not too worried about the volatility associated with accepting Bitcoin payments for food and drinks.
"Our belief during our trial period was that we had seen the bottom or were close to the bottom of the bear market, so we were happy to take on the risk with the small amount of transactions we were taking," said Stell.
"However, our payments partner does offer immediate conversion to fiat and transfer to our business account should we wish it, which we will be doing as the transaction volume becomes more meaningful."
No more waiting
The bar had previously accepted payments in the form of Bitcoin, but customers had to wait for at least one block confirmation on the BTC network before they could leave the establishment. Now that the bar accepts Bitcoin payments via Lightning, waiting for confirmation is no longer an issue.
When Coin Rivet visited Rotate to check out the new Lightning functionality for ourselves, it was a quick and smooth process to pay for some drinks using the BlueWallet mobile application.
Currently, invoice generation is assisted through a specific BTC pay server, but James did mention that he is looking to set up a fully custodial solution with a Lightning and Bitcoin node running on-site at the bar.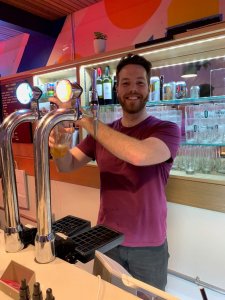 As an introductory offer, James also added that the bar is "offering 20% off coffee and drinks for anyone paying by Lightning this month".
Regarding future plans for the bar, James said: "We will continue to host networking events for the community and aim to be on the forefront of adoption of payment methods. We are open to ideas!"
Disclaimer: The views and opinions expressed by the author should not be considered as financial advice. We do not give advice on financial products.