Binance Launchpad has announced that Matic Network will be the fourth token sale to take place on the platform, but it will be the first using the newly announced lottery format.
The MATIC token launch will be conducted as a lottery instead of on a first come, first served basis, despite this method proving hugely successful for the platform's three previous token offerings. The number of tickets you can claim depends on the amount of BNB you hold in your Binance account over the 20-day period leading up to the day of the lottery.
#Binance Launchpad announces @maticnetwork as next project under its new token launch formathttps://t.co/W2sr608fO9

— Binance (@binance) April 1, 2019
What's the project about?
Matic Network aims to be the go-to platform on which developers will deploy and run decentralised applications. It is a Layer-2 scaling solution that achieves scalability by utilising sidechains for off-chain computation while ensuring asset security using the Ethereum Plasma framework and a decentralised network of Proof-of-Stake (PoS) validators.
The project is looking to raise $5 million worth of the native Binance token (BNB) for 19% of its total token supply, the exchange announced on Monday.
Matic Network has been a significant contributor to the Ethereum ecosystem having recently worked on implementations of Plasma MVP (Minimum Viable Plasma), the WalletConnect protocol, and the popular Ethereum event notification engine Dagger.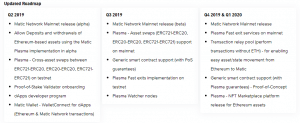 What happened to the last few Launchpad listings?
The last token to go on sale on Binance Launchpad, Celer Network (CELR), raised $4 million in just 17 minutes and 35 seconds. This followed two previous Binance Launchpad ICOs for Fetch.AI and BitTorrent, which raised $6 million and $7.2 million respectively.
However, unlike the high returns seen when the Fetch.AI and BitTorrent tokens started trading on Binance, Celer Network fared much worse as 80% of the project's value was wiped away just hours after the token was listed for trading on the popular exchange.
Binance CEO Changpeng Zhao commented on the upcoming launch saying: "We are humbled by the overwhelming support and interest in Launchpad projects that is helping unlock the large potential of blockchain technology and aiding in crypto adoption, and I believe that Matic Network is going to play a key role in this future.
"We are constantly evolving and adapting for our community's interest and the new Launchpad criteria is a response to accommodate the high demand and ensure a better user experience, fairness, and transparency."
Want to check out an exclusive Coin Rivet interview with the CEO and CTO of the second project to launch on Binance Launchpad, Fetch.AI? Click here.
Disclaimer: The views and opinions expressed by the author should not be considered as financial advice. We do not give advice on financial products.