Rumours are swirling that $40 million worth of Ripple (XRP) has been moved to an address believed to belong to Jed McCaleb, co-founder of the altcoin. He is also the founder of Stellar Lumen and Mt. Gox, the exchange that lost nearly $1 billion to a hack in 2014.
Ripple, whose XRP is the world's third most valuable cryptocurrency with a market cap of nearly $20.5 billion, has managed to bring in some big players in its mission to become a currency link between global financial institutions.
Transaction Type: Payment
Amount: 40,987,588.71 XRP
Fee: 12 drops (0.000012 XRP)
Sender: r4LxkCUXYTCUgwquN3BnsUxFacoVLjGFyF
Sender Balance: 131,004,258.994122
Receiver: rEhKZcz5Ndjm9BzZmmKrtvhXPnSWByssDv
Receiver Balance: 69,689,385.871455
Link: https://t.co/tBIi1KlTrw

— XRPL Monitor (@XRPL_Monitor) November 7, 2018
XRP dump + XLM pump incoming then, if true. ???

— Jay Katana (@Jay_Katana) November 7, 2018
The company has not gone public to explain the transaction. Some industry believers say it may be a pump of McCaleb's XLM blockchain project or that is for a new Ripple initiative.
In January of this year, the New York Times reported McCaleb owned $20 billion worth of XRP. Of course, that was before the massive loss in value of up to 70%.
The sender of the XRP to McCaleb's account is purportedly Ripple or Chris Larsen, Ripple Labs Executive Chairman.
On xrpchat.com, one user identified ass Domp_Eet posted, "is Jed at it again???? 40 Million ZRP dump??". He went on to say that the "current price drop due too good 'ol Jed selling his zerps (XRPs)? Massive 40 million transfer happened, few hours delayed dump by Jed???? Feels like the only explanation for the extremely sudden dump we are seeing. People watching and this triggered even more people to sell???"
Domp_Eet said he believed McCaleb was "selling his zerps and people saw the thing while watching transactions which that triggered a larger cascade of short-term profit takers. I think the price will return soon."
Ripple has dropped nearly 5% of its value, and after midnight there was an 8% sell-off that could possibly be attributed to the mysterious $40 million transaction.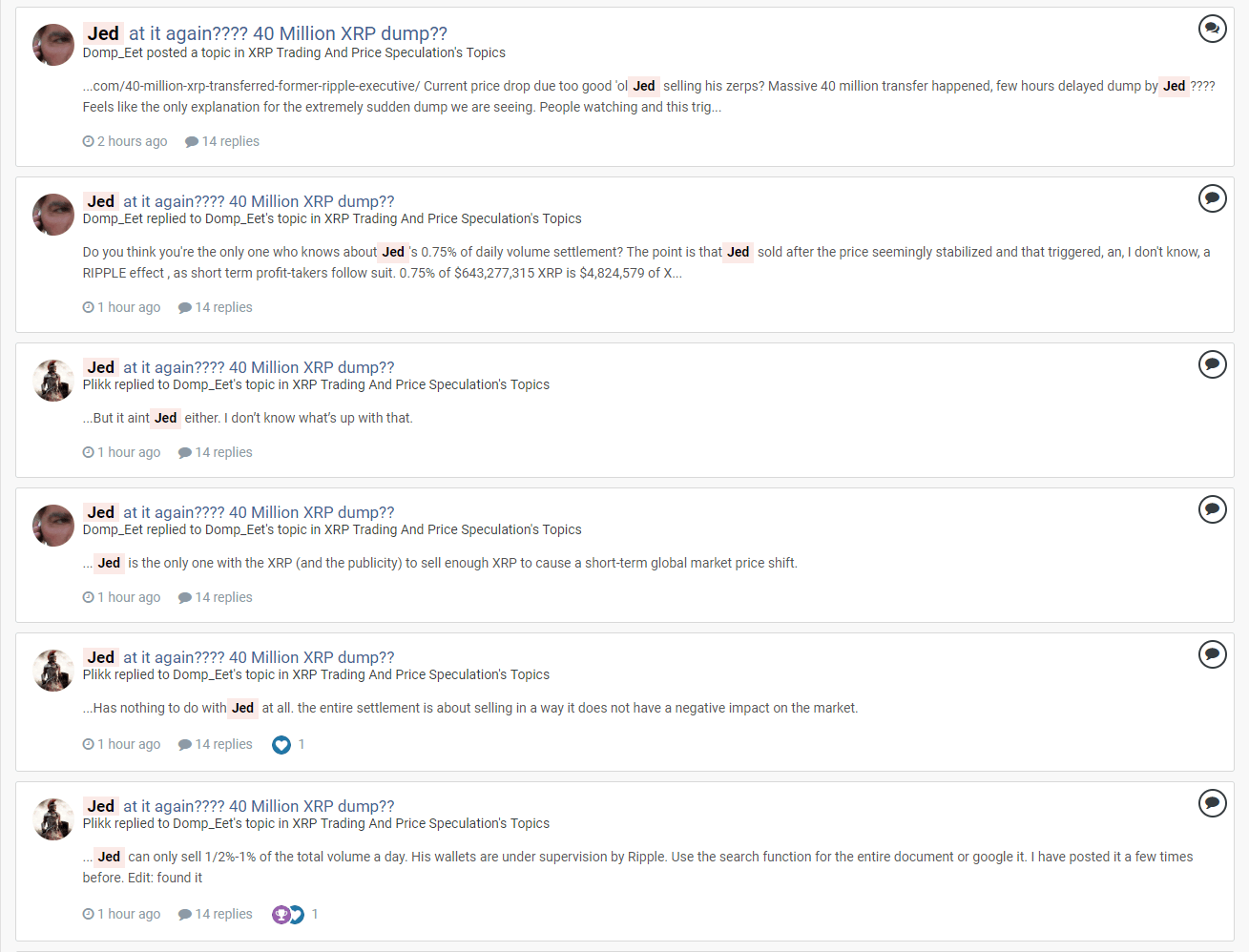 Disclaimer: The views and opinions expressed by the author should not be considered as financial advice. We do not give advice on financial products.