An NFT collector has rejected an astonishing 2,500 ETH ($9.5m) bid for a CryptoPunk after doubling down on his conviction that his NFT remains an integral part of his brand identity.
The saga started on Friday when the owner – 'Richerd' – posted an innocuous question asking that, if an NFT collection had no sellers, would it make the value of that collection priceless?
User 'Josef Rakich' replied by saying "everyone has a price", prompting a hard-line response from Richerd that reaffirmed his resistance to cashing in… "My punk is not for sale. Don't care what anyone offers me".
Richerd confirmed his stance once more when asked whether he would sell for $1b, saying: "I'm going to say no to that. You might not believe me, but those who know me, know that I wouldn't."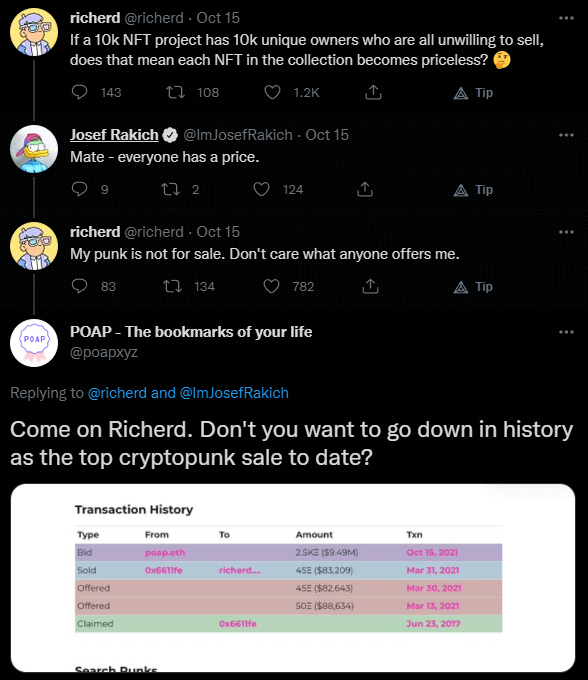 Following his comments, NFT protocol POAP then put his faith to the test and made an incredible 2,500 ETH bid for '3d glasses' CryptoPunk #6046 and asked Richerd if he wanted "to go down in history as the top cryptopunk sale to date?".
Richerd commented on the bid, saying: "You guys want to see what diamond hands look like?" and that "Some things are priceless💎🙌" – an ode to the now-infamous 'diamond hands' meme that has netted collectors incredible profits based on their confidence in their NFTs.
The record bid for the CryptoPunk alongside the witty responses from both sides then saw the NFT community come alive and comment on both the good and bad sides of the potential record sale.
After the dust had settled, Richerd – who currently owns four CryptoPunks – including another '3d glasses' version – made a thread explaining his reasons for rejecting the bid, which again drew some heated discussion within the NFT community.
Why I rejected a 2500 ETH ($9.5M USD ) offer from @poapxyz on CryptoPunk #6046

This could have been the largest ever on-chain NFT sale in USD, but I chose to reject the offer.

Here is the story and why 👇 pic.twitter.com/zeURo4C5z6

— richerd (@richerd) October 16, 2021
Richerd – a co-founder of NFT protocol Manifold.xyz and "NFT degen"- said that he has used "6046 as my identity and have built up a significant brand around it".
He also doubled down on the identity aspect of owning a CryptoPunk, saying "my identity along with the identity of other iconic Punks and apes have value beyond the NFT itself".
"Because I value my personal brand and identity, this was an easy rejection for me," Richerd concluded.
"To me, my brand, identity, and what I'm building in the NFT space will be way more valuable in the long run."
His resolve was tested once again after the NFT community begrudgingly commented that Richerd could buy a rarer CryptoPunk than the ones he has now or continue to accumulate more to build his brand.
However, Richerd remained defiantly stalwart and even thanked his followers for their support of his brand and his CryptoPunk.
The 2,500 ETH bid for the CryptoPunk has since been withdrawn by POAP. Now, only time can tell whether Richerd's "diamond hands" have made the right decision.
Disclaimer: The views and opinions expressed by the author should not be considered as financial advice. We do not give advice on financial products.