Billionaire entrepreneur and newly converted DeFi fan Mark Cuban has invested in Polygon (Matic), a leading Layer 2 Ethereum scaling solution.
According to emails, he has confirmed the investment in Polygon but didn't disclose the size or amount purchased. 
Polygon (Matic) is the latest addition to Cuban's extensive portfolio of Blockchain companies, with a description that reads "Polygon is the first well-structured, easy-to-use platform for Ethereum scaling and infrastructure development."
Cuban mentioned that he is an active user of Polygon, saying "It is fast; it works well, and most importantly, their user base is growing exponentially." Cuban also confirmed that he is gradually integrating Polygon into Lazy.com, a company that allows people to present their non-fungible tokens (NFTs). 
Polygon COO, Sandeep Nailwal, said his discussion regarding Polygon was "mind-blowing", before adding: "It was so spectacular to know that the nuances of the industry, the tech and adoption we had figured out after months of grind, he was already thinking about those and had those questions in mind."
Mark Cuban has become an advocate for Cryptocurrencies in the past few years, being one of the first to accept crypto payments in Bitcoin, Ethereum and Dogecoin for Dallas Mavericks merchandise and tickets. He has spoken at length about his admiration for DeFi platforms and the Ethereum network on various podcasts and remains one of the more popular figures in Crypto today. He also recently took to Twitter to confirm his support for accepting cryptocurrencies as payments on a longer-term basis.
We at https://t.co/VUydpLFzGh will continue to accept BTC/Eth/Doge because we know that replacing Gold as a store of value will help the environment https://t.co/bs7NvnJY8A and https://t.co/ELhbuLOBRV shrinking big bank and coin usage will benefit society and the environment https://t.co/zu08F0STEQ

— Mark Cuban (@mcuban) May 12, 2021
Polygon has gained considerable market share lately as high gas fees on the Ethereum network have left DeFi users looking for more affordable, scalable options.
Polygon is also heavily used for NFT and gaming platforms across the DeFi space. The network now boasts over one million unique wallet addresses, with a considerable market cap of over $13bn and sitting comfortably in the top 15 Cryptocurrency projects.
Recent integrations with leading Ethereum-based DeFi solutions Aave, Curve SushiSwap has seen the TVL (total value locked) metric of Polygon assets explode, with total assets secured at almost $6bn according to Messari. The volume on the Polygon network is also slowly catching up to the ETH volume metrics on these platforms.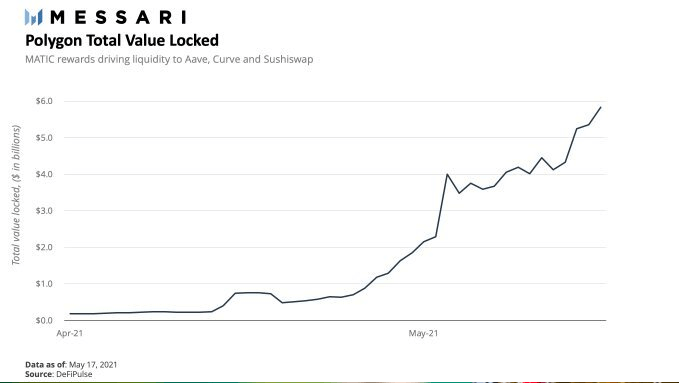 Polygon also announced a partnership with a leading DeFi protocol Ren via the Polygon x RenVM Bridge. The new bridge will allow Ren's ERC-20 representations of leading assets such as BTC and DOGE to be transferred and used on the Polygon network.
Native DEXs and DeFi platforms such as QuickSwap and PolyWhale have also seen active user numbers increase, alongside a considerable increase in trading volume and assets locked. Polygon has even integrated with leading BSC products, which are said to be a major competitor in the race for lower gas fees and attracting value.
The number of Polygon tokens on exchanges is currently at an all-time low, which shows that Polygon tokens are no longer sitting idle on exchanges and are instead being used on DeFi platforms and contributing to the ever-expanding Polygon ecosystem.
Low supply on exchanges also inevitably creates a "supply shock" where the asset becomes more scarce, meaning users may have to pay higher prices to obtain Polygon tokens.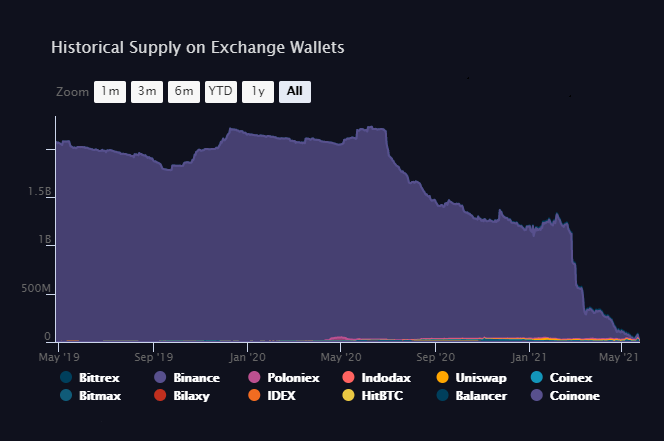 Due to increased interest and the appeal of DeFi using lower gas fees, the price has naturally increased. Since January 2021, when the price of Polygon was around $0.02, it has seen an incredible 14,788% price increase to the all-time-high of $2.68 on May 18th.
Polygon is also leading the market in terms of recovery from the recent lows that were set on May 23rd, where the price dropped to $0.75 following a major correction in the market.
Since the crash, the price has recovered by 190% to its current value of around $2.25 at the time of publication, where it is currently consolidating before its next attempt at an all-time high.
Polygon is up 176% for May and is set to close the monthly candle on its fifth consecutive positive month. The Fibonacci price also indicates that the next price targets sit around $4, which would further demonstrate the strength of Polygon in an otherwise volatile market. 
As the "Ethereum-killer" narrative continues and Layer 2 scaling solutions fight for dominance, Polygon is emerging as a clear frontrunner. It recently announced Polygon SDK, which is aiming to transform Ethereum into a full-fledged, multi-chain system, or an "Internet of Blockchains". 
Through Polygon SDK, the network is pushing to become the leading scaling and infrastructure platform of Ethereum and create a multi-chain system and framework that works similarly to competing projects Polkadot and Cosmos. It aims to support both stand-alone chains such as sidechains, enterprise chains and secured chains, or Layer 2s, such as Optimistic Rollups and zkRollups. 
On Ethereum, the future releases of the Arbitrum network on May 28th, EIP- 1559 and the transition to a proof-of-stake network are also sure to reflect on the network effects of Polygon, as it works in tandem with Ethereum as a hyper low-cost sidechain. With continued integrations and development, consistent upwards price action and a product with multiple use cases, it's safe to say that the future for Polygon looks extremely promising. 
For more news, guides and crytpocurrency analysis, click here.
Disclaimer: The views and opinions expressed by the author should not be considered as financial advice. We do not give advice on financial products.