Groundbreaking research by University College London has systematically assessed the energy consumptions of leading proof-of-stake networks and concluded not all PoS blockchains are created equal.
Proof-of-stake has been heralded as the environmental saviour of the crypto industry, emerging as the rousing response to widespread attempts at decrying blockchain technology on the basis of its environmental impact.
Forecast as the future of the industry, there are many projects racing to become the dominant PoS blockchain system, including Cardano (ADA), Algorand (ALGO), Tezos (XTZ), and Celo (CELO).
The Ethereum network is rapidly approaching its own PoS standard – Ethereum 2.0 – following a successful London hard fork. It is expected to launch sometime this winter.
What is proof of stake?
PoS technology allows a circumvention of the energy-intensive cryptographic problem solving needed to mine cryptocurrencies in Proof of Work (PoW) systems. It allows owners to stake their tokens as collateral in order to validate transactions by consensus on the network in exchange for rewards, this often takes place in large public pools.
In effect, this means that PoS doesn't require extra energy to prove trustworthiness, reducing the overall energy consumption of the network substantially.
Energy consumption ranked
UCL's Centre for Blockchain Technology is among the first in the world to publish cutting edge research into second-generation consensus models.
The overall rankings produced for proof of stake networks' energy consumption per transaction is as follows:
Hedera – HBAR
Tezos – XTZ
Polkadot – DOT
Cardano – ADA
Algorand – ALGO
Ethereum 2.0 – ETH 2.0
Needless to say, Cardano chief Charles Hoskinson will be relieved to see ADA score as being more energy efficient than rival Ethereum.
The news also coincided with an ALGO price surge of 30%.
No doubt the review of distributed ledger technologies (DLTs) can also be tied to the university's prominent position on the Hedera Governing council, which aims to bring together global experts to manage decentralisation efforts.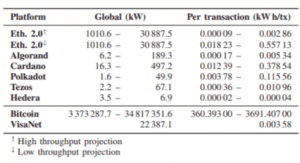 The above table shows the data produced for the global energy consumption of each distributed ledger technology network tested, alongside the per transaction calculation.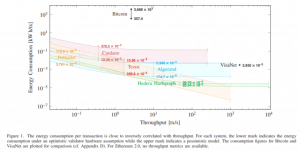 Another interesting table from the report visually demonstrates the relative energy consumption of transactions between different proof of stake technologies relative to Bitcoin.
Dr Paolo Tasca, the executive director of UCL's Centre for Blockchain and Technologies, suggested the research highlights the importance of investors fully understanding the ramifications of the technologies they're investing in.
"At this point, the benefits of proof-of-stake are well recognised and understood in the blockchain space," he said.
"However, through this research we have found that not all Proof-of-Stake networks are created
equally.
"This is something that both investors and adopters need to be wary of when selecting their network of choice… looking at these results it's clear that we need to remain vigilant of potential environmental impact."
Ultimately, the research revealed that the biggest interplay was between the number of active network validators and the scale of environmental consumption.
This means that if DLT PoS networks are to successfully reduce energy consumption and environmental impact, then it will be necessary to focus efforts on the the influence of design choices in network architecture and the efficiency of hardware used specifically by validators.
More crypto news and information
If you want to find out more information about Bitcoin or cryptocurrencies in general, then use the search box at the top of this page. Here's an article to get you started.
As with any investment, it pays to do some homework before you part with your money. The prices of cryptocurrencies are volatile and go up and down quickly. This page is not recommending a particular currency or whether you should invest or not.
Disclaimer: The views and opinions expressed by the author should not be considered as financial advice. We do not give advice on financial products.