The crypto markets are evolving, and big and small players alike are looking for the best ways to get involved. We're going to take a deep dive into over-the-counter (OTC) trading and explore the opportunities that the virtual currency markets are opening up.
But before we do, we should probably get some pesky definitions out of the way:
Exchange: Most securities trade on exchanges. An exchange is a marketplace which trades securities and other complex financial instruments. They bring together brokers, dealers, and investors in a centralised way to standardise the buying and selling of these instruments. Through regulation, they also monitor markets to prevent fraud.
OTC: Over-the-counter is a fancy way of saying "decentralised trading". Orders are not listed on a public order book. Clients can trade with each via brokers without anyone else knowing about their transaction.
Why choose OTC trading?
As explained by CoinRivet in this guide, the OTC cryptocurrency market is one that's often misunderstood by many in the industry. Some believe that OTC deals dictate the price of cryptocurrencies, while others believe institutions simply purchase their cryptocurrencies directly from an exchange.
The truth is somewhere in the middle. While a number of exchanges have specific over-the-counter trading desks, it is often easier for institutional investors to deal directly with sellers via a traditional escrow service or law firm.
Firms like Dentons, LMAX and GTES facilitate many of the OTC deals, which can range from 5,000 Bitcoin per transaction all the way up to 250,000 Bitcoin.
Institutional traders usually employ a mandate or broker to go out and find the right match for their requirements. As a result there are hundreds, if not thousands, of OTC brokers who will earn commission when a deal closes.
The reason these institutional investors choose the OTC market as opposed to an exchange is to avoid slippage and earn a discount. If a buyer was to put $200 million on Bitfinex and click market buy, the price would move to the upside, meaning that the average buy-in price would be much higher than if they were to purchase from an over-the-counter seller.
Advantages of OTC trading
There are some neat advantages to using a trading desk instead of a regular exchange, including:
You are able to quickly trade large quantities of cryptocurrencies in a single trade.
You can save time by clearing your trades at one price.
Your trades are private because the order books will not be touched.
You don't fall into the slippage trap.
OTC players
There's a number of companies providing important OTC services to big institutional investors such as:
From the above list, Circle Trade has been the go-to OTC for the biggest institutional investors. The newest player, and one that is now making some waves in the cryptosphere, is the FT Exchange (FTX).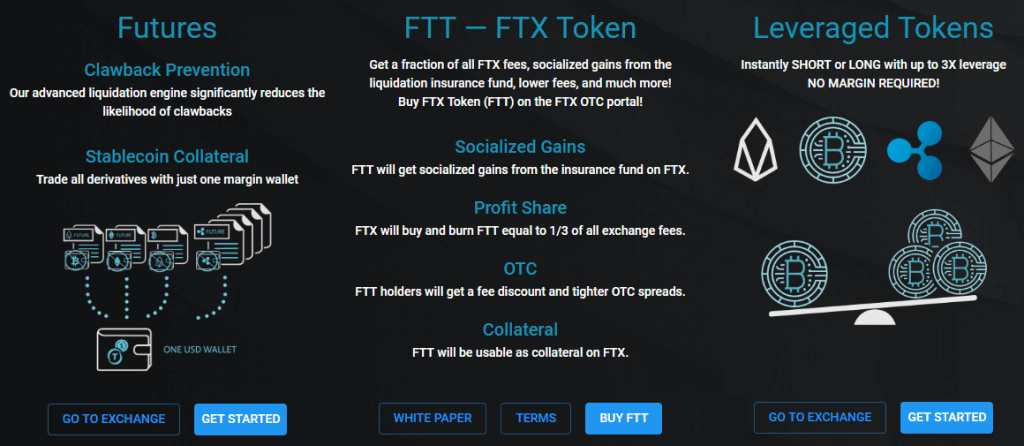 FTX is a derivatives exchange, changing the way that crypto futures are traded by bringing some innovative new products to the forefront. The company is backed by Alameda Research and has been growing its daily transactions quickly since it went live – now surpassing OKex. The really cool thing about the derivatives FTX is that, not only you can do OTC Bitcoin deal, but you can also purchase futures and leveraged tokens.
This could be an awesome, quick and easy solution for anyone who is into bulk buying.
What about Futures?
The market for crypto futures is unique. Unlike other established financial markets, the amount of liquidity available to settle crypto futures can be a challenge for exchanges. There are very few exchanges that actually have the amount of liquidity needed to be market makers, which is likely why there are so few choices when it comes to crypto futures.
So far, the CBOE and CME have dominated the futures market.
Futures aren't commonly used by retail investors in the mainstream financial markets and they can be very dangerous if handled incorrectly. It's easy to think that a futures position is easy to manage, but in reality, they can be very dangerous.
From the list above, only FTX offers futures trading on their platform. This is another way to trade for or against the price of Bitcoin while not being exposed to the asset itself.
Safe trades!
Disclaimer: The views and opinions expressed by the author should not be considered as financial advice. We do not give advice on financial products.