Solana Labs product lead Stephen Hess will be taking the reins at Metaplex Studios, in what has been dubbed a 'double-down move' that is expected to rapidly scale infrastructure at the flourishing NFT marketplace.
Hess played a key role in the development of NFTs in the Solana ecosystem during his term as product lead – something he plans to build upon in his new capacity as CEO of Metaplex.
"The Metaplex Protocol has been an incredible launchpad for independent creators into the metaverse," he said.
"We're doubling down on these independent artists, creators and game studios and focused on making NFT tools available to everyone."
Indeed, Metaplex Studios has had a sensational year since its incarnation in June 2021 – the platform has demonstrated explosive growth, with more than 7.4 million NFTs minted across 94,0000 projects and a whopping one million wallets holding SOL-based NFTs.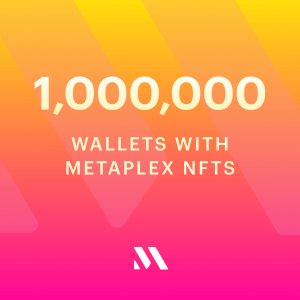 To understand the significance of Metaplex, you needn't look further that back in January when the Solana blockchain officially marked $1bn in total on-chain NFT sales – all of those were on Metaplex.
1 million apes holding #SolanaNFTs

— shessbot (@stphnhss) February 11, 2022
With rapid growth to become the leading NFT platform on Solana in the bag, the protocol has amped up with high profile moves. Perhaps most noteworthy has been the launch of the Coachella Keys Collection in a partnership with the Coachella festival – these NFTs act as passes for tangible experiences at the next festival and unlock access to special venues.
And it seems the momentum is set to keep rolling, with Hess riding in on the back of momentum from the recent completion of a $46m token sale which was co-led by Jump Crypto and Multicoin Capital.
Disclaimer: The views and opinions expressed by the author should not be considered as financial advice. We do not give advice on financial products.