Top ten South Korean crypto exchange Zeniex began returning funds to investors today, after shutting last Friday due to a government crackdown on trading platforms operating without a licence.
Operations will come to a complete halt on 23rd November. And expansion to other countries will likely now not happen. The exchange has asked its customers to withdraw their assets before the final date.
The move comes after an investigation by the country's financial authorities into a Zeniex fund dubbed Zxg Crypto Fund No. 1 (ZXG).Zeniex and its Chinese partner, Genesis Capital, will return the funds invested in ZXG in Ethereum.
The Financial Services Commission (FSC) told Business Korea that the firm failed to be registered by the Financial Supervisory Service as required by South Korea's Capital Market Act.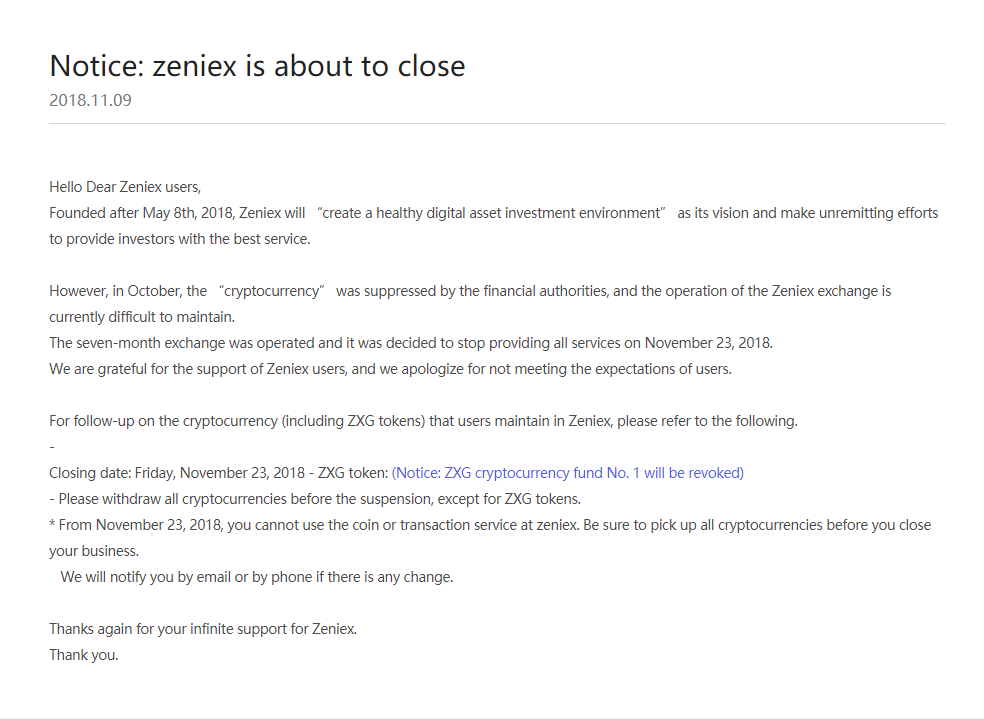 "With recent issues regarding ZXG, we have gone through great deliberation both internally and externally," Zeniex explains. "As a result, we have concluded that continuing to operate such service will be difficult. It is with much regret to announce that all services of Zeniex will be terminated on 23rd November."
The South Korean Financial Services Commission (FSC) in October warned investors about doing business with cryptocurrency exchanges and investing in initial coin offerings (ICOs). It stated that there are no regulations in place that would protect investors.
Disclaimer: The views and opinions expressed by the author should not be considered as financial advice. We do not give advice on financial products.