Cryptocurrency's fourth-largest coin in terms of market cap, Litecoin, has rallied more than 10% overnight as it primes itself for a continued move to the upside.
Yesterday, Coin Rivet reported on Litecoin's mining hash rate reaching an all-time high of more than 400 TH/s. This coupled with the upcoming 'halvening' suggests that Litecoin has a bullish perspective over the next few months from a fundamental standpoint.
Breakout would spell move to $183
And the technicals look steady as well, with the $100 and $110 levels of resistance being taken out with consummate ease.
The current $128 price point is a level of resistance that dates back to May 2018. However, the recent surge in volume from the start of April suggests more continuation to the upside.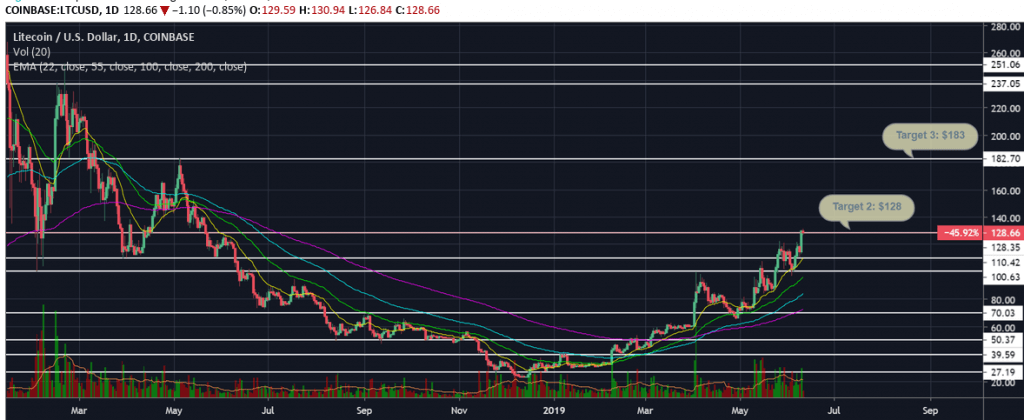 A breakout from this level would see Litecoin move towards the psychological level of $150 before targeting the upper level of resistance at $183.
Last year, Litecoin experienced a similar surge, rising from $114 in April before being rejected from the $183 level. Price subsequently fell to new lows, with Litecoin eventually finding a bottom in December at around $22.
If it can eventually break through the $183 level, Litecoin could rally significantly more, with $237 and $250 being touted as early targets.
Decoupling from Bitcoin
During previous bull markets, altcoins have often suffered while Bitcoin leads the way. However, while we've seen the same happen for lower market cap altcoins, Litecoin seems to be bucking the trend.
Since December, Litecoin is 143 percent up against its Bitcoin pair, despite Bitcoin rallying by 173 percent itself. This means that against its USD pair, Litecoin is up a quite astonishing 530 percent.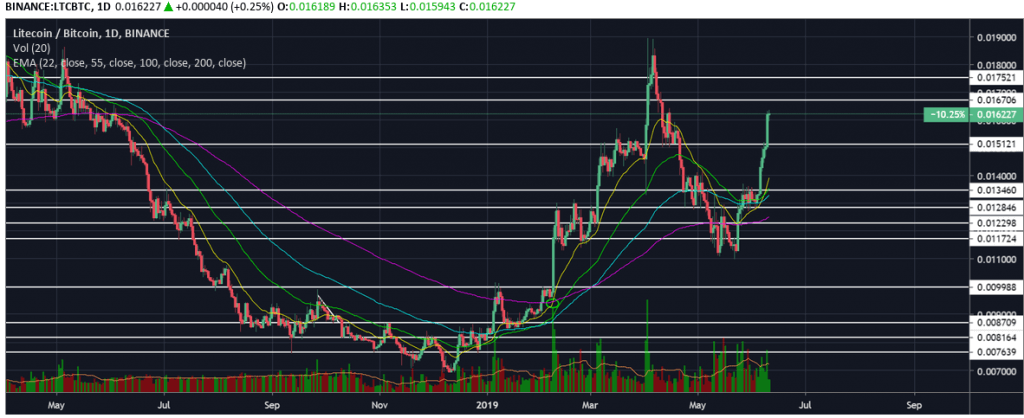 This decoupling from Bitcoin is bullish for altcoins in general, as it means coins will rally based on fundamentals instead of hype, similar to the stock market.
Litecoin is currently approaching yet another level of resistance against its Bitcoin pair, but if the last two months of price action are to be considered, it should be a fairly simple breakout.
Indicators reiterate upside projections
Price indicators like the relative strength index (RSI) and the MACD also present a bullish scenario on the daily candle time frame.
The RSI is ticking up, and while it's currently fairly high at 68, it reached 87 in April, so it has a lot of room for growth.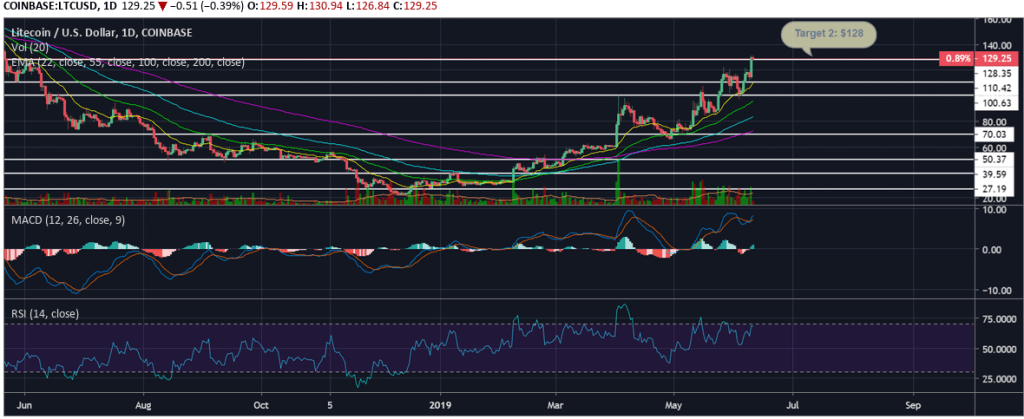 The daily MACD has also crossed to the upside. This suggests that bullish momentum is firmly behind Litecoin and that an extended rally through $128 should come in the days to follow.
From a short-term perspective, Litecoin is holding above $128, which is suggestive of a formation of support.
If the $128 level can be established as support, it will provide a sturdy platform for a continued move to the upside.
However, if Litecoin suffers a correction and falls below $128, support is in the $110 region.
For more news, guides, and cryptocurrency analysis, click here.
Disclaimer: The author of this article does not own, hold, or have a vested interest in Litecoin.
Disclaimer: The views and opinions expressed by the author should not be considered as financial advice. We do not give advice on financial products.