Litecoin has broken out above the 0.01BTC level of resistance, rising to its highest point against Bitcoin since July 2018.
Having broken the 0.01BTC level of support in August, Litecoin has struggled to gain momentum, falling to as low as 0.0068BTC in December.
Friday's rally has seen it overtake the likes of EOS and Bitcoin Cash to regain its place as the fourth largest cryptocurrency in terms of market cap.
In terms of its value in US dollars, Litecoin has risen from $32 to $37 this morning, with a potential target coming in at $41, which was January's high.
Potential targets against Bitcoin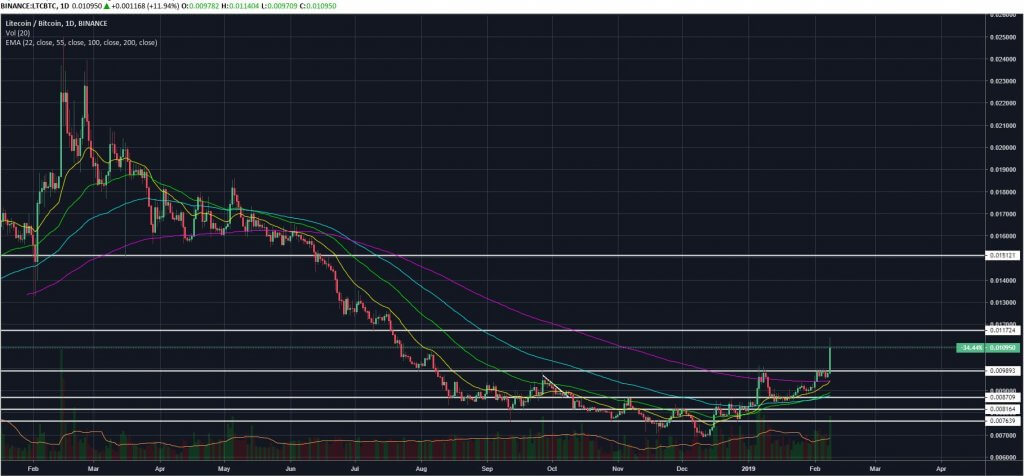 Litecoin hasn't ventured into this price range for the last six months. This means that an upside target could be around 0.011725, which was the level of support that broke in August.
There's a possibility we could see Litecoin retest the current breakout level of 0.01BTC. If it can hold this level, it would signal a bullish reversal in price action, which is rare in the ongoing cryptocurrency bear market.
The recent breakout is the first time Litecoin has moved above the 200 exponential moving average (EMA) on the daily chart since June 1st, 2018.
This is significant as not only does it mean the 200 EMA will start to move up, but it also presents the opportunity of a golden cross, which is when the 22 EMA or 55 EMA cross above the 200.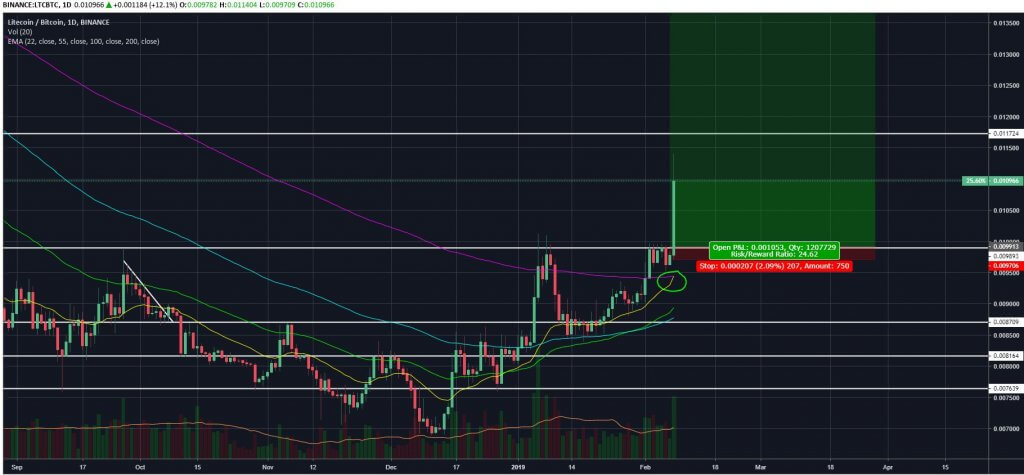 This would act in the opposite way to when we saw a death cross in June, when price subsequently fell 56% in five months.
If Litecoin can maintain momentum above 0.01BTC, it could eventually break out of the 0.011725 level of resistance, with the next target after that coming in at around 0.015BTC.
What has sparked the rally?
There have been numerous updates coming out of the Litecoin camp in 2019. On Thursday, it was announced that the Litecoin core developers were investigating the potential integration of Mimblewimble, which would add privacy and security features to Litecoin.
Litecoin Core Developers Investigating MimbleWimble and Extension Blocks Technologies.@LitecoinProject @SatoshiLite @thrasher_au @beamprivacy https://t.co/JquTt7bC7m

— Litecoin.com (@LitecoinDotCom) February 7, 2019
Coin Rivet has also reported in the last month that Litecoin is stepping up its marketing approach, sponsoring events such as UFC 232 and the annual Mammoth film festival in California.
Another story covered by Coin Rivet was the addition of support for Litecoin payments on Travala, which has often been dubbed the "Expedia of crypto."
Needless to say, Litecoin founder Charlie Lee is clearly working hard alongside the likes of Franklyn Richards to bring the project to the mainstream in 2019.
Litecoin was one of the top performers during the 2017 bull market, rising from $4.50 in April before hitting an all-time high of $420 in December, a total gain of more than 10,000%.
For more news, guides, and cryptocurrency analysis, click here.