While the simple CryptoPunk started the NFT wave, NFTs now encompass much more than profile picture art and collectibles. Today, dozens of new application scenarios (some more likely to catch on than others) are being proposed by hundreds of new projects across the blockchain.
This article aims to be a handy classification guide for beginners to the 6 main types of NFTs on the market today.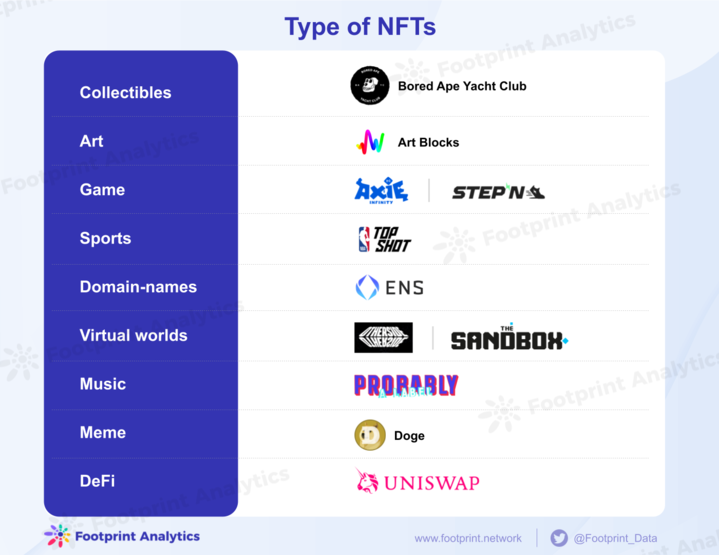 Collectibles were the first type of NFT to go mainstream. Way back in 2017, people started paying top money for strange types of computer pictures called Curio Cards, Rare Pepes, and CryptoPunks. Within a few years, the word "NFT" became a household item and utility-free profile pics, meant for holding and collecting, became synonymous with this class of digital asset. Then came Bored Ape Yacht Club, MAYC, etc., all trying to turn the communities around these collectibles into something greater. 
BAYC, MAYC and CryptoPunks are the largest collections by market cap, trading volume and floor price. They are the most popular projects compared to the art and digital asset game categories and are also listed in the NFT Blue Chip Index.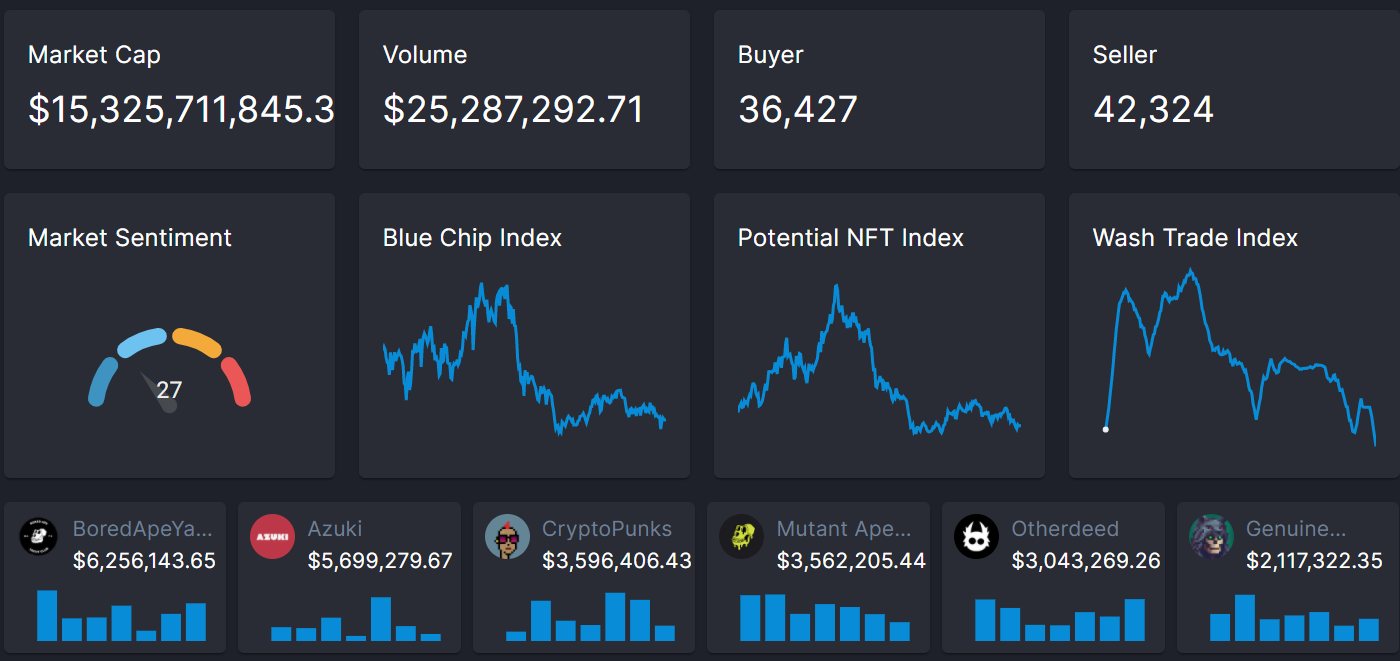 Footprint Analytics – Blue Chip NFT

Another popular genre of NFT is digital art.
The most prominent feature is that the artist can own the copyright of his or her artwork, and buyers can be assured that they are buying authentic authority and eliminating copyright forgery. In addition, artists do not have to rely on a third party to obtain protection for their work, eliminating intermediary fees and ensuring more income for the artist.
Most impressively, Beeple's "Everydays: The First 5000 Days" sold for a whopping $69.3 million at auction in March 2021. It has prompted the NFT art type to set off a wave again, and NFT art projects continue to emerge. For example, the representative project is Art Blocks Curated, which ranks 7th in terms of transaction volume in the past 30 days.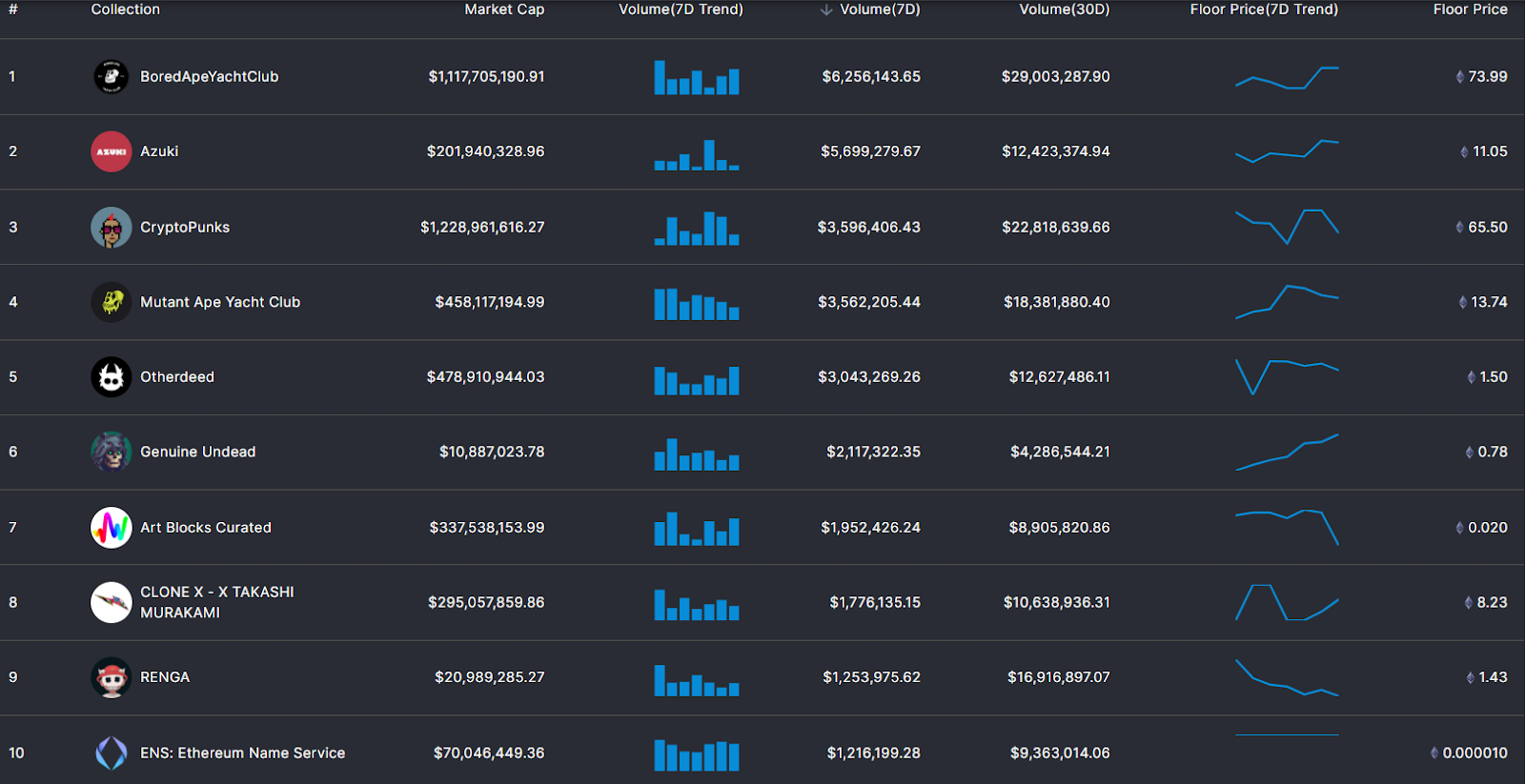 Screenshot Source – Top Collections

Many games currently have a play-to-earn model, where each character inside the game is an NFT, such as in-game avatars, equipment and cards. Players can acquire these digital assets by participating in the game, and they believe that the uniqueness, scarcity, transferability, and provable ownership characteristics of NFTs are of great significance in enhancing the value of in-game items.
However, after NFT began to gain popularity in early 2021, it became clear that the P2E game program combined with NFT had appealed to many. According to the data, the number of users participating in the games increased month by month until it reached an all-time peak in January 2022.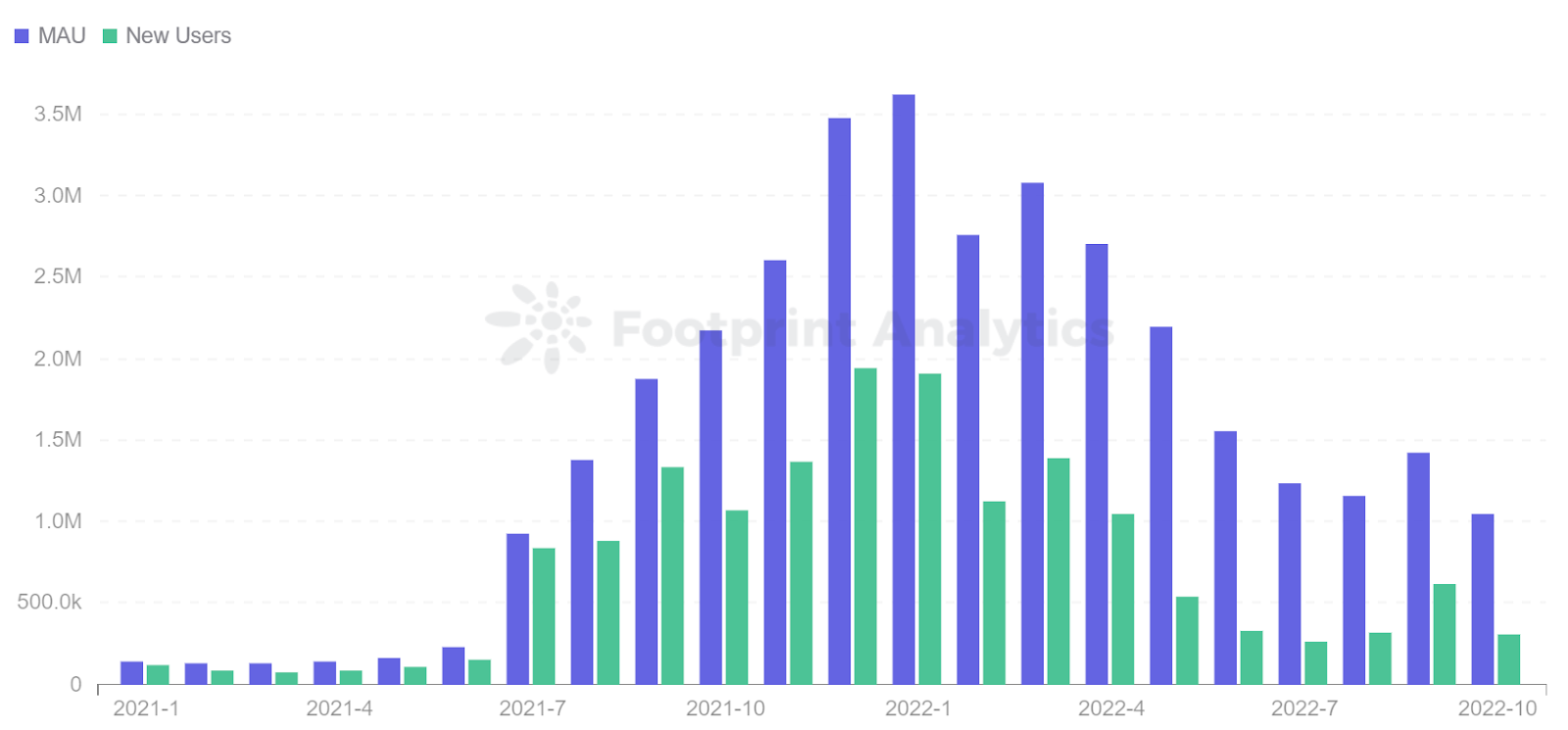 Footprint Analytics – Monthly GameFi Users
Axie Infinity was one of the first to use this model to get players to spend more and more time in the game. The most visible country is the Philippines, where hundreds of thousands of people play NFT games every day. During the epidemic, they were able to earn more income by playing games than with conventional employment. Then came the emergence of various modes of gaming-related applications such as M2E.
NBA Top Shot is one of the most successful cases of partnership between pro sports and NFTs. NBA Top Shot is essentially a basketball card collection in NFT form with its own marketplace. 
One of the most famous clips from the NBA Top Shot is a clip of Lebron James dunking—part of the Throwdowns series—which currently sells for more than $380,000, making it one of the most expensive sports collectibles ever made.

ENS domains are built on the Ethereum blockchain and are custom crypto wallets that contain recognizable names or numbers. They simplify the typical Ethereum address, which is just a long string of alphanumeric characters, the most popular of which is ".eth". They allow users to send and receive funds more easily.
ENS domain names can be used for website addresses and applications, and can also be sold as NFTs. Users can register domains on the Ether Name Service website for between $5 and $640 ETH.
ENS: Ethereum Name Service has ranked in the top 10 in terms of transaction volume for the past six months, according to Footprint Analytics' rankings. In September alone, the number of new registrations reached 437,000. The surge in user interest is mainly due to the fact that these domains can be traded for millions of dollars.
However, the biggest disadvantage of encrypted domains is that most browsers don't currently support them.

Virtual worlds include digital games and lands in the metaverse. While still highly speculative, this category of NFT has huge potential, with the possibility of being used for ads in digital games, creating virtual assets, and more.
Summary
There are many different types of NFT projects emerging. Not only is it closely related to digital and virtual assets, but as technology continues to break through, real-world related NFT applications will continue to be created, and transactions will become more transparent and secure from there.
This piece is contributed by Footprint Analytics community.
The Footprint Community is a place where data and crypto enthusiasts worldwide help each other understand and gain insights about Web3, the metaverse, DeFi, GameFi, or any other area of the fledgling world of blockchain. Here you'll find active, diverse voices supporting each other and driving the community forward.
Oct. 2022, Vincy
Data Source: Footprint Analytics – Top Collection Overview
Footprint Website:  https://www.footprint.network
Discord: https://discord.gg/3HYaR6USM7
Twitter: https://twitter.com/Footprint_Data
Disclaimer: The views and opinions expressed by the author should not be considered as financial advice. We do not give advice on financial products.