CoinMarketCap (CMC) is asking website viewers to turn off any ad blockers. This annoying and repetitive pop-up is trying to make sure that website visitors see the site's selected advertisements.
The site now blocks 10 different ad-blocking services, including Adblock, uBlock, and Adguard. On top of this, the popular crypto website is now asking users to disable privacy plugins on the Firefox, Brave, and Opera browsers.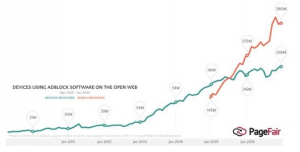 The website is one of the biggest in the cryptosphere, and it nearly reached a global 100 ranking during the 2018 altcoin bull run. At present, the website is in the top 500 websites globally.
The trend to disable ad-blocking services has been rising on both desktop and mobile devices since 'advertisement spam' started littering ads across the internet around a decade ago.
Taking fees to advertise Bitconnect
CMC didn't choose to block Bitconnect or other Ponzi scheme scams because it could lower its potential earnings. CMC continued advertising BCC even after the crash, and as a result, the community exploded with negative posts and proposed many other alternative websites that have even better features than CMC.
Better options out there?
A price comparison competitor that has been rising through the ranks recently is coinpaprika.com. Since it launched in May last year, the website has seen an exponential rise in popularity to claim a top 50,000 website ranking. This is small potatoes when compared to top 10,000 (Alexa ranked) exchanges like the three Bs of Binance, Bitmex, and Bitfinex, but unlike most of its peers, it seems to be gaining and not losing traction with the general upturn of interest in the crypto space.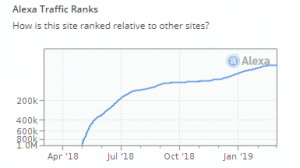 Many projects have an open GitHub repository which hosts open source code. On coinpaprika.com, users can click on the Community tab to see some key statistics (on the right-hand side of the screen). The one-month commits are a useful indicator to evaluate recent activity. Just as a reminder, a commit is a single proposal from someone to change an element of the code base (this does not mean that the change has been approved).
The website also looks at Twitter, Reddit, and Telegram statistics like number of followers, the number of subreddit subscribers, and the number of Telegram group members for crypto projects.
Using  'buy support' as an indicator of sentiment
Tired of all the wash-traded coins spiking up on coinmarketcap? Check out https://t.co/qxUVieXYht #cyptocurrency pic.twitter.com/8JElKT6F8t

— CoinMarketBook (@CMBHQ) March 1, 2019
You can also check out other websites that focus on not just market cap rankings. Coinmarketbook.cc, for example, tracks "Buy Support" for each cryptocurrency. It does this by working out the "sum of the buy orders at 10% distance from the highest bid price."
The website sources data from major exchanges including Bitmex, Binance, Bithumb, Bitfinex, OKEx, Huobi, Bittrex, Poloniex, Kucoin, and Cryptopia. The data also takes into account both spot and leverage liquidity and also makes the buy support calculation based not just on USD market depth, but altcoin liquidity too.
Another novel indicator used by the site is the "Buy Support Rating" column. This is calculated as a percentage by taking the given buy support of any altcoin relative to BTC.
Bottom indicator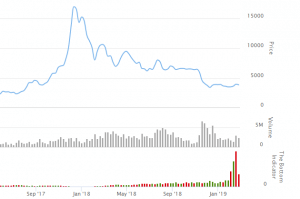 In recent months, we have seen the website's "Bottom Indicator" ramp up to new highs not seen in the previous two years of data. The website does not reveal the exact makeup of the sentiment indicator, but it did however state "in general, the Bottom Indicator displays price action density. High density = Tight spread = Close to bottom."
Money flows among popular decentralised projects
A final competitor to throw into the mix is coinlib.io. This tracker has a novel feature showing "Money flow from/to [inset coin] in the last 24 hours". When looking at data for Ethereum, we can see that the largest inflow over the last day has been Tether (USDT), which had $580 million going in, with BTC, EOS, and the random project Qcash the top three outflows in terms of volume.
Whatever data sources people choose to use in the crypto ecosystem, the wisest strategy still seems to be using an array of tracking websites rather depending on any one particular source.
Of course, auditability and wide-ranging data inputs are key for any tracker – but over the long run, reputation and the ability to not "sell out for ads" will be an ever-increasing factor to keep users coming back for more.
Sites covered: Coinmarketcap.com / Coinpaprika.com /  Coinmarketbook.cc / Coinlib.io
Disclaimer: The views and opinions expressed by the author should not be considered as financial advice. We do not give advice on financial products.