One of the key drivers for mass cryptocurrency adoption is usability.
To understand how people interact with cryptocurrency and blockchain-based projects, it's often useful to take a closer look at the stats behind decentralised applications (dApps) and the number of people using them.
After all, if the most important metric for adoption is usability, the most important metric for usability is the number of dApp users.
Interestingly enough, during 2019, there were some serious moves in terms of the most widely used projects.
Let's take a look!
Ethereum and Tron top 2019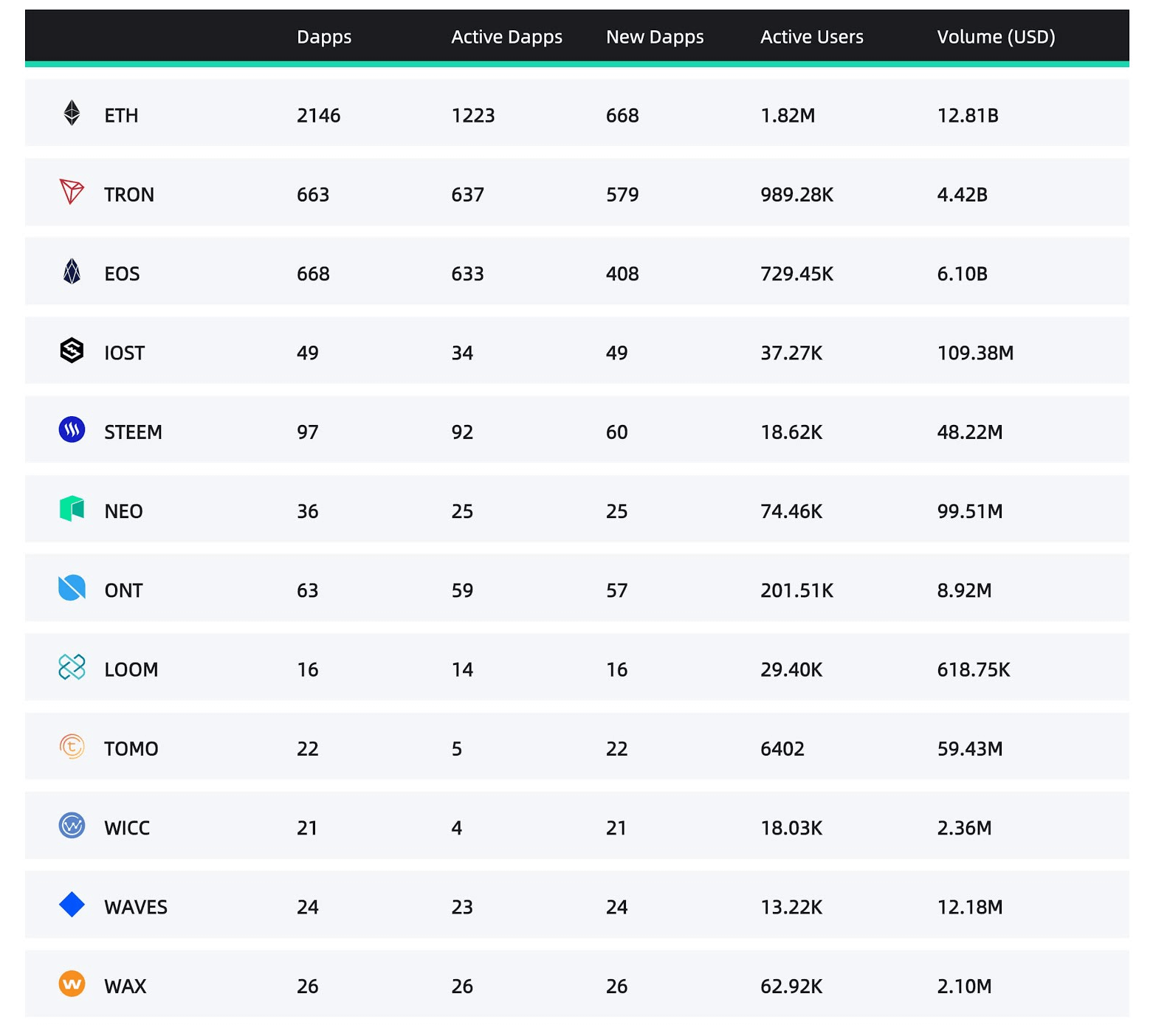 Looking at the table above, courtesy of DappReview, it is obvious who the winners were in 2019.
Ethereum currently has over 2,100 dApps with a total of over 1.8 million users. Total daily volume is currently around $13 billion.
Tron currently has over 660 dApps with a total of nearly 1 million users. Daily volume is over $4.4 billion.
EOS has slightly more dApps than Tron with 665, but the project's user base is smaller with only around 730,000 daily users. However, EOS's network value exceeds that of Tron with a total daily volume of around $6 billion.
By comparing the top three, we can quickly reach a fair conclusion: even though Ethereum is the clear winner, Tron is making waves in the space.
In just under two years, Tron was able to pass all other smart contract blockchain projects, and it's now setting its sights on toppling Ethereum.
NEO and Waves have both been around for longer than Tron (and EOS as well), but they have stagnated compared to the top three.
Therefore, I expect we'll see some big moves in the space in 2020. Especially from Tron.
Tron acquires DLive to boost decentralised content
DLive's value to BitTorrent and TRON's Ecosystems and the whole blockchain industry https://t.co/bYLgvxeg9c

— Justin Sun (@justinsuntron) January 3, 2020
Justin Sun, CEO of Tron and file-sharing platform BitTorrent, has announced that DLive – the world's first and largest decentralised live streaming platform for content creators with over five million monthly active users – is officially migrating to the Tron blockchain.
DLive offers both viewers and content creators extra incentives over rival site YouTube as it attempts to challenge the video streaming giant's market share.
DLive's live streaming video community allows users to reward content creators with cryptocurrency through upvotes, gifts, and donations. Its user-powered upvoting and flagging system determines which content should rise to the top of the platform.
Not only that, but BLive, the live streaming platform introduced by BitTorrent in early 2019, will also be merged into the DLive platform in the near future.
It seems like Tron is betting heavy on video content creators, especially after the YouTube purge of 2019.
Hopefully, with additional moves like these, we'll see a greater number of new users joining the space.
Disclaimer: The views and opinions expressed by the author should not be considered as financial advice. We do not give advice on financial products.